NEW YORK
FIRST PITCH: For the first time in 13 days, Matt Harvey pitches in a regular-season game.
Harvey, who currently sits at 130 innings, had his final first-half turn skipped in Pittsburgh. He then tossed two scoreless innings as the NL All-Star Game starter, despite allowing a leadoff double to Mike Trout, then drilling Robinson Cano.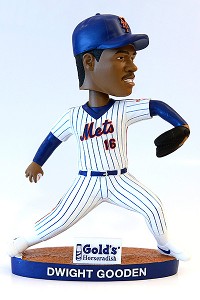 Courtesy of New York Mets
It's Dwight Gooden bobblehead day at Citi Field.
"Outstanding," NL catcher Yadier Molina said after catching Harvey in the All-Star Game. "I mean, his arm, his attitude on the mound, it was good. He's got a great arm. He got … into a jam, but he's got the stuff that he can come out pretty good, and he did."
Terry Collins has said Harvey should get 14 second-half starts. He likely has about 90 innings remaining before reaching his innings cap.
Aside from the All-Star Game, Harvey also drew attention last week for a feature in Men's Journal regarding his social habits. He subsequently suggested a quote about Derek Jeter being the ideal for his social life was taken out of context.
"That guy is the model," Harvey was quoted as saying about Jeter. "I mean, first off, let's just look at the women he's dated. Obviously, he goes out -- he's meeting these girls somewhere -- but you never hear about it. That's where I want to be."
Harvey opposes All-Star Cliff Lee (10-3, 2.86 ERA) in today's 1:10 p.m. rubber game. With the Mets facing a southpaw for the second straight day, Josh Satin again is due to start at first base over Ike Davis, Collins said. The Mets do not face another left-hander, though, until Thursday's finale of a four-game series against the Atlanta Braves -- Paul Maholm.
Harvey Day also is Dwight Gooden bobblehead day at Citi Field.
Sunday's news reports:
• Satin committed a two-out error in the ninth and Chase Utley followed with the first homer surrendered by Bobby Parnell since Aug. 4, 2012 as the Phillies pulled within a run. But Domonic Brown was stranded at second base when Darin Ruf lined out and the Mets held on for a 5-4 win Saturday.
Gonzalez Germen had bailed Zack Wheeler out of a bases-loaded jam in the fifth by striking out Delmon Young. Germen earned his first major league win.
The Mets snapped a streak of seven straight losses to the Phillies at Citi Field. Wheeler required 106 pitches to log a career-low-matching 4 2/3 innings. He surrendered two runs on seven hits and two walks and departed with a 3-2 lead.
Read game recaps in the Post, Daily News, Times, Star-Ledger, Record, Newsday and MLB.com.
• Brown regretted letting Wheeler off the hook in the fifth by swinging at a 3-0 pitch, he tells George Willis in the Post.
• Columnist Bob Raissman in the Daily News is unimpressed with Harvey's magazine comments and handling of the fallout. Writes Raissman:
If Harvey is willing to reveal his other side, he'd better be prepared for what comes along with it. If he didn't know his "revelations" would become fodder for gossip columns, and blaring front-page headlines, either he, or the people handling his PR, are clueless. Sudden fame, if not handled properly with care, can lead to a fall -- especially in New York, especially with an athlete like Harvey, whom a fawning media quickly anointed with superstar status.
Harvey's first instinct after the Men's Journal fallout was to act like a weasel and tweet: "It really sucks how words get used and completely taken out of context." Sure, kill the messenger. How many times have we seen a professional athlete do that? It's just double talk for: "I wasn't taken out of context but I don't like the way the piece came out."
• Read more on the first-base platoon in the Post, Daily News, Star-Ledger and Newsday.
• Steve Serby in the Post has a Q&A with Marlon Byrd. Read more on Byrd in the Record.
• Germen originally figured to be dispatched to Triple-A once Justin Turner is activated from the disabled list. Now, the opposite would appear true. Turner started at shortstop and went 0-for-2 with a walk and strikeout in six innings with Brooklyn on Saturday. He departed after the game's second rain delay. Turner should rejoin the Mets on Monday. Read more on Germen in the Post, Record and Newsday.
• Columnist Filip Bondy in the Daily News says the Mets need to break with tradition and have a strong second half.
• Jordan Lauterbach in Newsday profiles Brooklyn Cyclones reliever John Mincone, who is a product of Half Hollow Hills East High on Long Island.
• Juan Rivera's RBI single against Sean Henn lifted Reno to a 5-4, 12-inning walk-off win against Las Vegas. Jordany Valdespin started in right field and committed an error. He later shifted to second base. Rafael Montero allowed four runs (three earned) in five innings.
Cesar Puello went 3-for-5 with three RBIs as Binghamton beat New Britain, 10-2. Jenrry Mejia, in his second Double-A start since returning from a forearm injury, allowed one run on three hits and two walks while striking out eight in six innings.
Greg Pron had a game-tying three-run homer in the fifth and Alberto Cordero had a tiebreaking RBI double two innings later as Savannah beat Delmarva, 8-6.
Miller Diaz tossed five scoreless innings and struck out nine as Brooklyn beat Batavia, 3-0.
• From the bloggers … Faith and Fear in Flushing wonders why a game with nine runs and no bottom of the ninth took longer than a home-team loss that included 21 runs.
BIRTHDAYS: Ex-player/interim manager Mike Cubbage, now a scout for the Tampa Bay Rays, is 63. … Mike Bordick is 48.
TWEET OF THE DAY:
Wooohooo -- just checked score! HameLOLels! #METS WIN!!

— Mets Fan In Therapy™ (@MetsFanInPhilly) July 20, 2013
YOU'RE UP: Who should be demoted to Las Vegas from the bullpen when Justin Turner is expected to be activated Monday?