MIAMI -- Sandy Alderson kept the New York Mets intact, prioritizing a strong finish over obtaining a middling prospect for Marlon Byrd.
The first game after the trading deadline was not what the GM preferred.
Jenrry Mejia surrendered three runs in six innings and the Mets lost to the Miami Marlins 3-2 on Wednesday night. Worse, David Wright may be injured.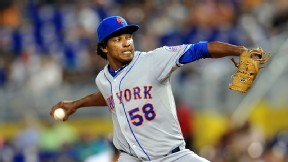 Steve Mitchell/USA TODAY Sports
Jenrry Mejia allowed three runs in six innings Wednesday.
Despite the loss, the Mets finished July with a 15-12 record -- their first month with a winning mark this season.
Uh oh? After stealing second base with the Mets trailing 3-2 in the eighth, Wright appeared to clutch his right hamstring, prompting a visit from trainer Ray Ramirez. Wright stayed in the game, but that definitely bears watching. During an ensuing pitching change that inning, Mets manager Terry Collins went to the field to check on Wright.
Wright was stranded at third base as the potential tying run when Mike Dunn entered and retired pinch hitter Josh Satin. Wright then took the field for the bottom of the eighth and did not look entirely comfortable.
Oh, Jenrry: After tossing seven scoreless innings at Nationals Park on Friday, Mejia this time allowed a second-inning solo homer to Jake Marisnick. Mejia then surrendered consecutive sacrifice flies to Placido Polanco and Giancarlo Stanton in the third inning as Miami took a 3-0 lead.
After Stanton's RBI, Ramirez and Collins visited Mejia on the mound, but the right-hander remained in the game. The issue was not clear. Mejia did experience leg cramping in his previous start, Collins had said.
Mejia's line: 6 IP, 5 H, 3, R, 3 ER, 1 BB, 4, K, 1 WP, 1 HR. He threw 94 pitches (59 strikes).
The Mets wasted an opportunity to score in the third inning, after Eric Young Jr. delivered a two-out triple against Marlins starter Henderson Alvarez.
Umpires reviewed the shot to determine if the baseball hit shrubbery above the right-center wall, but stuck with their initial call of a three-bagger after checking the video. Young was stranded at third base after Alvarez walked Daniel Murphy, then coaxed a fly out to right field from David Wright.
Ike Davis' sixth-inning double into the right-field corner plated Byrd with the Mets' first run. Chad Qualls, after inheriting Young on third base from Alvarez in the eighth, uncorked a wild pitch as the Mets pulled within a run.
Extra help: Carlos Torres, who next starts Saturday against Kansas City, pitched the eighth inning in lieu of throwing a between-starts bullpen session. The Mets may have needed Torres' services with LaTroy Hawkins and Bobby Parnell unavailable due to recent use.
What's next: Matt Harvey (8-2, 2.11 ERA) opposes right-hander Tom Koehler (2-6, 4.67) in the 12:40 p.m. series finale Thursday. The Mets will not see another division opponent until facing the Braves on Aug. 20 at Citi Field.