NEW YORK -- Paul DePodesta via email replied to a handful of questions about minor leaguers.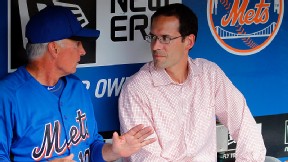 Paul J. Bereswill/Associated Press
Paul DePodesta replied to a handful of questions from ESPNNewYork.com.
Asked if Wilmer Flores remaining in the minors is fielding-related, DePodesta wrote: "Wilmer played some first base largely because of the ankle injury. He had been back at second base the last couple of games now that he's full strength. He hasn't come up because the major league infield is full. [David] Wright and [Daniel] Murph[y] have been healthy until last night, and we have three other guys who could use ABs at first base."
On Savannah pitcher Matt Koch, who was struck in the head with a line drive Friday night, DePodesta wrote: "Koch is alert and resting comfortably. We're hopeful that he'll be discharged from the hospital in the morning."
On whether the intention is to keep Travis d'Arnaud at Double-A Binghamton or move him to Triple-A Las Vegas, DePodesta wrote: "Travis is simply going through the normal rehab routine. Virtually everyone who's been out for a while starts at the GCL and makes one more stop somewhere before returning to their customary level. We felt Binghamton was the best spot for him to do that."
On why Cesar Puello, who has been tied to Biogenesis by "Outside the Lines," has not started the past three games with Binghamton, DePodesta wrote: "Manager's decision. Just giving him a break. He's active and available."