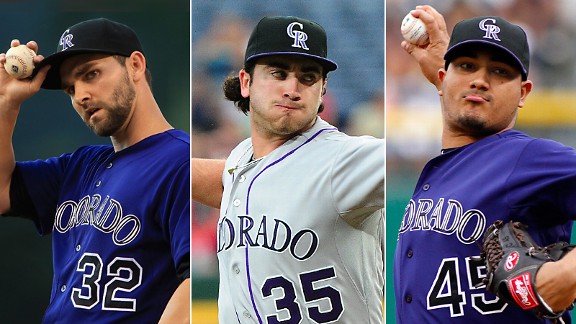 Getty Images
The Mets face (l to r) Tyler Chatwood, Chad Bettis and Jhoulys Chacin during a midweek series against the Colorado Rockies.METS (49-60, third place/NL East) vs. COLORADO ROCKIES (52-61, fourth place/NL West)
Tuesday: RHP Jenrry Mejia (1-1, 2.08) vs. RHP Tyler Chatwood (7-4, 3.15), 7:10 p.m. ET
Wednesday: RHP Matt Harvey (8-3, 2.21) vs. RHP Chad Bettis (0-1, 9.00), 7:10 p.m. ET
Thursday: RHP Dillon Gee (7-8, 3.97) vs. RHP Jhoulys Chacin (10-5, 3.40), 12:10 p.m. ET
Rockies short hops
• Left fielder Carlos Gonzalez should land on the disabled list before Tuesday's series opener after aggravating a right middle finger sprain in his final at-bat Sunday. Gonzalez has experienced multiple setbacks since originally suffering the injury on a July 7 swing. He pulled out of the Home Run Derby and All-Star Game because of the issue. Josh Rutledge may take the roster spot.
• The Rockies arrive at Citi Field having lost six of seven games during the first two stops on their road trip, at Atlanta and Pittsburgh. Since the All-Star break, Colorado pitchers have a 5.11 ERA.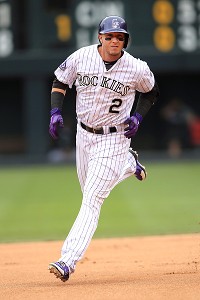 Doug Pensinger/Getty Images
Troy Tulowitzki has yet to hit his typical second-half stride.
• Closer Rafael Betancourt has missed the entire second half after undergoing an appendectomy. Left-hander Rex Brothers has handled the duty in Betancourt's absence.
• The Rockies intend to pick up left-hander Jorge De La Rosa's $11 million option for 2014. De La Rosa, 32, is 10-6 with a 3.31 ERA.
• Shortstop Troy Tulowitzki is still getting his timing down at the plate and has yet to produce at his typically high second-half level since returning from the disabled list July 11. He missed 25 games with a fractured rib on his right side. Tulowitzki is a career .319 second-half hitter.
• Jhoulys Chacin is coming off an outing in which he limited the Pirates to one run in eight innings to earn his 10th win. Chacin keeps the ball down, producing a 1.30 groundout-to-flyout ratio. He also has been the most efficient pitcher in Colorado's rotation. In fact, 53 percent of his plate appearances end in three pitches or fewer and 72 percent end in four pitches or fewer -- both among the tops in the majors.
• Michael Cuddyer finished third in the Home Run Derby with a combined 15 long balls between the first and second rounds. He left the Rockies on Thursday and Friday to be with his ill wife.
• The Rockies' have lost their No. 5 starters' last 10 outings, going 0-4 apiece with Roy Oswalt and Drew Pomeranz and 0-1 apiece with ex-Met Collin McHugh and rookie Chad Bettis.
Bettis, 24, allowed five runs in five innings in his major league debut Thursday at Atlanta, including surrendering homers to Jason Heyward and Justin Upton. A second-round pick in 2010 out of Texas Tech who can register 97 mph with his fastball, Bettis had been promoted directly from Double-A Tulsa. He had missed the entire 2012 season with a shoulder issue.
Pomeranz had an 8.10 ERA in four starts before developing biceps tendinitis.
McHugh, acquired by the Rockies for Eric Young Jr., had the first shot to replace Pomeranz. But the ex-Met allowed six runs in five innings in his Rockies debut on July 27 against the Milwaukee Brewers and was returned to the minors, leading to Bettis' chance.
Oswalt suffered a setback in his return from a left hamstring injury while pitching a simulated game Saturday in Pittsburgh. Because Oswalt is a free agent at season's end, the Rockies could choose to leave Bettis in the rotation even when Oswalt ultimately is ready to return.
• Tyler Chatwood enters Tuesday's start off an outing in which he allowed eight runs (seven earned) in 2 1/3 innings against Atlanta. He is believed to be nursing a leg injury, although he has not acknowledged the issue. Despite the rocky last outing, Chatwood has been the most unforeseen success story among Rockies starting pitchers.
• Todd Helton, who had started nine of the past 10 games for the Rockies, had a back issue resurface Sunday while pinch-hitting. Helton turns 40 on Aug. 20.
• Dexter Fowler is 4-for-22 with five walks on the road trip.
• Reliever Adam Ottavino is a product of Brooklyn's Berkeley Carroll High. He trains with Jose Reyes, Pedro Beato and other athletes at a Garden City, Long Island, facility during the offseason.