NEW YORK
FIRST PITCH: Happy Matt Harvey Day!
Harvey is coming off a rough start -- at least by his standards -- against Miami, having allowed three runs in a 110-pitch effort over 5 2/3 innings. All three of his outings this season in which he has failed to complete six innings have come at Marlins Park.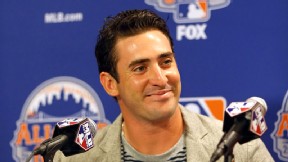 Mike Ehrmann/Getty Images
Matt Harvey has a 1.97 ERA against everyone other than Miami this season.
Harvey has a 3.52 ERA in four starts against Miami this season. He has a 1.97 ERA against the rest of baseball.
At 7:10 p.m., Harvey opposes right-hander Jhoulys Chacin (10-5, 3.40 ERA), who moved up a day because Tyler Chatwood is dealing with a hamstring issue. Chatwood, who was due to start the series opener, instead will attempt to pitch Thursday with two extra days of rest opposite Dillon Gee.
Wednesday's news reports:
• Bobby Parnell has a herniated disk in his neck and may face surgery, although Parnell described an invasive procedure as a last resort. He received an epidural Monday. LaTroy Hawkins handled Tuesday's save, although Terry Collins indicated he would mix and match relievers in the closer's role. Read more in the Post, Star-Ledger, Daily News and Newsday.
• Wilmer Flores went 0-for-4 with an error at third base in his major league debut.
Mike Puma in the Post notes the fans clamoring over Flores is a clear indication of the lack of position-player prospects in the upper levels of the minors, as opposed to pitching with Noah Syndergaard, Rafael Montero and others. Writes Puma:
It gets trickier in trying to identify the position players within the system who can potentially help the Mets anytime soon. There is Travis d'Arnaud, still projected as a top-tier catching prospect, and maybe Flores, provided the Mets find a position for him. Then the drop off is noticeable.
"It's not as plentiful as the pitching options we have, that is for sure," general manager Sandy Alderson said.
Alderson agreed with the assessment d'Arnaud and Flores are the immediate hopes from within the system, among non-pitchers.
"Until [Monday] we might have mentioned some additional players," Alderson said, referring to outfielder Cesar Puello's 50-game suspension for his Biogenesis involvement.
Read more in the Journal and Daily News.
• Eric Young Jr.'s lunging catch of Todd Helton's sinking liner stranded the bases loaded in the sixth. Young then hustled home from second on an infield single two innings later as the Mets beat the Rockies, 3-2, Tuesday night at Citi Field. Jenrry Mejia cruised into the sixth inning before getting into a jam. Mejia indicated his elbow felt fine after bothering him his previous start, in Miami. Ike Davis, back in the cleanup spot pretty much by default, went 2-for-2 with two walks and has a .500 on-base percentage since the All-Star break.
Read game recaps in the Post, Daily News, Times, Star-Ledger, Record, Newsday and MLB.com.
• Jonathon Niese threw 80 pitches over five innings for Double-A Binghamton on Tuesday. The southpaw is expected to return from the DL on Sunday to face the Arizona Diamondbacks in Phoenix.
The Mets plan to return to a six-man rotation at that point. That means next week that Mejia will pitch Monday at Dodger Stadium, followed by Harvey on Tuesday and Gee on Wednesday. In San Diego, it would be Jeremy Hefner on Thursday, followed by Zack Wheeler and then back to Niese and Mejia. Harvey would pitch the Aug. 19 makeup game at Minnesota.
• Francisco Pena's three-run homer wasn't enough as Las Vegas lost at Memphis, 5-3. Cory Vaughn produced six RBIs in Binghamton's doubleheader sweep of Altoona. Read the full minor league recap here.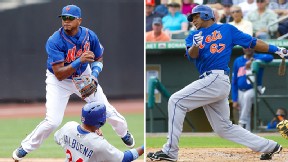 USA TODAY Sports
Jordany Valespin and Cesar Puello accepted 50-game suspensions.
• Alderson was noncommittal about whether Jordany Valdespin would remain with the organization once his 50-game suspension is served. The bet is Valdespin will be done with the organization.
Barbara Barker in Newsday gets reaction to Valdespin and Puello's suspensions. "It's going to be tough when they come back," said Marlon Byrd, who was suspended 50 games last season while maintaining he unwittingly took a banned substance. "The hard part isn't all this. The hard part is walking to your car with your kids and having someone yell 'steroids' at you. But if you want to play this game, you just have to move past all that. It's not easy."
Byrd has maintained his innocence. "Our situations are not the same," he told the Daily News. "He was trying to cheat and I wasn't." Read more in the Post.
Mets player rep Daniel Murphy discussed his reaction to the Biogenesis-related suspensions and stood by his embattled agents. Read more in the Star-Ledger, Newsday and Record.
• Brian Heyman in The Journal News catches up with Rockies manager Walt Weiss, a former Suffern star.
• From the bloggers … Faith and Fear in Flushing hears from a disappointed Jaws of Defeat.
BIRTHDAYS: Kirk Nieuwenhuis turns 26. … Tyler Yates is 36. … Danny Graves is 40.
TWEET OF THE DAY:
Eric Young Jr. was just flat out incredible tonight. The defense just as an overall, really. #Mets

— Jesse Levy (@Drummerr19) August 7, 2013
YOU'RE UP: Has Ike Davis turned a corner?