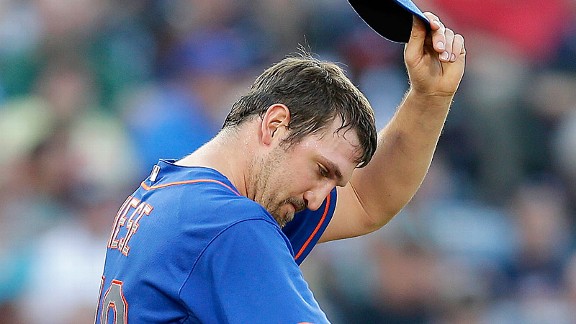 John Bazemore/Associated Press
This afternoon, Jon Niese pitches in his first major league game since June 20.PHOENIX
FIRST PITCH: Jonathon Niese is set to take the mound in a major league game for the first time in more than seven weeks.
Niese, who has been on the disabled list with a partial tear of the rotator cuff in his left shoulder, opposes right-hander Zeke Spruill in the rookie's second career major league start. The Mets and Diamondbacks play the rubber game of their three-game series at 4:10 p.m. ET at Chase Field.
"It's definitely a relief to know I had zero soreness in between rehab starts," said Niese, who appeared in three minor league games. "Granted, I wasn't throwing that many pitches. But each outing I was building more pitches and I felt great after each outing. That's kind of relief. Hopefully that keeps going."
Niese threw 80 pitches in his last rehab start, with Double-A Binghamton. Terry Collins said he expects the southpaw to be capped at about 90 pitches this afternoon.
"It actually ran a lot smoother than I thought it was going to," Niese said about his return from the injury. "When the doctor tells you that you've got a tear, it's kind of scary. You don't think that you're going to be able to get back in the time you hope for. Luckily, everything went smooth and I was able to get back at a pretty rapid pace.
"Before I got hurt, I was trying to pitch through some soreness," he continued. "I really didn't feel like I had my stuff. But hopefully after this I can settle down and get my stuff back and help the team win."
The Mets will need to make a pregame roster move to clear a spot for Niese. Terry Collins indicated the Mets likely would shed a bench player, so Andrew Brown would appear the most vulnerable.
Sunday's news reports: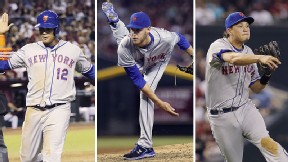 Associated Press
Youngsters Juan Lagares, Zack Wheeler and Wilmer Flores all were big contributors to Saturday's win at Arizona.
• In his 10th major league start, Zack Wheeler took a scoreless effort into the seventh inning and the Mets beat the Diamondbacks, 4-1, Saturday night. Pedro Feliciano retired another lefty batter, this time after inheriting the bases loaded from Carlos Torres in the eighth. Wilmer Flores drove in three runs. Flores now has eight RBIs in five major league games. Ike Davis went 2-for-2 with two walks and lifted his average above .200 for the first time this season. Juan Lagares produced a solo homer.
Read game recaps in the Post, Daily News, Star-Ledger, Record, Newsday and MLB.com.
• Collins emphatically stated Omar Quintanilla is his shortstop. Tejada is 4-for-his-last-52 with Triple-A Las Vegas anyway.
• A sleepover, at up to $200 per ticket, drew about 400 people to Citi Field overnight, according to the Mets.
• Rafael Montero allowed one run and two hits in seven innings as Las Vegas beat Oklahoma City, 4-1. Noah Syndergaard tossed five scoreless innings before being removed at 56 pitches to limit his innings and Binghamton went on to lose, 6-4, to Erie. Dustin Lawley produced his Florida State League-leading 24th homer as St. Lucie beat Palm Beach in 10 innings, 5-4. Seth Lugo tossed seven scoreless innings as Savannah beat Hickory, 2-0. John Gant had a no-hit bid through 5 1/3 innings as Brooklyn edged State College, 2-1. Read the full minor league recap here.
• Collins, who had floated Wheeler potentially working out of the bullpen at the end of the season, now says that is off the table. Even with an innings cap, Wheeler should have enough innings to finish the season as a starting pitcher anyway. Read more in the Star-Ledger.
• On Ike's struggles and his future with the organization, ex-Yankee father Ron -- who attended Saturday's game -- told the Times: "It's just part of the game. That's the main thing, and he knows that. Things happen to baseball players. I went to arbitration twice. One side will say all kinds of great things. The other makes you wonder how you even played Little League."
• Read more on Niese's return in the Daily News, Post, Star-Ledger, Record and Newsday.
• Read more on Feliciano in the Daily News.
• Although their aggressiveness may be hurting them this series, the Mets have been excellent baserunners this season, Marc Carig notes in Newsday.
• Mike Kerwick in the Record suggests the future has arrived.
BIRTHDAYS: The Fonz, Edgardo Alfonzo, turns 40.
TWEET OF THE DAY:
When I pitch this is what my wife does.... pic.twitter.com/sF1ln1LAPZ

— David Aardsma (@TheDA53) August 10, 2013
YOU'RE UP: Should the Mets use Wilmer Flores at shortstop once David Wright returns?