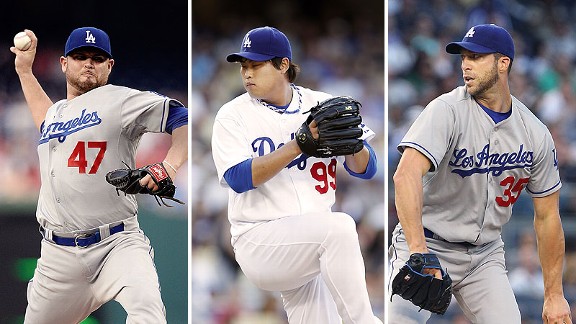 Getty Images
The Mets face (l to r) Ricky Nolasco, Hyun-Jin Ryu and Chris Capuano at Dodger Stadium.METS (54-61, third place/NL East) vs. LOS ANGELES DODGERS (67-50, first place/NL West)
Monday: RHP Jenrry Mejia (1-1, 1.96) vs. RHP Ricky Nolasco (8-9, 3.65), 10:10 p.m. ET
Tuesday: RHP Matt Harvey (9-3, 2.09) vs. LHP Hyun-Jin Ryu (11-3, 2.99), 10:10 p.m. ET
Wednesday: RHP Dillon Gee (8-8, 3.82) vs. LHP Chris Capuano (4-6, 4.50), 10:10 p.m. ET
Dodgers short hops
• The Dodgers are 37-8 since June 22, matching the best 45-game stretch in franchise history. They also posted that record in 1899 and 1953.
The turnaround spared manager Don Mattingly getting fired, he said last week while revealing a late-May meeting with team president Stan Kasten. The Dodgers were a season-low 12 games under .500 before their current 45-game surge.
"Stan was really honest. He didn't want to do anything but he said, 'Donnie, at some point I got to do something,'" Mattingly said, as quoted by ESPNLosAngeles.com. "I understood it. I was fine with that. I understand. At some point you need a change of voice, a different voice."
• Hanley Ramirez (.359, 11 HR, 37 RBIs) continues to experience pain in his right shoulder a week after diving into the stands during a catch attempt at Wrigley Field. He has not started any of the past seven games. The disabled list is a consideration, although the Dodgers lost some backdating ability when Ramirez was used as a pinch hitter Friday. Nick Punto and Dee Gordon have shared the shortstop duty with Ramirez banged up.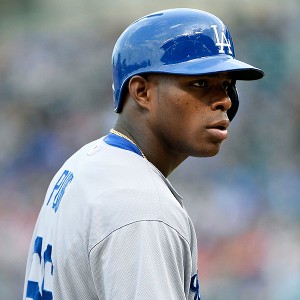 Brian D. Kersey/Getty Images
Yasiel Puig is a leading candidate for NL Rookie of the Year.
• First baseman Adrian Gonzalez departed Sunday's game in the ninth inning with dizziness. Gonzalez leads the Dodgers in homers (16) and RBIs (72).
• Ricky Nolasco was acquired from the Miami Marlins on July 6 for Angel Sanchez, Steve Ames and Josh Wall. Nolasco is 3-1 with a 3.00 ERA in six starts since joining L.A. He has exceeded 5 2/3 innings only once since arriving, in his Dodgers debut at Arizona.
• Cuban defector Yasiel Puig, a 22-year-old rookie, is hitting .441 (15-for-34) with 12 walks in 10 August games. Puig became the first player since Joe DiMaggio in 1936 to have 70 or more hits and 10 homers in his first 50 major league games.
Writes ESPN.com's Dave Schoenfield: "Puig got two hits in his debut with the Los Angeles Dodgers on June 3, then hit two homers the next game, and has been a lightning rod ever since for his play on the field and for his on-field antics that have upset opponents -- a brawl, a bat flip, a confident attitude, a spikes-high slide that Dusty Baker complained about. He plays the game with the flair of someone who escaped Cuba and enjoys displaying his talent for the entire world."
• Former San Francisco Giants closer Brian Wilson, returning from Tommy John surgery, signed with the Dodgers and is working his way back. He tossed a perfect inning Sunday with Triple-A Albuquerque. He has another minor league appearance scheduled for Tuesday, the day before he is eligible to be activated from the disabled list. The Mets, including pitching coach Dan Warthen, flew to California to watch Wilson during the offseason, and were disappointed Wilson was not further along in his rehab from the elbow surgery at that point.
• Center field Matt Kemp has been sidelined since injuring his left ankle sliding into home plate on June 21. He shagged fly balls and took batting practice Sunday, signaling a return is getting closer.
• Closer Kenley Jansen had retired 27 straight batters -- the equivalent of a perfect game -- before surrendering a single to St. Louis' David Freese on Thursday. Jansen became the first Dodger to retire 27 straight since Greg Maddux retired 32 straight from Aug. 13-19, 2006, according to the Elias Sports Bureau.
• Ex-Met Chris Capuano allowed five runs on 10 hits in 4 1/3 innings against the Rays on Friday. The southpaw had combined to toss 13 scoreless innings over his previous two starts, against the Cincinnati Reds and Chicago Cubs.
• Reliever Carlos Marmol was acquired from the Cubs on July 2 for reliever Matt Guerrier. Marmol made his Dodgers debut 20 days later, after a minor league stint.
• A.J. Ellis sees the most pitchers per plate appearance in the NL.
• Third baseman Juan Uribe became the victim of a hidden-ball trick by the Rays when he stepped off third base Saturday.
• L.A. acquired Drew Butera, a former Mets farmhand, from the Minnesota Twins for a player to be named and assigned the catcher to Albuquerque.