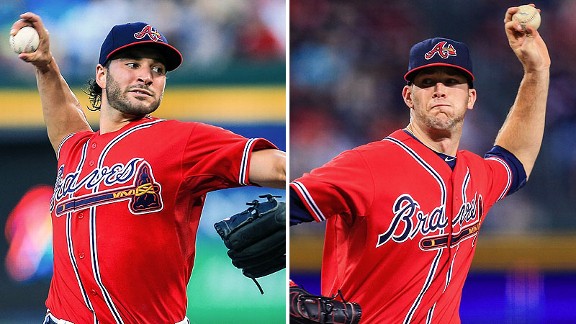 USA TODAY Sports
The Mets face Brandon Beachy and Alex Wood during a two-game series at Citi Field.METS (57-66, third place/NL East) vs. ATLANTA BRAVES (76-48, first place/NL East)
Tuesday: RHP Zack Wheeler (5-2, 3.43) vs. RHP Brandon Beachy (2-0, 4.50), 7:10 p.m. ET
Wednesday: LHP Jonathon Niese (5-6, 4.25) vs. LHP Alex Wood (2-2, 2.61), 1:10 p.m. ET
Braves short hops
• Brandon Beachy made his season debut July 29 after missing 13 months recovering from Tommy John surgery. He took the rotation spot vacated by Tim Hudson, who underwent ankle surgery after getting stepped on by Eric Young Jr. at Citi Field during Atlanta's last visit. Beachy had the NL's best ERA at 2.00 when he tore the ulnar collateral ligament in his right elbow on June 16, 2012 against the Baltimore Orioles.
• The Braves are 19-3 since July 26. They own a season-high 15½-game lead over the second-place Washington Nationals. The last time Atlanta enjoyed a larger division lead came when it won the NL East in 2002 by 19 games over the Montreal Expos, while going 101-59.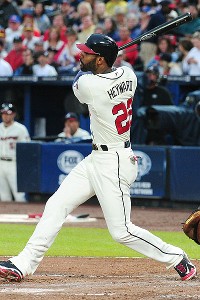 Win McNamee/Getty Images
Jason Heyward has moved to the leadoff spot.
• Craig Kimbrel has an NL-leading 39 saves. He has converted 29 straight chances, topping the previous franchise record of 27 straight set by John Smoltz from Aug. 8, 2002 through May 1, 2003. Over his past 25 appearances, Kimbrel has struck out 42 batters while allowing 10 hits and 10 walks in 25 innings.
Overall, Atlanta's relief corps ranks first in the majors in ERA (2.40), opponent batting average (.213) and WHIP (1.11).
• Since emerging as the leadoff hitter on July 27, Jason Heyward is batting .370 (30-for-81) with five homers, 15 RBIs and a .433 on-base percentage. Andrelton Simmons, who previously occupied the leadoff spot the bulk of the time, mostly has dropped to eighth.
• Rookie Alex Wood, a second-round pick out of the University of Georgia in 2012, makes his seventh major league start -- and third career start against the Mets. In his previous two appearances against the Mets, he has allowed a combined five earned runs on 10 hits and five walks (one intentional) in 7 1/3 innings.
• Jordan Schafer has started the Braves' last four games against right-handed pitchers over B.J. Upton in center field. Upton is hitting .186 with eight homers and 21 RBIs in 317 total at-bats. He is in the first season of a five-year, $75.25 million deal.
• Dan Uggla is on the DL after undergoing LASIK surgery to correct his vision. Tyler Pastornicky, Paul Janish and rookie Philip Gosselin have started at second base over the past five games in Uggla's absence. Gosselin was promoted after Pastornicky tore the ACL in his left knee.
The Braves also have signed second baseman Tyler Greene to a minor league contact and assigned him to Triple-A. He previously was with the Chicago White Sox.
Uggla ranked second on the Braves in homers with 21 and had a team-leading 62 walks when he landed on the DL. But he also had the worst batting average (.186) among major league qualifiers and led the NL in strikeouts (146).
• Left-hander Paul Maholm, on the disabled list since July 29 with a bruised left wrist, is nearing a return after making a rehab start Saturday with Class A Rome.