T.J. Chism has 16 saves for Class A St. Lucie, which ranks third in the Florida State League. The southpaw isn't the first member of his family to rank among that league's leaders.
Chism's father Tom hit .314 and won the FSL batting title in 1975. The elder Chism, a first baseman, went on to appear in six games for the Orioles four year later.
"We have a lot of team pictures and stuff like that of him and Cal Ripken right next to each other," Chism said. "It's kind of cool. I was born after he was done playing, but I still feel like I was alive, because there's all that stuff around the house. He won a Florida State League batting title, which is crazy now that I'm playing in the same league. He always tells me this is a pitchers' league."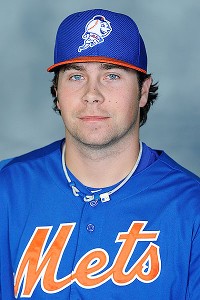 Courtesy of New York Mets
T.J. Chism
Not that the 5-foot-10 Chism's mother, Kelly MacIntosh, was a slouch athletically.
"She'll take all the credit, if you ask her," Chism quipped. "She played high school basketball and stuff like that. She was a little bit smaller, which is why I think I got a little bit slighted on the height side. But her athletic ability was tremendous. She always tells me stories about how she scored 50 points in basketball games, which is weird because I can't shoot a basketball to save my life. I played every other sport but basketball."
Chism is a 32nd-round pick in 2009 by the Mets out of La Salle University. He grew up a 40-minute drive from the Philadelphia campus. He led the Explorers in homers his junior year with 11 and averaged nearly a run and RBI per game.
"I was a hitter. That was my passion," said Chism, who noted that he pitched to get seen by scouts and because there were not clear alternatives on the team.
Added Chism: "I would start on Sundays and I'd still hit for myself. I got into the sixth inning one time, I think. That was against Temple. I was good for two or three innings and then the wheels fell off."
Chism, who turned 25 on Aug. 9, does not have eye-popping velocity, but results are results.
In 54 innings over 42 appearances, Chism has limited opponents to 46 hits and 13 walks (three intentional) while striking out 50. His 16 saves have come in 19 chances. He has a 2.33 ERA. Lefty batters are hitting .194 with one homer in 62 at-bats against him.
Chism began closing as part of a revolving set of back-end pitchers in 2011 with Brooklyn. He then became established in the role last season with Savannah.
He primarily throws a four-seam fastball (86-87 mph) as well as a slider and changeup. He dropped to a three-quarters arm slot in 2010 with the encouragement of Jonathan Hurst, his Kingsport pitching coach.
"We were playing catch one day, and I couldn't throw a strike to save my life," Chism said. "So I dropped down a little bit on my own, and he goes, 'Chiz, what's going on? You doing something different?' I said, 'Yeah, I dropped down a little bit just to get a consistent release point.' He's like, 'Dude, the ball is jumping out of your hand. Let's roll with it.' I was like, 'All right, let's do it.' That saved my career."
Organization leaders
Average: Jayce Boyd, St. Lucie, .328; Cesar Puello, Binghamton, .326; Wilmer Flores, Vegas, .321; Jhoan Urena, GCL Mets, .319; Yeixon Ruiz, Kingsport, .316; Jeff McNeil, Kingsport, .314; Kevin Plawecki, St. Lucie, .308; LJ Mazzilli, Brooklyn, .299; T.J. Rivera, St. Lucie, .296; Eric Campbell, Vegas, .295.
Homers: Dustin Lawley, St. Lucie, 25; Travis Taijeron, Binghamton, 21; Allan Dykstra, Binghamton, 19; Cesar Puello, Binghamton, 16; Wilmer Flores, Vegas, 15.
RBIs: Dustin Lawley, St. Lucie, 90; Wilmer Flores, Vegas, 86; Allan Dykstra, Binghamton, 77; Jayce Boyd, St. Lucie, 76; Kevin Plawecki, St. Lucie, 76.
Steals: Darrell Ceciliani, Binghamton, 29; Cesar Puello, Binghamton, 24; Alonzo Harris, Binghamton, 23; Eudy Pina, Savannah, 18; Patrick Biondi, Brooklyn, 17.
ERA: Rob Whalen, Kingsport, 1.67; Chris Flexen, Kingsport, 2.14; Noah Syndergaard, Binghamton, 2.43; Robert Gsellman, Brooklyn, 2.50; Miller Diaz, Brooklyn, 2.54; Rainy Lara, St. Lucie, 2.55; John Gant, Brooklyn, 2.59; Gabriel Ynoa, Savannah, 2.71; Rafael Montero, Vegas, 2.88; Matt Bowman, St. Lucie, 3.05.
Wins: Gabriel Ynoa, Savannah, 14; Rafael Montero, Vegas, 12; Matt Bowman, St. Lucie, 10; Logan Verrett, Binghamton, 10.
Saves: Jeff Walters, Binghamton, 35; Beck Wheeler, Savannah, 17; T.J. Chism, St. Lucie, 16; Robert Carson, Vegas, 11; Bret Mitchell, St. Lucie, 10.
Strikeouts: Rafael Montero, Vegas, 137; Noah Syndergaaard, Binghamton, 128; Logan Verrett, Binghamton, 117; Matt Bowman, St. Lucie, 116; Erik Goeddel, Binghamton, 116.
Short hops
• Despite innings caps, right-handers Rafael Montero and Jacob deGrom should be permitted to pitch with Las Vegas through the playoffs, provided the 51s qualify. The exception: If Las Vegas became eliminated from postseason contention early, the pitching prospects likely would skip their final regular-season starts. Montero and deGrom are expected to be on 90-pitch limits for the remainder of the season.
Innings limits are hitting the entire system. Double-A phenom Noah Syndergaard, who regularly has been capped at five innings of late, is skipping a start. He is due to reenter the rotation Monday. With St. Lucie, Matt Bowman is at least temporarily shut down.
• The Mets added a pair of starting-pitching arms for Las Vegas -- right-handers Mitch Talbot and Daryl Thompson.
Talbot, 29, made one appearance for Triple-A New Orleans in April before experiencing elbow tendinitis and getting shut down. He was released by the Marlins organization at his request after appearing in two Gulf Coast League games -- the latter a five-inning effort on Aug. 1 against the Mets in Port St. Lucie -- because New Orleans did not have any roster room. Talbot is a career 12-19 with a 5.30 ERA in 43 major league appearances (41 starts) from 2008 through 2011 with the Rays and Indians.
Thompson, 27, is 0-3 with an 8.31 ERA in four career appearances (three starts) with the Reds in 2008 and '11. He was 10-5 with a 3.17 ERA in 124 2/3 innings for the Southern Maryland Blue Crabs in the independent Atlantic League this season.
Las Vegas needs the extra arms, particularly because of an upcoming six-game series over four days at Colorado Springs.
The bullpen is so taxed, especially with Greg Burke getting a call-up, that starter Matt Fox had to log 107 pitches Monday despite getting drilled for eight runs in four innings.
• An observer clocked Tim Byrdak's fastball velocity at 88-89 mph during an appearance Monday and suggested he should be no-brainer to be up with the Mets after rosters expand. Byrdak currently is on a minor league contract as he returns from Sept. 6, 2012 surgery to repair a torn anterior capsule in his left shoulder.
The Mets should have 40-man roster room for call-ups, including Byrdak. Since Cesar Puello and Jordany Valdespin are on the restricted list and do not count, the Mets' 40-man roster is at 38. Players on the 60-day DL do not count against the 40-man roster, either. The Mets already have Frank Francisco, Jeurys Familia and Johan Santana on the 60-day DL. Team officials potentially can open two 40-man roster more spots by shifting Jenrry Mejia and Jeremy Hefner to the 60-day DL.
While it is premature for any commitments, logical September call-ups include Anthony Recker on Sept. 1 and then Lucas Duda, Ruben Tejada, Kirk Nieuwenhuis, Robert Carson and Matt den Dekker once the 51s' season ends. (Zach Lutz, on the 40-man roster, is far more iffy.)
Den Dekker is not on the 40-man roster, but needs to be added this offseason anyway for Rule 5 protection.
The Mets often reward an unheralded player for performance, too. That could wind up being 26-year-old Eric Campbell, an eighth-round pick in 2008 from Boston College, who has more walks (55) than strikeouts (52) and a .419 on-base percentage. He can play corner infield and outfield positions.
• Binghamton's magic number for its first division title since 2000 technically remains at one, but the B-Mets already have clinched because they own the tiebreaker with Trenton by virtue of winning the season series. The 2000 squad included Ty Wigginton, Alex Escobar, Tyler Walker, Dicky Gonzalez and Pat Strange, as well as top prospect Brian Cole, who died the following spring training.
• The B-Mets dodged a pair of injury bullets. Outfielder Cory Vaughn, struck in the back of the helmet with a pitch Monday, passed concussion tests and returned to the lineup a day later as DH. Shortstop Wilfredo Tovar, hurt in the same game, underwent X-rays on his left wrist that were negative.
Vaughn, incidentally will be part of the Mets' Arizona Fall League contingent, his agents at Northwest Sports Management Group announced. Also AFL-bound: B-Mets right-hander Cory Mazzoni, assuming he heals from season-ending surgery to repair a torn meniscus. Mazzoni faces a five- to six-week rehab timetable.
• Savannah's Gabriel Ynoa earned his 14th win Tuesday. That is the most wins by a Mets farmhand since Jason Scobie had 15 with Triple-A Norfolk in 2005.
• B-Mets first baseman Allan Dykstra's 97 walks are the most in the Eastern League since Brian Myrow had 107 walks with the Trenton Thunder in 2003.
• Michael Fulmer preliminarily has been diagnosed with biceps tendinitis after leaving his last start. He is due to see team doctors in New York on Thursday.
• With 14 games remaining in St. Lucie's season, Dustin Lawley is chasing several of the Florida State League club's single-season records. Lawley sits at 25 homers, 90 RBIs and 31 doubles. The St. Lucie records belong to Robert Stratton with 29 homers in 2000, Nikco Riesgo with 94 RBIs in 1990 and David Wright with 39 doubles in 2003.
• T.J. Rivera leads the Florida State League with 137 hits (including one in Tuesday's suspended game). The St. Lucie record is 156 hits, jointly held by Omar Garcia (1993) and Corey Coles (2006).
• Gavin Cecchini's hit streak with Brooklyn ended at 16 games Monday, one shy of matching the Cyclones' record set by Lucas Duda in 2007. Cecchini isn't the only former first-round pick heating up. Brandon Nimmo is batting .393 (24-for-61) with one homer, 12 RBIs and a .543 on-base percentage in August with Savannah.
• Kyle Johnson, acquired from the Angels for Collin Cowgill, has a 15-game hitting streak with St. Lucie -- including a hit in Tuesday's suspended game that will resume Wednesday.
• Omar Minaya, now a special assistant for the Padres, is predicting big things for one of his former Mets signings. Minaya last weekend praised Mexican right-hander Luis Cessa, who is 7-3 with a 3.08 ERA in 19 starts with Savannah. Cessa, as noted by Minaya, originally was signed as a third baseman and dabbled in the infield in 2009 and '10 before moving full time to pitching.