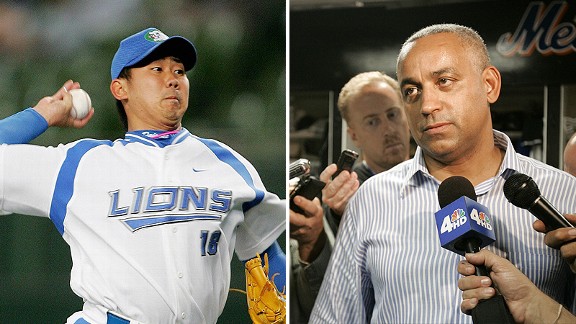 Getty Images, Associated Press
Omar Minaya and the Mets put in an aggressive posting bid for Daisuke Matsuzaka back in 2006.NEW YORK
FIRST PITCH: A day after officially joining the organization, Daisuke Matsuzaka makes his Mets debut when he starts tonight's series opener against the Detroit Tigers at Citi Field.
Matsuzaka, now 32, nearly became a Met in his prime.
Former GM Omar Minaya on Thursday recalled the Mets finishing second to the Boston Red Sox in the posting bidding for Matsuzaka after the Japanese icon declared his intent to come to the United States during a November 2006 press conference at the Takanawa Prince Hotel in Tokyo.
Minaya remembered Mets officials feeling good about their chances of landing Matsuzaka after submitting a posting bid in the $35 million vicinity.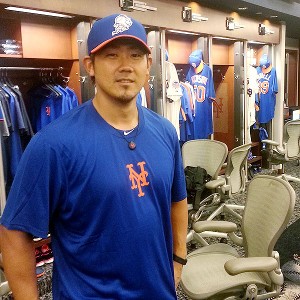 Courtesy of New York Mets
Daisuke Matsuzaka stopped by Citi Field on Thursday's off-day.
The highest bid would give the major league team the exclusive right to negotiate with the pitcher. The posting fee goes to the Japanese ballclub, not the player.
At the time, the Mets' bid was poised to wildly surpass the highest figure ever submitted for a player posted from Japan. The record at the time: The Seattle Mariners had won the rights to negotiate with Ichiro Suzuki back in 2000 for a $13 million posting fee to the Orix Blue Wave.
However, the Mets lost out on Matsuzaka when the bids were unsealed and it was learned the Red Sox had submitted a whopping posting bid of $51.11 million to the Seibu Lions.
In subsequent negotiations, Matsuzaka received a $52 million contract over six years from Boston, making the Red Sox's total outlay to land him $103.11 million.
"We thought we had a good number at the time, but the bottom line is they were much higher than us," recalled Minaya, now a special assistant with the San Diego Padres. "After that season, we were kind of looking for that No. 1 guy. And the guys we were considering were Dice-K and [Barry] Zito at the time, too. Dice-K and him were the two best guys out there.
"At that time, I think the biggest [posting bid ever] was Ichiro -- not even $15 million. And we finished third with Ichiro. But the bottom line is we went up to the middle $30s -- or high $30s, I think it was -- with Dice-K. And we thought we had a good chance. The bottom line is they went up to the $50s.
"I had seen Dice-K a lot. I saw Dice-K in Japan. I saw Dice-K in Australia and in the Olympics. So I had a lot of history with him. And at the time he was a pretty good pitcher -- a very good pitcher.
"The question was: How much does he bring to the marketing side? At that time Boston felt he was going to bring them a lot of extra marketing, and that's why they went to that number."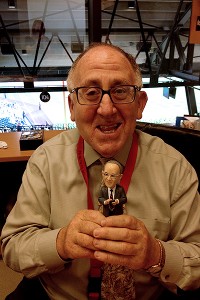 Courtesy of New York Mets
Tonight's game also features a Jay Horwitz bobblehead giveaway (here pictured with the real thing).
Now, Matsuzaka opposes right-hander Doug Fister (10-6, 3.63) in the 7:10 p.m. series opener. The night also includes a Jay Horwitz bobblehead giveaway for those buying special tickets. Third Eye Blind entertains with a postgame concert.
Matsuzaka likely will have a short outing, since he will work on short rest after throwing 85 pitches Monday for Triple-A Columbus. Carlos Torres, originally penciled in for the start, should piggyback Matsuzaka's outing.
Read the series Mets-Tigers preview here.
Friday's news reports:
• Zack Wheeler tells Marc Carig in Newsday he does not mind a team-imposed innings cap. The rookie noted his fastball velocity is now hovering in the lower-90s mph, which signals he is pitching deeper into a season than before and his energy is getting sapped. Wheeler's brother, Adam, was a flame-throwing Yankees farmhand before tearing a labrum and undergoing surgery that derailed his career. So Wheeler acutely understands the dangers of overwork.
Wheeler currently is at a combined 138 1/3 innings between the majors at minors this season. He logged 149 innings last year. A roughly 30-inning jump from the previous season generally is within the acceptable limit. So Wheeler may have 40 or so more innings left before a shutdown.
"Of course, I'm young and I want to pitch as long as I can," Wheeler tells Carig. "And with them sort of limiting innings and pitches and all that stuff, I think it will help me out down the road. I'm not mad about it, honestly.''
• The Mets dispatched Greg Burke to Triple-A Las Vegas to clear a roster spot for Matsuzaka. Burke should return after the 51s complete their season and major league rosters have expanded.
Read more on Matsuzaka's signing in the Post, Daily News, Star-Ledger, Record, Newsday, Times, Journal and MLB.com.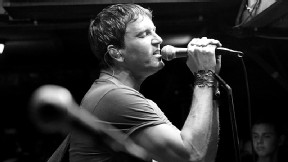 Paul Chesne/Michael Ochs Archives/Getty Images
Stephan Jenkins and Third Eye Blind perform postgame tonight at Citi Field.
• Jason Heyward underwent surgery Thursday in Atlanta on his jaw. He had two plates inserted -- one in each fractured area. Heyward was struck Wednesday by a 90 mph fastball from Jonathon Niese. Read more in the Atlanta Journal-Constitution.
• John Buck tells Jorge Castillo in the Star-Ledger he is embracing the role of mentoring Travis d'Arnaud. Buck generously made an effort to dine with d'Arnaud this summer when the rookie was in New York for a follow-up exam on his fractured foot. "I still have a responsibility to the Mets and to this team," Buck said. "Travis is my teammate. I have a lot of family members and stuff that think I'm crazy. But that's just who I am."
• Giancarlo Alvarado tossed 7 2/3 scoreless innings and Zach Lutz drove in three runs as Las Vegas beat Fresno, 5-0. Rob Whalen tossed seven scoreless innings and Kingsport blanked Bluefield, 7-0. Read the full minor league recap here.
• Former Mets minor league catcher Landon Powell, whose emotional story was documented in an E:60 piece, has joined Furman University as a volunteer assistant coach.
• Jeremy Hefner was shocked by the murder of an Australian man playing college baseball in Hefner's home state of Oklahoma, he told the Daily News.
• From the bloggers: Rising Apple expects the Mets to be in contention in 2014. … John Delcos at Mets Report speculates about a potential Jose Reyes-Mets winter reunion.
BIRTHDAYS: Julio Franco turns 55. … Ed Hearn is 53. … Prentice Redman turns 34. … Pat Strange is 33.
TWEET OF THE DAY:
Harvey vs. Scherzer on Saturday? Sorry kid, we're not watching The Wiggles this weekend. #Mets

— Nick (@drsexington) August 22, 2013
YOU'RE UP: Would you prefer Daisuke Matsuzaka, Carlos Torres, Rafael Montero or Jacob deGrom getting starts down the stretch?