NEW YORK
FIRST PITCH: A 2013 Cy Young winner should be pitching at Citi Field today, when the Mets face the Detroit Tigers at 4:05 p.m.
No disrespect to Matt Harvey, but we're talking about right-hander Max Scherzer (18-1, 2.82).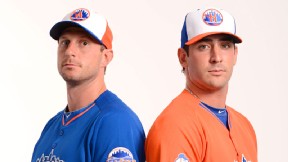 Rob Tringali/Getty Images
All-Star starters Max Scherzer and Matt Harvey meet again today.
The Harvey-Scherzer matchup marks the first time in MLB history the two All-Star starting pitchers have faced off in a regular-season game at any point that same year, according to the Elias Sports Bureau.
The Wall Street Journal notes All-Star starters twice have matched up in the World Series, though: Paul Derringer (Reds) versus Red Ruffing (Yankees) in Game 1 in 1939, and Roger Clemens (Red Sox) versus Dwight Gooden (Mets) in Game 2 in 1986.
"I think that's what makes Matt Harvey tick, to be honest," Terry Collins said. "It's not just Max Scherzer. It's the fact that he's going to see Prince [Fielder] and [Miguel] Cabrera and Torii [Hunter]. That whole lineup is a challenge. Matt relishes that. That's what makes him go. So he's very excited about pitching.
"It's going to be fun. It's going to be a good ballgame, obviously. Max is pitching great. He can strike you out. And one of the things we've got some issues with sometimes, we strike out. So we've got to be a little more disciplined … and put some balls in play."
After Travis d'Arnaud caught Harvey in San Diego last weekend, Collins indicated Friday he plans to pair John Buck with the ace today.
"They've been together for 25 or 26 starts. They're pretty comfortable," Collins said about the Harvey-Buck battery. "Travis d'Arnaud will catch him for 15 years. We'll make up that ground."
Saturday's news reports:
• Daisuke Matsuzaka allowed early homers to Hunter and Cabrera before retiring the final 10 batters he faced and allowed five runs in five innings as the Mets lost to the Tigers, 6-1, Friday at Citi Field. Matsuzaka indicated he initially was nervous in his Mets debut. He said he signed with the organization because of the opportunity to immediately pitch in a major league rotation. Matsuzaka will earn slightly more than $100,000 for the remainder of the season, then be a free agent. Sandy Alderson called Matsuzaka the Mets' "best option" to plug a rotation void the rest of the season, since the promising Triple-A pitchers face innings caps.
Read game recaps in the Post, Daily News, Times, Journal, Star-Ledger, Record, Newsday and MLB.com.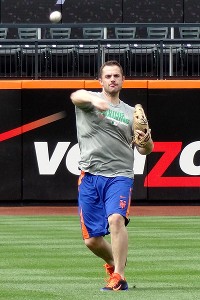 Adam Rubin
David Wright tossed a baseball and took grounders at Citi Field pregame Friday.
• David Wright took grounders at third base pregame Friday. Collins indicated the third baseman should be in Port St. Lucie, Fla., doing significant baseball activities by Tuesday or Wednesday as he returns from a strained right hamstring.
• Read more on the Scherzer-Harvey matchup in Newsday.
• Benjamin Hoffman in the Times notes Matsuzaka's legendary "gyroball" turned out to be nothing more than a myth when he came to the States in 2007. Writes Hoffman:
Using FanGraphs' pitch-type data, provided by the record-keeping wizards at Baseball Info Solutions, Matsuzaka, like many other pitchers, relied mostly on his fastball, which he threw 53.1 percent of the time with the Red Sox. He also worked in a fair amount of sliders, cutters, changeups, splitters and curves.
The one hope that the gyroball does, or did, exist was that 0.8 percent of his pitches fell into the unknown-pitch-type category. Perhaps those were the gyroballs. Thus, when his 11,607 career pitches are considered, the possibility exists that he threw 93 gyroballs. That's not a whole lot.
• Wilmer Flores had a career-high three hits in the series opener. Read a profile of Flores from Mike Kerwick in the Record.
• Frank Francisco tossed a scoreless inning Friday, in his second appearance in the Gulf Coast League in three days.
• Jacob deGrom was charged with six runs in five innings with Las Vegas. Brandon Welch and Carlos Gomez combined on a six-hit shutout as Kingsport beat Bluefield, 7-0. Alex Sanchez had a grand slam in Brooklyn's 10-2 win against Vermont. Read the full minor league recap here.
• From the bloggers: Mark Berman from Blogging Mets has a blueprint for success for the 2014 Mets. … Faith and Fear in Flushing visits Astoria and stumbles upon a Mets video time capsule.
BIRTHDAYS: Bartolome Fortunato, the reliever who came from the Rays with Victor Zambrano in the Scott Kazmir trade, turns 39.
TWEET OF THE DAY:
My baseball card is already on eBay!

— Rob Whalen (@RobWhalen38) August 23, 2013
YOU'RE UP: Are you encouraged by Daisuke Matsuzaka retiring the final 10 batters he faced?