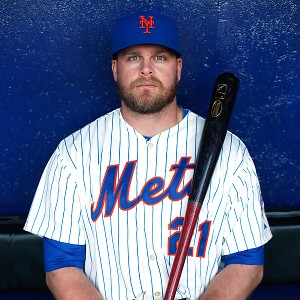 Chris Trotmanamee/Getty Images
Lucas Duda is returning to the majors.
NEW YORK -- Lucas Duda, who has not appeared in a major league game since June 21, is returning to the major league club.
Duda had been playing rehab games with Triple-A Las Vegas when he was taken off the rehab assignment on Aug. 7 and officially optioned to the 51s. Because the Mets are returning Duda to the majors within 20 days of that option, this year will not count as an option year being used for Duda.
Mike Baxter has been demoted to Las Vegas.
Duda exclusively had played first base in his past 12 starts. He went 2-for-5 for the 51s on Friday night and is hitting .308 with eight RBIs and 14 walks in 62 at-bats in Triple-A, including the rehab numbers.
Terry Collins will address later how he plans to use Duda. Options would be to share time with Eric Young Jr. in left field, chip away at Ike Davis' time against righties at first base, or serve as a lefty bat for the bench. Davis is hitting .172 (5-for-29) with two homers in his past nine games (seven starts).