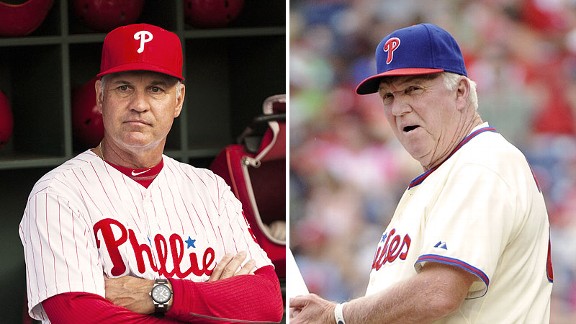 USA TODAY Sports
Ryne Sandberg has replaced Charlie Manuel as Phillies manager.METS (58-70, third place/NL East) vs. PHILADELPHIA PHILLIES (59-71, third place/NL East)
Monday: RHP Zack Wheeler (6-2, 3.49) vs. LHP Cliff Lee (10-6, 3.16), 7:10 p.m. ET
Tuesday: LHP Jonathon Niese (5-6, 4.03) vs. RHP Kyle Kendrick (10-10, 4.51), 7:10 p.m. ET
Wednesday: RHP Daisuke Matsuzaka (0-1, 9.00) vs. LHP Cole Hamels (5-13, 3.62), 7:10 p.m. ET
Thursday: RHP Matt Harvey (9-5, 2.27) vs. RHP Ethan Martin (2-2, 6.33), 1:10 p.m. ET
Phillies short hops
• The Phillies fired manager Charlie Manuel on Aug. 16 and named former Chicago Cubs star Ryne Sandberg the interim manager. Sandberg most recently served as Philadelphia's third-base coach. He previously managed the organization's Triple-A Lehigh Valley affiliate for two seasons.
Manuel, 69, began managing the club in 2005 and compiled a 780-636 record. He has the most wins in franchise history, and managed the Phillies' 2008 World Series title team. Manuel's firing came four days after he earned his 1,000th career win, combined with a 2½-season stint managing the Cleveland Indians.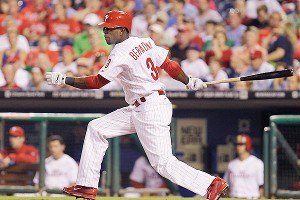 Laurence Kesterson/Associated Press
Ex-Nat Roger Bernadina signed with the Phillies last week.
• Ryan Howard appears done for the season after undergoing left knee surgery on July 10. Although Howard has resumed baseball activities, Sandberg indicated it would not be productive to try to get the first baseman in major league shape by the season's conclusion. Michael Young primarily has played first base minus Howard.
• Rookie Ethan Martin, the 15th overall pick in the 2008 draft, was acquired at last year's trade deadline in the deal that sent Shane Victorino to the Los Angeles Dodgers. Martin has a 6.33 ERA in five major league starts. He is coming off an outing Saturday against the Arizona Diamondbacks in which he was knocked out after recording only two outs. Martin surrendered three hits, including a homer to Martin Prado, and walked three.
That game ended up lasting 18 innings. Its length prompted scheduled Sunday starter Tyler Cloyd to pitch five innings in relief Saturday, which then prompted the Phillies to bring back Roy Halladay early from the disabled list to start Sunday. Halladay had planned to pitch in another minor league rehab game after recovering from right shoulder surgery. The Phillies also used outfielder Casper Wells and infielder John McDonald as relief pitchers in the 18-inning game.
• Wells was claimed off waivers from the Chicago White Sox on Aug. 8.
• The Phillies signed outfielder Roger Bernadina on Wednesday and optioned Michael Martinez to Triple-A Lehigh Valley. Bernadina had batted .178 with two homers and six RBIs in 85 games with the Washington Nationals this season.
• The Phillies have won two straight series, after winning only one other series since the All-Star break.
• Darin Ruf has a National League-high nine homers in August. His long ball total is the most by a Phillies rookie in a calendar month since Howard had 10 in September 2005.
• John Lannan will undergo left-knee surgery. Fellow starting pitcher Jonathan Pettibone also is expected to miss the remainder of the season, with rotator-cuff inflammation.
• Domonic Brown departed Saturday's game with right heel soreness. He then pinch hit on Sunday. Brown recently missed 11 games with a concussion.
• Jimmy Rollins needs two homers for 200 in his career.