NEW YORK -- Jonathon Niese recognized the importance of tossing his second career shutout on the day Matt Harvey officially landed on the disabled list and John Buck and Marlon Byrd were traded to the Pittsburgh Pirates.
"It was just an overall great win for us today," Niese said after tossing a three-hitter in a 5-0 victory against the Philadelphia Phillies, in what became the southpaw's first win at Citi Field since Opening Day. "After getting the news with Harvey, it's kind of one of those things where we need to press on and do our jobs and pray for him -- a speedy recovery. We still have a little over a month left this year, so we want to finish strong."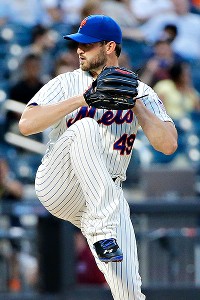 Anthony Gruppuso/USA TODAY Sports
Jon Niese tossed a three-hit shutout Tuesday.
Niese can identify with Harvey. He was diagnosed with a partial tear of the rotator cuff in his pitching shoulder in mid-June. Surgery initially was on the table as an option, but doctors eventually recommended rest and rehab. He now is 3-0 with a 1.93 ERA in four starts since returning from the DL on Aug. 11.
Harvey now is confronted with potentially needing Tommy John surgery for a partial tear of the ulnar collateral ligament in his pitching elbow.
"It was hard," Niese said, reflecting on his own situation. "Getting that news from the doctor telling me I have a partial tear, it was tough going through the rehab. I tried to work as hard as I could to get back as quick as I could. It's kind of rewarding to know I'm 100 percent now and I'm seeing some good results."
As for his advice to Harvey, Niese added: "It's one of those things where you've got to be patient. You can't put the cart before the horses. He's probably going to get an MRI in two or three weeks, just like I did. I rehabbed it, rested, waited, gave it some time and got another MRI and everything looked good. Hopefully that's the case with him. In two or three weeks, maybe he gets the MRI and everything looks good. That's what I'm praying for, but we'll see. Fortunately, for me, I was able to rehab right away and come back."
Niese shined at the plate Tuesday as well, delivering a three-run double to cap the scoring. Terry Collins joked it might have been the Mets' best at-bat in five games.
"'I'll leave that to the guys," Niese said about hitting.
As for earlier running through third-base coach Tim Teufel's stop sign to score the game's opening run from second base, Niese said: "I told myself, 'With two outs, I'm going to run on the swing. And if it's a hit, I'm going. I'm getting home.' It was kind of too late. I had my mind set on getting home. And by the time I saw the stop sign it was too late. I kind of held up a little bit and then I just kept going."
Said Collins: "We had huge expectations at the beginning of the season for Jon Niese. He went through a little bit of an injury issue, but he's back and he's healthy and it really picks us up."