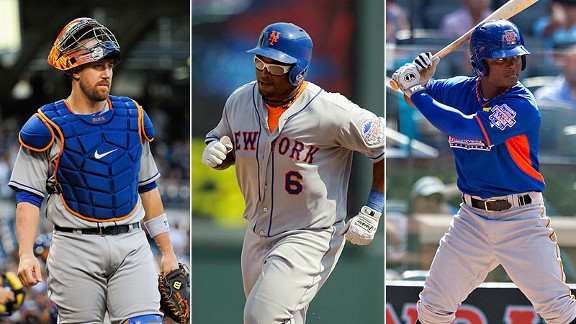 Getty Images
John Buck and Marlon Byrd are now Pirates, while second baseman Dilson Herrera joins the Mets organization.NEW YORK
FIRST PITCH: Where have you gone Mets-Phillies rivalry?
From the Mets finally unseating the Atlanta Braves in 2006, to the following year's "team-to-beat" proclamation by Jimmy Rollins, the NL East seemed to revolve around New York and Philadelphia.
Now? The teams are a collective 24 games under .500 and merely jockeying for third place in the division.
And we're left tonight with Daisuke Matsuzaka Night at Citi Field against an eight-games-under-.500 Cole Hamels (5-13, 3.62 ERA).
Matsuzaka (0-1, 9.00 ERA) makes his second Mets start at 7:10 p.m.
Wednesday's news reports:
• The Mets traded Marlon Byrd, John Buck and cash to the Pittsburgh Pirates for Class A second baseman Dilson Herrera and a player to be named. Herrera, a Futures Game participant from Colombia, will be assigned to low-A Savannah for the remainder of the season.
"Marlon Byrd is an impactful bat with significant numbers against left-handed pitching and John Buck is a strong receiver who works well with a pitching staff," Pirates manager Clint Hurdle told reporters in Pittsburgh. "Those were areas we were looking to improve upon and strengthen, and the trade also adds a couple of layers of experience to our club."
Writes ESPN's Keith Law on Herrera:
Playing full time at age 19 in the low-Class A Sally League, Herrera has shown somewhat surprising pop, with a .156 isolated power and 41 extra-base hits in 109 games. He's got a simple, quiet approach, just loading his hands a little higher than he should, with adequate hip rotation for 15-20 homer power at his peak.
He's an above-average runner whose speed hasn't translated into baserunning value, and is presently a fringy defender at second, but should develop into an above-average glove given time and instruction. I'd call him a future everyday second baseman, a solid regular with a chance to be an above-average one.
I'm told by multiple sources that the Mets will receive another player-to-be-named who is a "solid" piece, enough to make this deal even better for New York.
(Insiders can read Law's full trade write-up here.)
Writes columnist Dejan Kovacevic in the Pittsburgh Tribune-Review:
I got to know Herrera a bit during the All-Star Futures Game in New York last month and loved his backstory: Orlando Covo, the Pirates' lead scout in Colombia, works by day as, of all things, the president of a bank. He moonlights because of a passion for baseball and for the Pirates, who hired him under Latin American scouting director Rene Gayo a half-decade ago.
Colombia is no baseball hotbed, but Covo and Gayo invest disproportionate energy into making it work. In the case of the prized Herrera, Covo pushed so hard that, as the kid told me, "I was wearing a Pirates cap when I was 12."
Herrera's a quality second baseman with a live bat. As [GM Neal] Huntington put it, "The Mets did well" to get him. But the Pirates also did well to have him.
With Matt Harvey landing on the DL and the two departures via trade, the Mets promoted Matt den Dekker, Anthony Recker and Robert Carson from Triple-A Las Vegas. The lefty-hitting Den Dekker and righty-hitting Andrew Brown should combine to fill the void left by Byrd's departure -- although den Dekker's starts may primarily come in center field, pushing Juan Lagares to right field on those days.
Sandy Alderson indicated the Mets' trade activity likely was completed. The GM also reiterated that Terry Collins will be judged by more criteria than simply wins and losses.
In a humorous twist, the trade occurred hours before a Byrd T-shirt promotion at Citi Field.
With Pittsburgh, Buck will back up Russell Martin. Backup catcher Michael McKenry underwent season-ending surgery for a torn meniscus. As for Byrd, he particularly will help with outfielder Starling Marte out for a few weeks with a sprained ligament in his right hand.
Read columnist Larry Brooks' take on the trade in the Post and news stories in the Pittsburgh Tribune-Review, Pittsburgh Post-Gazette, Post, Daily News, Newsday, Star-Ledger, Record, Journal and MLB.com. Read more on Herrera in Newsday.
• Columnist Mike Vaccaro in the Post suggests the Wilpons must show Mets fans the money this offseason. Writes Vaccaro:
Does Harvey's absence allow another mailed-in offseason?
It had better not. And the men who own the Mets had better be prepared to keep to whatever plans they had about strengthening this team, and not allowing the abyss to run to six full seasons of non-competitive baseball. The tough talk of February had better be able to stay intact by November, regardless of whether Harvey is a part of 2014 or not.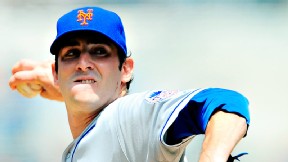 Christopher Hanewinckel/USA TODAY Sports
Matt Harvey tweeted that he will be pitching next April 1.
Their credibility was at stake anyway, their show-me fan base eager to see if the Wilpons' claim of financial freedom was legitimate. It should be even more so now. The Mets have crowed about their pitching depth. But even if Harvey pitched to a 0.01 ERA next year, he already knew -- and [Zack] Wheeler learned Monday -- it hardly matters if the Mets offense remains somewhere between inept and impotent.
• Harvey tweeted he will be pitching next April 1, but Alderson responded there is no new information on which to base that conclusion. Harvey will get another MRI in two to three weeks, once swelling in his pitching elbow subsides, in order to determine the extent of his UCL tear and whether Tommy John surgery will be required. Read more in the Post, Newsday and Record.
• Jeremy Hefner is due to undergo Tommy John surgery today. Mets doctor David Altchek is due to perform the procedure at the Hospital for Special Surgery in Manhattan. Hefner will miss most, if not all, of the 2014 season.
• Jonathon Niese tossed a three-hit shutout and also produced a three-run double as the Mets blanked the Phillies, 5-0, Tuesday at Citi Field. The teams are again even for third place in the NL East. Read game recaps in the Post, Daily News, Star-Ledger, and MLB.com.
• David Wright should be hitting in games -- but probably not fielding -- in Port St. Lucie as soon as Sunday or Monday, Collins said. Read more in the Post.
• The Mets named right-handers Chasen Bradford and Hansel Robles, catcher Cam Maron, infielder Aderlin Rodriguez and outfielder Cory Vaughn to their Arizona Fall League contingent. Two more pitching spots will be filled later.
• Las Vegas' rally from a four-run deficit in the ninth fell a run short in a 13-12 loss at Colorado Springs. Jeff Walters set a new Binghamton career saves record with No. 37 as the B-Mets beat Bowie, 3-2. Read the full minor league recap here.
• From the bloggers: Faith and Fear in Flushing contemplates how rosters turn over and over. … Mark Berman from Blogging Mets wonders if the Mets are partly to blame for Harvey's injury.
BIRTHDAYS: Joel Youngblood turns 62. … Mike Torrez is 67.
TWEET OF THE DAY:
Mets fans I loved every minute of it! Thanks for all the love and support. #mets #livingthedream

— John Buck (@johnbuck44) August 27, 2013
YOU'RE UP: Do you believe Matt Harvey will bypass undergoing Tommy John surgery?