NEW YORK -- Carlos Torres did quite nicely filling in for Matt Harvey.
The 30-year-old journeyman took a scoreless effort into the seventh, and the Mets earned a split of a four-game series against the Philadelphia Phillies with an 11-3 win Thursday afternoon.
The teams again are in a virtual tie for third place in the NL East.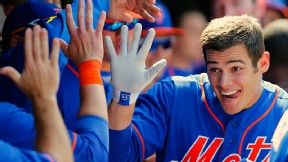 Rich Schultz/Getty Images
Anthony Recker's two-run homer in the fourth came on his 30th birthday.Daniel Murphy went 4-for-5 with two RBIs and two doubles, although one two-bagger was lost in the sun by Phillies right fielder Darin Ruf. The four hits matched Murphy's career high, accomplished nine previous times.
Eric Young Jr. went 3-for-5 and had a three-run triple in the seventh. The three RBIs are a career high.
Catcher Anthony Recker belted a two-run homer to give the Mets a 3-0 lead in the fourth on his 30th birthday, against rookie starter Ethan Martin. It came in Recker's first major league start in 13 days.
Recker had been demoted when John Buck returned from paternity leave, and returned once Buck was traded Tuesday to the Pittsburgh Pirates. In addition to calling Torres' gem, Recker made a diving catch in foul territory near the home dugout to retire Roger Bernadina for the first out of the sixth.
Torres' line: 6.2 IP, 4 H, 1 R, 1 ER, 0 BB, 6 K. In his first start since July 28, Torres threw 95 pitches (62 strikes). He has a 2.77 ERA this season.
Debutant: Center fielder Matt den Dekker went 0-for-5 with two strikeouts in his major league debut. He did reach on a fielder's choice in the seventh, then recorded his first steal.
Den Dekker, strikeout-prone throughout his minor league career, fell one shy of matching the franchise record in a major league debut. Gary Gentry (1969), Brent Gaff (1982), Darryl Strawberry (1983), Butch Huskey (1993) and Zack Wheeler (2013) all struck out three times.
From the quirk department: With Travis d'Arnaud and den Dekker on the major league roster, the Mets are the second team in MLB history to simultaneously carry two players with surnames beginning with a lower-case "d," according to research by ESPN's Doug Kern. The other team: the 1988 and '89 Kansas City Royals, who carried first baseman Luis de los Santos and pitcher Jose de Jesus for two Septembers.
The Mets could set a major league record with three next year. Right-hander Jacob deGrom will not be a September call-up, but is due to be added to the 40-man roster this offseason. He should be a consideration for a rotation spot in spring training.
What's next: The Mets head out for a trip to Washington, Atlanta and Cleveland. Dillon Gee (9-9, 3.69 ERA) opposes Nats right-hander Jordan Zimmermann (15-7, 3.32) in Friday's opener in D.C.