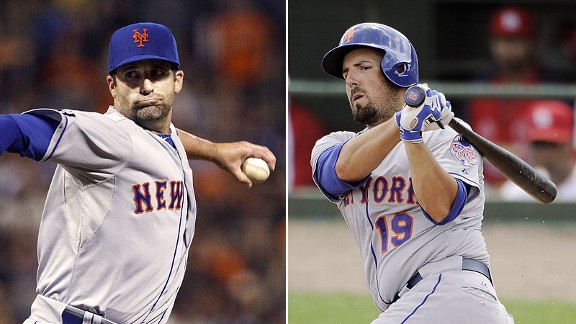 Getty Images
Tim Byrdak and Zach Lutz are expected to join the Mets as rosters expand.WASHINGTON -- While the bulk of call-ups will wait until after Las Vegas completes its postseason, the Mets are expected to call up Tim Byrdak and Zach Lutz on Sunday, team insiders suggested.
The Lutz call-up was precipitated by Ike Davis suffering a potentially season-ending right oblique strain Saturday.
Byrdak undoubtedly pitched during the second half in the minors with the Mets with the carrot of a September call-up. He underwent surgery to repair a torn anterior capsule in his pitching shoulder on Sept. 6. 2012. That is the same procedure Johan Santana now has twice undergone.
The Mets also plan to add Vic Black, the reliever acquired from the Pittsburgh Pirates.
UPDATE: The Mets have confirmed these promotions.