WASHINGTON
FIRST PITCH: Ike Davis' season almost assuredly is over. Now the question becomes: Is his career with the Mets done, too?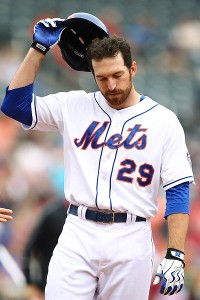 Al Bello/Getty Images
Ike Davis is likely done for the season ... and possibly his Mets career.
Davis strained his right oblique muscle on a third-inning sacrifice fly Saturday night. Because Davis is making $3.125 million and is eligible for arbitration, his salary is likely to drift modestly upward, even with unsatisfactory production.
So Sandy Alderson will have to decide whether to bring Davis back in 2014 at a potential $3.5 million to $4 million salary, attempt to trade him early in the offseason, or cut the first baseman loose at the December non-tender deadline.
You may recall the Mets dumped Mike Pelfrey at the non-tender deadline last December because they did not want to pay the arbitration-eligible pitcher anywhere near the $5.7 million he earned in 2012.
Some factors to consider when trying to forecast the Mets' ultimate decision: So much money is coming off the books, it might be palatable to carry Davis' salary rather than non-tender him if no trade materializes. And can the Mets do better anyway?
In Davis' absence, Lucas Duda and Josh Satin will share first base for now.
Tonight, the Mets go for a sweep Sunday at Nationals Park, in an 8:05 game televised by ESPN. Jonathon Niese (6-6, 3.69 ERA) opposes Washington right-hander Ross Ohlendorf (2-0, 2.58).
Sunday's news reports:
• Read more on Davis in the Post, Daily News, Newsday, Star-Ledger, Record and MLB.com.
• Las Vegas clinched its Pacific Coast League division title and a playoff berth. The 51s will open their first-round series at Salt Lake on Wednesday. Las Vegas joins Mets affiliates Binghamton, Savannah and Kingsport as having secured postseason appearances. Brooklyn lost to Aberdeen, 7-0, to drop a half-game out of first place in its New York-Penn League division with four games remaining. Stefan Sabol drove in five runs in a doubleheader as Savannah swept Greeneville on Saturday. Read the full minor league recap here.
• Right-hander Vic Black, left-hander Tim Byrdak and corner infielder Zach Lutz are expected to join the Mets today as rosters expand. Lutz's call-up stems from Davis' injury. Robert Carson swaps lefty relief spots with Byrdak and heads to Vegas. Black was acquired from the Pittsburgh Pirates in the trade for Marlon Byrd and John Buck. The Mets also added ex-Yankees right-hander Cory Wade and assigned him to the Triple-A club.
• Zack Wheeler took a scoreless effort into the sixth and the Mets produced a six-run third inning en route to a season-high 17 hits and an 11-3 win against Washington on Saturday night. Matt den Dekker produced his first major league hit and RBI. Juan Lagares produced his NL-leading 12th outfield assist, tying Tsuyoshi Shinjo's franchise rookie record. Terry Collins did advise Wheeler to stay a little quieter with his candor about his fatigue at this stage of the season.
Read game recaps in the Daily News, Times, Newsday, Star-Ledger and MLB.com.
• Mike Puma in the Post reviews the Mets' month of August.
BIRTHDAYS: Left-hander David West turns 49.
TWEET OF THE DAY:
Champagne in Wally's eyes. He has won a championship at every pro level. Independent to MLB. pic.twitter.com/RjLZLlA5sO

— Las Vegas 51s (@LasVegas51s) September 1, 2013
YOU'RE UP: Do you think Ike Davis will be a Met in 2014? Should he be?