WASHINGTON -- Vic Black knew there would be a player-to-be-named included along with second baseman Dilson Herrera in the trade that sent Marlon Byrd and John Buck to the Pittsburgh Pirates. He did not suspect it would be him.
"It never crossed my mind," he said.
Then he went to retrieve his charging phone before a Triple-A Indianapolis game at Toledo and noticed the device had "blown up" with text messages relaying media reports of his inclusion in the deal.
He continued his routine, knowing nothing is official until it is official.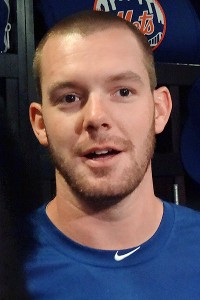 Adam Rubin
Vic Black joined the Mets on Sunday.
Now, it's official.
After a detour to his native Texas that included watching the LSU-TCU game on Saturday night at Cowboys Stadium -- a designed delay that allowed the Mets to stall adding him until rosters expanded -- Black is the newest Met.
Black, 25, joined the team for Sunday's series finale at Nationals Park, which happened to be the site of his major league debut on July 25. A right-handed reliever, Black walked Jayson Werth and struck out Ian Desmond looking that day.
He described his arrival in D.C. to join the Mets on Sunday as coming full circle. Not only was this the site of his major league debut, he was drafted by the Mets out of high school in Amarillo, Texas, in the 41st round in 2006.
Black passed on signing back then because of the late round of his selection, and because he had only transitioned from catching to pitching midway through his senior year of high school.
The decision paid off. He eventually was selected out of Dallas Baptist University with a supplemental first-round pick (49th overall) three years later by the Pirates.
Black primarily has spent this season at Triple-A, where he was 5-3 with a 2.51 ERA and had 17 saves in 38 relief appearances.
He had been moved to the bullpen two years ago, after being limited to two games in 2010 because of shoulder instability. He did not require surgery, and doctors did not detect a precise issue.
His velocity initially sagged upon returning, but he now regularly pitches in the upper-90s mph, with a power slider. He will touch 100 mph on occasion.
"That's it," he said about his repertoire. "I just try to keep everything down. As long as it's going down through the mitt, I feel like I'm in a good place."
Terry Collins said he is unsure of Black's initial role with the Mets, but it will not be closing games. Black even suggested he would willingly be an emergency catcher.
Black said closing games definitely fits his pedal-to-the-metal on-field personality.
He plans to resume sporting a Mohawk, which he shaved a couple of days ago because the hectic schedule had prevented him from seeing his Indianapolis barber. He also confessed to far too many speeding tickets in Dallas -- with his mound presence getting the best of him behind a wheel, too. (He's gotten rid of his BMW M3 to tone things down away from the field, and now drives a Dodge truck. "Got my country roots back," he said.)
Black comes from an athletic family. His sister Kelsey, a former All-American volleyball player at Texas A&M, has played professionally in Puerto Rico and Finland and is in training back home now to prepare for a league in Greece.
He has been to New York City once. He and a friend attended a game at old Yankee Stadium in 2008, while doing a ballpark tour.
"I will never drive through there in my own car again," he said. "I went from Second St. to 164th. It was not good."
As for closing being his ultimate goal, he added: "Oh, absolutely. The back end is definitely what I think I'm bred for mind-wise -- aggressiveness. The last two years I've been fairly successful at it."