ATLANTA -- Daisuke Matsuzaka lasted only three innings Monday afternoon. Now, his Mets career looks done after three starts.
Working at his familiarly deliberate pace, Matsuzaka was pummeled for six runs in three innings as the Atlanta Braves beat the Mets 13-5 at Turner Field.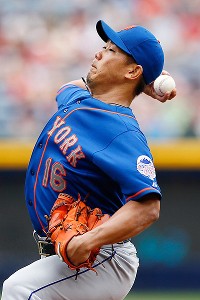 Kevin C. Cox/Getty Images
Daisuke Matsuzaka allowed six runs in three innings on Labor Day.
Dice-K's ERA now stands at an uncompetitive 10.95 after three starts, during which he has contributed a combined 12 1/3 innings while throwing a whopping 268 pitches.
Matsuzaka's next turn comes up Sunday in Cleveland, and it is hard to fathom the Mets allowing that to take place. (Matsuzaka, coincidentally, requested his released from the Indians, where he was pitching in Triple-A, in order to sign with the Mets.)
The Mets announced the signing of Aaron Harang to a minor league deal Sunday night and assigned him to Triple-A Las Vegas. A seemingly viable alternative, Harang had been 5-11 with a 5.76 ERA in 22 starts for the Seattle Mariners this season.
Freddie Freeman had five RBIs against Matsuzaka, including a three-run homer in the second.
Black Monday: Right-hander Vic Black inherited the bases loaded from Pedro Feliciano with two outs in the sixth in the ex-Pirate's Mets debut. Black fired a pair of 97 mph fastballs, the latter of which coaxed an inning-ending fly out from Andrelton Simmons to hold the Mets' deficit at 10-3.
The Mets acquired Black and Class A infielder Dilson Herrera last week for Marlon Byrd and John Buck.
Shouldering load: Left-hander Tim Byrdak tossed 1 1/3 scoreless innings in his first major league appearance since undergoing surgery last Sept. 6 to repair a torn anterior capsule in his pitching shoulder. Byrdak only surrendered a single to Jordan Schafer. Four of the five batters he faced were lefties.
Zach with an H: Zach Lutz, promoted Sunday as rosters expanded after Ike Davis suffered a strained right oblique, pinch hit for Matsuzaka and delivered an RBI double in the fourth. Daniel Murphy followed with a sacrifice fly that pulled the Mets within 6-3 against Paul Maholm.
It was Lutz's first career extra-base hit. His last Mets plate appearance had come on June 30.
What's next: Carlos Torres (3-2, 2.77 ERA) opposes right-hander Kris Medlen (11-12, 3.58) in Game 2 of the series, at 7:10 p.m. Tuesday.