ATLANTA -- Sandy Alderson offered insights on a variety of topics during an appearance on WFAN. Here is a summary:
• Matt Harvey's injury changes the offseason expenditure plans. Alderson did not intend to spend heavy on a starting pitcher this offseason, but now needs to obtain a more pricey pitcher -- in dollars, not years. Harvey's unavailability also may propel Rafael Montero or Jacob deGrom into the rotation out of spring training. If Harvey did not miss 2014, the projected rotation would have been Harvey with Jonathon Niese, Zack Wheeler, Dillon Gee and an innings-eating veteran from outside the organization -- with Montero, deGrom and Noah Syndergaad all potentially with Triple-A Las Vegas.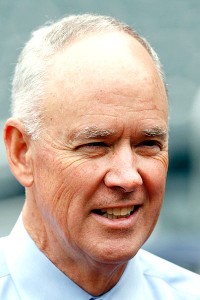 William Perlman/US Presswire
Sandy Alderson
Alderson added that he would not have been keen on trading away young pitching for bats anyway. But, minus Harvey, trading away top pitching depth for a bat is not be foreseeable.
• Harvey is one to two weeks away from making an initial decision on Tommy John surgery -- and it will be his decision. Alderson expects a firm decision on rehab versus surgery by the end of the month, but continued to talk in terms of not having Harvey for 2014. Alderson expects it to be based on more information, from Mets doctors as well as a second opinion (likely from Dr. James Andrews), not from anecdotal evidence such as speaking with Roy Halladay.
Alderson analogized the Harvey injury to when Ike Davis and Ruben Tejada originally flopped and were demoted. It seemed like the plan had failed, even to some extent among team brass. But positive things have emerged, such as Juan Lagares, and will do so as the result of Harvey's injury as well.
• Alderson offered no indication Daisuke Matsuzaka would be bumped from the rotation, saying once every five games "may not be pretty for the rest of the month." That is partly because Wheeler may be shut down after "not that much" more workload.
• The GM spun the silver lining from Davis' injury as it will allow for an evaluation of Lucas Duda. Alderson suggested the evaluation of Davis was pretty much complete anyway, and there was not much the first baseman could have done in September to change viewpoints. The GM noted Davis' average and on-base percentage have been positives since his return, but expressed disappointment with his power production.
• Tejada was not called up on Sept. 1 because Las Vegas' staff said the 51s would go nowhere in the playoffs without him, Alderson said. The GM predicted Tejada would be up in the majors in about a week.
Alderson offered the clearest reasoning yet for why Tejada has been disappointing, despite hitting much better over the last two to three weeks in the Pacific Coast League and raising his average to near .300. Alderson said it's "like pulling teeth" to get Tejada to do extra work, such as early batting practice, without a coach insisting.
"We need to see a commitment to improvement," Alderson said.
• On Eric Young Jr., Alderson definitely sees him as one of the Mets' top five outfielders next season. As expected, the hope is that the Mets can add enough outfield bats to push Young to a fourth or fifth outfielder. Young may be no more than a platoon player anyway because of his lefty-righty splits.
• Alderson affirmed that an official announcement on Terry Collins' returning would wait until after the season. He said waiting is partly because that's what they originally pledged to do.