ATLANTA
FIRST PITCH: The Mets are about to get KO'd in the NL East.
Atlanta's magic number to eliminate the Mets from division contention stands at three entering today's 12:10 p.m. series finale. Dillon Gee (10-9, 3.63 ERA) opposes right-hander Kameron Loe (0-1, 10.13) at Turner Field.
In the wild-card race, the Mets (62-75) are 15 games behind the Cincinnati Reds for the second spot. The tragic number: 10.
More relevant: The teams with the 10 worst records have their first-round draft picks protected, no matter what free agent they sign. The Mets and Philadelphia Phillies currently are tied for that last protected spot.
In the minors, the Mets' three remaining playoff teams open first-round series tonight. The Game 1 starters: Matt Fox for Las Vegas, Noah Syndergaard for Binghamton (at Trenton) and Gabriel Ynoa for Savannah.
Wednesday's news reports: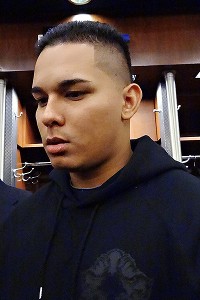 Adam Rubin
Sandy Alderson said it's "like pulling teeth" getting Ruben Tejada to do extra work.
• Speaking on WFAN, Sandy Alderson indicated Matt Harvey's injury would prompt the organization to sign a pricey starting pitcher this offseason. It also may propel prospect Rafael Montero or Jacob deGrom into the 2014 Opening Day rotation alongside Zack Wheeler, Jonathon Niese, Gee and the external addition. The GM also spoke bluntly about Ruben Tejada, saying it is "like pulling teeth" to get him to do extra work. Alderson also braced Mets fans for more Daisuke Matsuzaka in the rotation, while acknowledging every fifth game "could be ugly."
Ranked by WAR, the top-10 free-agent starting pitchers this offseason, via MLB Trade Rumors, are: James Shields, Hiroki Kuroda, A.J. Burnett, Jon Lester, Bartolo Colon, Jorge De La Rosa, Ervin Santana, Ricky Nolasco, Andy Pettitte and Scott Feldman.
Read the full recap of Alderson's comments here. Read other recaps in the Daily News, Newsday, Record, Times and Star-Ledger.
• Columnist Joel Sherman in the Post reports the Mets will not have an internal debate about Ike Davis' future until after the season. Davis made $3.125 million this season. Players almost exclusively trend upward during their arbitration years. Sherman writes this caution:
For those in the turn-the-page camp, we offer you another Davis named Chris.
His skinny batting average and fluctuating power frustrated the Rangers, who twice sent him to the minors in 2010, when he hit .192. Texas traded him during the 2011 season and he finished with 33 homers in 2012 -- one more than Ike.
Still, at the end of 2012, his age-26 season, Chris Davis had a .775 OPS and 77 homers in 1,644 plate appearances working in homer-friendly Texas and Baltimore, or not all that different than Ike Davis has now at the end of his age-26 season with a .768 OPS and 67 homers in 1,711 plate appearances hitting in hardly homer-friendly Citi Field.
Read more speculation about Davis' future in the Journal.
• Carlos Torres took a scoreless effort into the seventh, then surrendered homers to Evan Gattis and Andrelton Simmons, and the Mets lost the Braves, 3-1, Tuesday. Read game recaps in the Post, Daily News, Newsday, Star-Ledger, Record and MLB.com.
• Daniel Murphy earned NL Player of the Week honors.
• Mike Puma in the Post looks at Eric Young Jr.'s contribution. Young, who is arbitration-eligible and under the Mets' control for three more seasons, ideally recedes to a backup role -- if the Mets can add two outfielders this offseason. "The numbers might not be exactly where I want them, but I'm learning a lot about myself and my body and I'm excited to be part of this organization and part of the future," Young told Puma.
• Wheeler has about 28 innings remaining in his season.
• Jeurys Familia has moved to Brooklyn for its season finale as he returns from surgery to clean out his right elbow.
• One out from victory, Kingsport instead was eliminated by Greeneville in a winner-take-all Game 3 Tuesday in the first round of the Appalachian League playoffs. Meanwhile, Brooklyn lost its fifth straight game. The Cyclones must win on the final day of the regular season today to avoid the first losing season in the 13-year history of the team. Read the full minor league recap here.
• Ray Glier in the Times profiles newly acquired reliever Vic Black, whose velocity had dropped to the upper-80s two years ago after a shoulder issue.
• From the bloggers … Mark Berman at Blogging Mets speculates on the possible 2014 Mets payroll.
BIRTHDAYS: Mike Piazza, who is due to be inducted into the Mets Hall of Fame at Citi Field on Sept. 29, turns 45. … Luis Lopez is 43.
TWEET OF THE DAY:
Just saw @MetsGM, Sandy Alderson, in @FairwayMarket on the UES. Told him I'll bring my glove to Citifield & asked him for a contract #mets

— Brett Frank (@BrettFrank) September 3, 2013
YOU'RE UP: Which free-agent-to-be starting pitcher is most attractive for the Mets to pursue this offseason?