Only two years ago, Darin Gorski had been honored at Citi Field as the Mets minor league pitcher of the year for the 2011 season.
During the final week of spring training this year, the southpaw lost his 40-man roster spot and cleared waivers.
As Josh Satin also has demonstrated, however, Gorski has shown that losing a 40-man spot does not have to be fatal.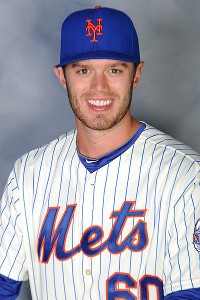 Courtesy of New York Mets
Darin Gorski
The 25-year-old southpaw went 6-1 with a 1.83 ERA in 14 appearances (13 starts) for Double-A Binghamton this season after joining the club for a June 12 start. He recently was honored as Eastern League pitcher of the week.
Gorski is scheduled to start Game 2 of the playoffs for the B-Mets, on Thursday at Trenton. Noah Syndergaard gets the assignment in Game 1. Logan Verrett starts Game 3 of the best-of-five series.
"I got taken off, but I wasn't really angry about it," Gorski said. "It was something where I wanted to go out and prove my worth again, and go out there and give whoever I'm pitching for -- whether it be Las Vegas or here in Binghamton -- the best chance to win."
Gorski's season briefly stalled early on. After posting a 6.59 ERA in four appearances (three starts) in April with Triple-A Las Vegas, he was diagnosed with a shoulder strain and did not return until early June, with Binghamton.
Gorski's fastball sits at 88-91 mph. He also throws a slider and changeup.
"I feel like I'm getting stronger every time out," Gorski said. "I'm just trying to build strength and get the arm back in shape."
Binghamton went 86-55, the best record in the Eastern League club's history, and won its first division title since 2000.
Gorski, a seventh-round pick in 2009 out of Division II Kutztown in Pennsylvania, has now been a part of playoff squads with Brooklyn, Savannah, St. Lucie and Binghamton during his professional career. He remains in search of a championship, though.
"There's definitely a difference in even the crowd coming out to the games," Gorski said. "With the playoff buzz, people are coming out a little bit more.
"As far as the team goes, it's been a lot of fun. We have a lot of young guys on the team this year. They've been coming up together, so they know each other really well. It's been great to mesh with these guys, because they bring a lot of energy at the field every day and make it a lot of fun to play.
"It's not every year you get the opportunity to play for a championship, so right now that's basically my primary focus -- what's going on with this team."
Organization leaders
Average: Jayce Boyd, St. Lucie, .330; Jeff McNeil, Kingsport, .329; Wilmer Flores, Vegas, .321; Eric Campbell, Vegas, .314; Kevin Plawecki, Binghamton, .305; Yeixon Ruiz, Kingsport, .304; Dominic Smith, Kingsport, .301; Jhoan Urena, GCL Mets, .299; Jeyckol De Leon, Kingsport, .298; Zach Lutz, Vegas, .293.
Homers: Dustin Lawley, Vegas, 26; Travis Taijeron, Binghamton, 23; Allan Dykstra, Binghamton, 21; Cesar Puello, Binghamton, 16; Wilmer Flores, Vegas, 15.
RBIs: Dustin Lawley, Vegas, 96; Wilmer Flores, Vegas, 86; Jayce Boyd, St. Lucie, 83; Allan Dykstra, Binghamton, 82.
Steals: Darrell Ceciliani, Binghamton, 31; Alonzo Harris, Binghamton, 25; Cesar Puello, Binghamton, 24; Eudy Pina, Savannah, 21.
ERA: Rob Whalen, Kingsport, 1.87; Miller Diaz, Brooklyn, 2.01; Chris Flexen, Kingsport, 2.09; Robert Gsellman, Brooklyn, 2.58; Gabriel Ynoa, Savannah, 2.72; Rafael Montero, Vegas, 2.78; Rainy Lara, St. Lucie, 2.85; John Gant, Brooklyn, 2.89; Matt Bowman, St. Lucie, 3.05; Noah Syndergaard, Binghamton, 3.06.
Wins: Gabriel Ynoa, Savannah, 15; Rafael Montero, Vegas, 12; Logan Verrett, Binghamton, 12; Matt Bowman, St. Lucie, 10.
Saves: Jeff Walters, Binghamton, 38; T.J. Chism, St. Lucie, 20; Beck Wheeler, Savannah, 19; Robert Carson, Vegas, 11; Bret Mitchell, St. Lucie, 10.
Strikeouts: Rafael Montero, Vegas, 150; Noah Syndergaaard, Binghamton, 133; Logan Verrett, Binghamton, 132; Erik Goeddel, Binghamton, 125; Luis Cessa, Savannah, 124.
Short hops
• Las Vegas' Eric Campbell enters the postseason on a tear. Campbell went 6-for-9 with two doubles and three RBIs in the final three regular-season games against Tucson to finish with a .314 average. Campbell posted a .435 on-base percentage and .910 OPS.
• Dustin Lawley finished the regular season four RBIs shy of the 100 RBI-mark between St. Lucie and Las Vegas. Lawley also had 26 homers. The 96 RBIs were the most by a Mets farmhand since Brett Harper had 102 in 2005 between St. Lucie and Binghamton.
Also, Savannah's Gabriel Ynoa -- the Gnats' Game 1 postseason starter -- finished the regular season with 15 wins. That's the most since Jason Scobie had 15 in '05 with Triple-A Norfolk.
• Rafael Montero's organization-leading 150 strikeouts were the most since Matt Harvey had 156 in 2011.
• St. Lucie first baseman Jayce Boyd, who exclusively served as DH after June 28 because of a shoulder injury, is not yet definitely proceeding with surgery. Boyd hit .292 with four homers in 209 at-bats with the Florida State League club after a promotion from Savannah.
• Jacob deGrom, who left his final regular-season start with Las Vegas after two innings as a precaution because of shoulder tightness, is not yet locked into pitching in the first-round postseason series. Matt Fox starts Game 1 on Wednesday night. Montero starts Game 2, opposite ex-Brave Tommy Hanson. Sandy Alderson indicated Tuesday that deGrom or Montero would have a legitimate shot at making the 2014 Opening Day rotation assuming Harvey undergoes Tommy John surgery.
• B-Mets first baseman Allan Dykstra was named Eastern League MVP. Dykstra's .436 on-base percentage and .503 slugging percentage led the league. His 82 RBIs ranked fourth.
• St. Lucie's Kevin Plawecki and Matt Reynolds have joined Binghamton for the postseason.
• The Brooklyn Cyclones need a win in Wednesday's regular-season finale to avoid the first losing season in the club's 13-year history.
• Kingsport right-hander Rob Whalen's 1.87 ERA finished second in the Appalachian League. Jeff McNeil's .329 average also ranked second. Chris Flexen's eight wins led the league.
This is the final "Farm report" of the 2013 season.