As a Mets fan, you can certainly be envious of the Yankees latest postseason push, but if you're watching the Yankees, you should also be watching with an eye to 2014.
We'll be writing a lot in this space about the 2014 offseason outlook, and there are a number of current Yankees who may have some appeal to the Mets next season.
Here's a look at three of them to keep an eye on in the final weeks of this season.
Granderson will turn 33 this offseason and will be a free agent after three productive years and one injury-filled season with the Yankees in 2013.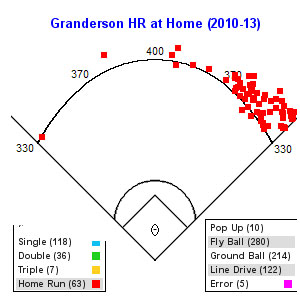 Yankee Stadium has been good to Curtis Granderson
Granderson's appeal comes in the power of his bat, which produced 41 and 43 home runs in 2011 and 2012 and has tallied four in 127 at-bats in 2013. He has more homers than any lefty-hitting American League player over the last three seasons.
The one concern with that is that Granderson has benefited a lot from his home ballpark, Yankee Stadium. He's hit 63 homers on 402 balls in the air in the Bronx, 49 homers on the 421 balls he's hit in the air in other venues.
The image on the right shows Granderson's home-run spray chart in Yankee Stadium. He certainly would lose some of those homers playing 81 times a year at Citi Field instead.
Granderson's best days as a centerfielder may be behind him. His defense was valued at -16 Defensive Runs Saved the last two seasons. But in 26 games in the corners this season, he's a positive- two Defensive Runs Saved.
With Matt Harvey either out or of uncertain health for 2014, Sandy Alderson indicated the need for a veteran pitcher for 2014 (which sounds a lot like the role Shaun Marcum was supposed to fill.
Phil Hughes - Last 2 Seasons
Prior to this season, Hughes would have been someone with modest appeal, given his body of work and age (he doesn't turn 28 until June). But Hughes is 4-13 with a 4.86 ERA and was demoted to the bullpen earlier this week by Joe Girardi. He's homer prone, especially at home, somewhat so on the road, as the chart on the right notes.
Hughes could fit the Mets as either a starter or reliever, which is why his performance in the latter role is worth watching. In 2009, he had a 1.40 ERA, with 65 strikeouts, 13 walks, and only two home runs allowed to the 193 batters he faced in 44 relief appearances. Hughes' upcoming usage may shed some insight into a possible fit as an eighth-inning man for some team in 2014.
The Mets have had their ups-and-downs at picking relievers in the Alderson era. Chamberlain would be one who would seem to be there for the taking, with a 4.23 ERA and 1.54 WHIP this season.
But there are a couple of aspects of this performance that are unusual. His 11 percent walk rate and 4.6 percent homerun rate are considerably higher than they were in any season from 2010 to 2012. Chamberlain's slider needs fixing. He gets a good miss rate with it (40 percent), but it's hittable. Opponents have a .300 batting average when an at-bat ends with one this season.
Chamberlain would still seem to be an intriguing gamble for this reason. He's still throwing hard. His fastball velocity averages 94.7 mph, the same as 2012 and approximately the same as 2011. That's just a hair under what Bobby Parnell averaged prior to his injury.
The team that can get Chamberlain's head right would seem to have something significant to gain.
Do you think the Mets should pursue these players? Share your thoughts in the comments.