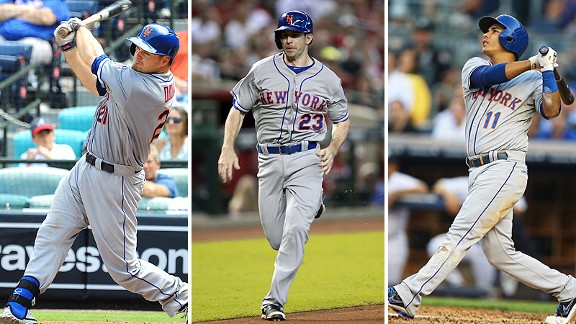 Getty Images
Lucas Duda is comfortably eligible for arbitration, while Mike Baxter is on the Super 2 bubble. Ruben Tejada's question is of free-agency eligibility.Ryan Galla of the sports agency CAA estimates this offseason's Super 2 deadline at 2 years, 121 days (via MLB Trade Rumors).
That is unlikely to pose a problem for the Mets, with no one other than seemingly Mike Baxter within days of that threshold. Generally speaking, the top 22 percent of players with two-plus years service time qualify for arbitration a year early. It does not affect when they are eligible for free agency.
For instance, because Ike Davis had 2 years, 168 days of service time after last season, he qualified as a Super 2 and is making $3.125 million this year instead of close to the $490,000 major league minimum.
Lucas Duda and Ruben Tejada will be first-time arbitration-eligible this winter, but the drama with Tejada is of a different sort.
Tejada, before his September return, has 2 years, 151 days of MLB service time -- already well over the projected Super 2 threshold.
The question becomes: Will Tejada cross three years of service time and be eligible for free agency after the 2016 season instead of after the 2017 season?
A full year of service time is considered 172 days (of a 183-day season). So Tejada needs 21 more days to get to three years. That means Tejada would need to join the Mets by Monday if he is to get those 21 days. (The season ends Sept. 29.)
By waiting until Tuesday for a promotion, the Mets would appear able to delay Tejada's free agency by a year. (You would presume the Mets would wait to have Tejada join the major league club even if Las Vegas is eliminated tonight. Tejada may not be a big-time future piece, but why not wait a couple of days and ensure you have that extra season of control?)
Duda entered the season 35 days shy of three years of major league service, so he is eligible for arbitration without the Super 2 provision.
As for other Mets, Dillon Gee, Justin Turner and Eric Young Jr. all will have crossed three years and be eligible for arbitration for the first time, too. Daniel Murphy, Bobby Parnell and Omar Quintanilla all will have exceeded four years, giving the Mets only two more years of control in each case.
The biggest loser by his demotion: Baxter. He entered the season at 2 years, 15 days. That means he needs 106 days at the major league level this season to be a Super 2, assuming the CAA estimate is accurate. Baxter will be very close. While our calculation may be off by a day or two, it looks like Baxter has 92 days at the major league level this season. So he needs about 14 more days -- or, in other words, to be up at the major league level by the end of next weekend.
Therefore, Baxter potentially would be a big winner if Las Vegas is soon eliminated from the Pacific Coast League playoffs.
Meanwhile, several Mets are not yet remotely close to Super 2 status and again next season will make close to the major league minimum, which rises to $500,000 in 2014. Those players include Matt Harvey, Zack Wheeler, Jeremy Hefner, Anthony Recker, Andrew Brown, Carlos Torres, Scott Rice, Jenrry Mejia and Greg Burke.