Scott Kazmir had downplayed the significance of his matchup with the Mets, but the organization's 2002 first-round pick rose to the occasion on Friday.
Kazmir, in his first-ever matchup against the Mets nine years after getting traded away for Victor Zambrano, struck out 12 in six scoreless innings. He outdueled current phenom Zack Wheeler as the Cleveland Indians beat the Mets, 8-1, at Progressive Field.
Kazmir's final line: 6 IP, 4 H, 0 R, 0 ER, 0 BB, 12 K.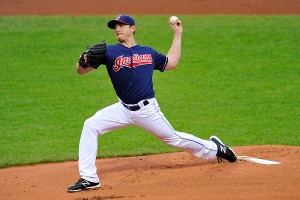 David Richard/USA TODAY Sports
Scott Kazmir struck out 12 in six scoreless innings.
It marked the sixth time a starter registered a double-digit strikeout performance against the Mets this season. Kazmir joined Chris Sale (13), Max Scherzer (11), Tim Lincecum (11), Shelby Miller (10) and Mike Minor (10).
Meanwhile, Wheeler matched a career high by issuing five walks. He suffered his first road loss this season. Wheeler allowed three runs (two earned) while requiring 92 pitches to navigate five innings. He had a streak of five straight quality starts snapped. Wheeler had been 5-0 with a 2.19 ERA in eight starts away from Citi Field.
Kazmir wasn't the only ex-Met to face his former team for the first time. Reliever Joe Smith, traded away in the three-team deal that brought J.J. Putz and Sean Green to Queens during the 2008-09 offseason, tossed a scoreless eighth to preserve a 4-1 lead.
Nick Swisher produced a grand slam against Tim Byrdak in the bottom half of the eighth.
Deep thoughts: Justin Turner hit his first homer of the season, a solo shot in the seventh against reliever Cody Allen to pull the Mets within 4-1. It was Turner's first homer in 181 at-bats, since last Sept. 25. The longest homer drought on the Mets belongs to Omar Quintanilla, who has gone 246 at-bats since his last homer.
Streaking: Juan Lagares extended his hitting streak to 11 games. Daniel Murphy extended his streak to 10 games.
Hurting: Wilmer Flores' ankle buckled and he grimaced during his first at-bat, but he completed the game. Flores had been out of the starting lineup for four of the past five games, and clearly is playing through discomfort that also restricts his mobility. He is 1-for-his-last-23.
Golden Sombrero: Andrew Brown struck out four times. The Mets K'd 15 times as a team.
What's next: Jonathon Niese (6-6, 3.66 ERA) opposes right-hander Corey Kluber (7-5, 3.54) at 6:05 p.m. ET Saturday.