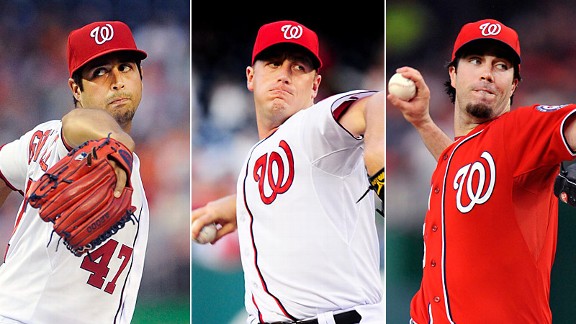 USA TODAY Sports
The Mets face (l to r) Gio Gonzalez, Jordan Zimmermann and Dan Haren to open a four-game series.METS (64-77, fourth place/NL East) vs. WASHINGTON NATIONALS (73-69, second place/NL East)
Monday: RHP Carlos Torres (3-3, 2.89) vs. LHP Gio Gonzalez (9-6, 3.49), 7:10 p.m. ET
Tuesday: RHP Dillon Gee (11-9, 3.53) vs. RHP Jordan Zimmermann (16-8, 3.30), 7:10 p.m. ET
Wednesday: RHP Zack Wheeler (7-4, 3.38) vs. RHP Dan Haren (8-13, 5.23), 7:10 p.m. ET
Thursday: LHP Jonathon Niese (6-7, 3.86) vs. RHP Tanner Roark (5-0, 0.94), 1:10 p.m. ET
Nationals short hops
• Bryce Harper's season is in jeopardy because of his latest ailment -- a left hip injury. Harper, who turns 21 on Oct. 16, has been banged up nearly all season. His issues began with crashing into a chain-link fence at Turner Field in Atlanta on April 30 and suffering a bruised left rib cage.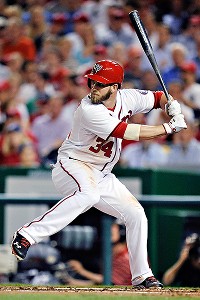 Joy R. Absalon/USA TODAY Sports
Bryce Harper's latest ailment is a hip injury.
"Ever since I hit the wall, pretty much every day I feel something different," Harper told Nats beat writer Mark Zuckerman. "Or something will feel better, and then something else hurts. It's pretty much just the left side of my body. That's what hurts me right now. Everything on the right side of my body feels great. If the right side of my body felt like the left side of my body, I'd probably just say, 'Screw it.' But the last time I probably felt pretty good was that first month."
• Denard Span has a career-high 19-game hitting streak, which is the longest active streak in the majors. He is hitting .397 (31-for-78) during that stretch.
• Third baseman Ryan Zimmerman has three homers in the past two days. He has gone deep five times in his last six games, giving him 20 long balls for the season.
• Shortstop Ian Desmond needs one more steal for his second straight 20-homer, 20-steal season. The only other Nationals player ever to reach those thresholds was Alfonso Soriano, who had 46 homers and 41 steals in 2006.
• Right-hander Tanner Roark displaced Ross Ohlendorf from the rotation on Saturday in Miami. After nine relief appearances to begin his major league career, Roark tossed six scoreless innings against the Marlins to improve to 5-0 with a 0.94 ERA. Originally drafted by the Texas Rangers in the 25th round in 2008, Roark was acquired by the Nats on July 30, 2010 with Ryan Tatusko for Cristian Guzman.
• Wilson Ramos has started 16 straight games behind the plate. He was limited to 25 games in 2012 because of a torn ACL in his right knee, and has appeared in only 61 games this season because of multiple hamstring strains.
• Out-of-favor infielder Danny Espinosa was snubbed for a September call-up. Espinosa served as the Nationals' Opening Day second baseman, but was demoted with a .158 average after 158 at-bats. Rookie Anthony Rendon since has taken over at second base, with some contribution from Stephen Lombardozzi. Espinosa hit only .216 with a .280 on-base percentage and struck out 101 times in 313 plate appearances at Triple-A Syracuse.
The Nats' September call-ups: infielder Zach Walters, outfielders Eury Perez and Corey Brown, utilityman Jeff Kobernus and left-hander Xavier Cedeno.
• The Nats are on the ropes in their attempt to reach the postseason. They trail the Cincinnati Reds by eight games for the second wild-card spot with 20 games remaining.