NEW YORK -- Ike Davis may, or may not, be a Met in 2014. There remains plenty of organization debate to be conducted about his future.
But this much is clear, according to team insiders: There is no consideration being given to non-tendering Davis in December.
Non-tendering Davis would make him a free agent without the Mets getting any compensation.
Obviously, something has to give with Lucas Duda and Davis both first basemen, so the Mets could end up trading Davis if the right deal presents itself.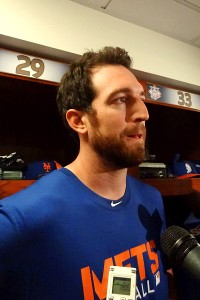 Adam Rubin
The Mets have no intention of non-tendering Ike Davis, team insiders tell ESPNNewYork.com.
Still, team insiders appear satisfied that Davis will not be cost prohibitive in 2014 in a way that would force them to cut him loose. (The Mets non-tendered Mike Pelfrey last December because his 2013 salary would have been based off of a $5.7 million figure the previous season.)
Davis, who suffered a season-ending right oblique strain on an Aug. 31 swing at Washington, is making $3.125 million this year.
While it is atypical for players' salaries to be reduced during their arbitration years, the Mets appear to think they may have a case for a salary reduction if it ever got to a hearing. By rule, the player could receive as much as a 20 percent cut from his previous year's salary either through an arbitration hearing or a pre-hearing settlement.
The minimum Davis would make under either scenario in 2014 is $2.5 million.
How rare are salary cuts during arbitration years?
Veteran baseball writers struggled to come up with an example.
Last December, at the non-tender deadline, Ian Stewart agreed to a $2 million salary with the Cubs that included $500,000 in incentives. He had made $2.237 the previous year.
Historically as the result of actual arbitration hearings (via The Biz of Baseball):
• In 1993, Erik Hanson lost his arbitration hearing against Seattle and had his salary cut from $1.345 million to $1.25 million. He had requested $2.3 million.
• In 1990, Joe Hesketh lost to Montreal and had his salary reduced from $417,000 to $375,000.
• In 1988, Dwight Gooden with the Mets had his pay cut from $1.5 million to $1.4 million. Doc had requested $1.65 million. That same year, Mike Moore with Seattle had his pay cut from $536,000 to $482,000.
• In 1987, Orel Hershiser was slashed from $1 million to $800,000, Jim Acker received a cut from $368,000 to $350,000 and Darryl Motley went from $258,000 to $210,000.
At least seven players in the past quarter-century went to an arbitration hearing and were awarded the same salary as the preceding year, including Doug Drabek and Wally Joyner in '90 -- who won their cases to make the same.
Kansas City Royals pitcher Aaron Crow did agree to a maximum 20 percent cut before the 2013 season, but that was an awkward case. Crow was not yet arbitration eligible, and his 2012 salary had been negotiated when he was drafted 12th overall three years earlier.
Non-tendering Davis, now known not to be a consideration, would have been a considerable gamble considering his power potential. He did slug 32 homers in 2012 despite of a slow start.
Even if Davis makes a 2014 salary comparable to this season's $3.125 million, that still is a relatively painless figure for the Mets given how much money is coming off the books.
Also consider this: The Mets, minus Davis, would have to otherwise fill that roster spot.
Duda will be first-time arbitration eligible and likely would make $700,000 or so in 2014. So whatever Davis' salary, the relevant number really is the difference between whatever he would make and Duda's projected salary (or, at the very least, the $500,000 major league minimum).
This year, Davis hit .205 with nine homers and 33 RBIs in 317 at-bats
He did pick it upon rejoining the Mets. After nearly a month-long stint in the minors, Davis hit .267 with four homers and 17 RBIs and had a .429 on-base percentage in 48 games (38 starts) to close his season.