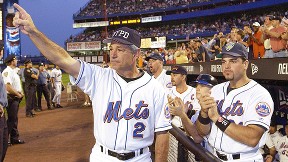 Ezra Shaw/Allsport/Getty Images
Bobby Valentine, Mike Piazza and the Mets wore caps saluting first responders after the 9/11 attacks. The Mets continue that tradition, but only during batting practice these days.
NEW YORK -- The New York Mets will have a 9/11 remembrance Wednesday, but players again will not wear first responder caps during the game.
MLB put its foot down in recent years because of licensing agreements, and now the caps recognizing first responders such as the NYPD and FDNY are only worn during batting practice.
Mets players wearing the first-responder caps after the attacks in 2001, in defiance of MLB, became one memorable way they paid respects to the sacrifices those organizations made on 9/11.
Also pregame Wednesday, the Mets and Nationals will meet with families belonging to "Tuesday's Children," a non-profit organization assisting those who lost loved ones in the attacks.