NEW YORK -- Ruben Tejada took the high road when asked about Sandy Alderson's comment that it was "like pulling teeth" to get the shortstop to do extra work.
"The past is the past," said Tejada, whose call-up was stalled until Tuesday to delay his free-agency eligibility until after the 2017 season. "I'm here to keep going forward and keep doing my job and keep working hard. I know I work hard every day to try to help the team. I'm ready to play."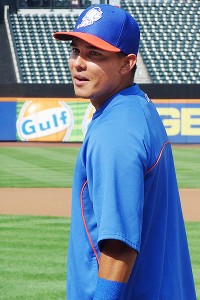 Adam Rubin
Ruben Tejada rejoined the Mets on Tuesday.
Tejada said he has not spoken to Alderson in a couple of months.
Asked if the GM's comment bothered him, Tejada said: "No. The big thing is I know I work hard. That's why I come here every day. It's my job. I don't come here to do anything bad. I'm from Panama. It's a long way to here to work and to help my family."
Said Terry Collins: "I talked to Ruben today. He didn't bring it up. So we talked about some other things that he's got to do to get himself to be the shortstop here every day, starting now for the next few years."
Collins did not place Tejada in the lineup Tuesday because the shortstop had been traveling and had not played since Triple-A Las Vegas was eliminated Saturday. But the manager suggested Tejada primarily would handle shortstop the remaining 2½ weeks of the season.
At this point, it would seem likely the Mets would explore external shortstop options this offseason for shortstop.
Tejada will be first-time arbitration eligible with a salary less than $1 million in 2014, so he would not be cost prohibitive as a backup middle infielder if a more accomplished shortstop comes aboard. Alternatively, Tejada could get traded this winter.
"It's your job when you demonstrate that," Tejada said about his future role with the ballclub.
Hitting .209 with the Mets and in danger of a demotion, Tejada instead landed on the disabled list on May 30 with a right quadriceps strain. When he was deemed healthy, he was taken off a rehab assignment and optioned to Las Vegas on July 7.
Tejada hit .288 with two homers and 24 RBIs and had a .337 on-base percentage in 269 plate appearances in the Pacific Coast League.
"Everybody is allowed to have a bad year. Everybody," Collins said. "You might look at 2013 as Ruben Tejada's worst year. He may bounce back next year and resume where he was two years ago -- and that, to me, was an up-and-coming player that brings a lot to the table. He's an outstanding defender, got a great arm, smart player. We've talked about that ever since he's been up here. What he does offensively, we thought was going to get better and better.
"He took a step backward, which can happen in our sport. Hopefully he rededicates himself to saying, 'I'm going to be the guy. You don't have to look any farther. I'm here.' ... Right now, I just want Ruben to understand that job is his for the taking. Go get it. Go grab it. And don't lose it. But there are some things that have got to be done to keep it."