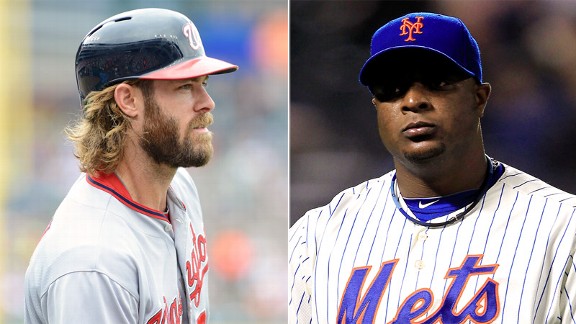 Getty Images
Jayson Werth did not take kindly to being hit by a pitch from Frank Francisco.NEW YORK -- The Washington Nationals fumed postgame Thursday after completing a four-game sweep against the Mets, with Davey Johnson telling D.C. reporters: "It's a good thing we don't see them again."
But Frank Francisco denied any purpose in plunking Jayson Werth in the back with a 3-0 pitch in the eighth after Denard Span and Ryan Zimmerman opened the inning with consecutive doubles.
"It was 3-0. Obviously I can't locate my pitches," Francisco said.
Werth jawed at Francisco and umpires stepped in. The benches never cleared.
"He can say whatever he wants," Francisco said. "I was trying to locate my pitches and obviously I was all over the place."
Asked if he had any history with Werth, Francisco added: "I haven't hit a guy in two years, bro."
Werth then slid hard into Ruben Tejada at second base on Bryce Harper's subsequent fielder's choice.
Werth declined comment after the game.
One scout at Citi Field said: "Yep, it's official. Frank Francisco is a d----- bag. Almost got his shortstop's ankle broken. It was so frickin' obvious! A------ almost got Tejada killed."
Asked about endangering a teammate, Francisco said he was unaware if Werth's slide was a result of getting plunked. Still, Francisco added: "I think that's the right thing to do -- break up the double play."
Johnson added about Francisco: "He was wild. The ball was going all over the place. But I thought our guys handled it well. We didn't overreact to it. That guy is a little goofy out there, anyway. He was looking over at our bench and chatting at our bench. It's a good thing we don't see them again."