FIRST PITCH: Get ready for a long day at Citi Field … and, no, that is not a slam at Daisuke Matsuzaka.
The Mets and Miami Marlins play a single-admission doubleheader beginning at 4:10 p.m.
Matsuzaka (0-3, 8.00 ERA), coming off a solid performance against the Cleveland Indians, faces right-hander Henderson Alvarez (3-4, 4.34) in Game 1.
Carlos Torres (3-4, 3.53) opposes right-hander Jacob Turner (3-6, 3.43) in the second game.
Saturday's news reports:
• Lucas Duda produced a three-run homer and Andrew Brown also went deep to lift the Mets to a 4-3 win against the Marlins on Friday night. Giancarlo Stanton homered twice for Miami. Jonathon Niese improved to 7- 7. The southpaw allowed three runs on six hits in 6 1/3 innings. LaTroy Hawkins earned his ninth save.
Read game recaps in the Post, Daily News, Newsday, Star-Ledger and MLB.com.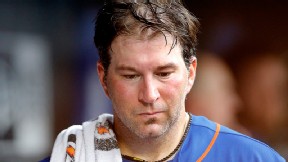 Paul J. Bereswill/Associated Press
Shaun Marcum won't go away just yet.
• Shaun Marcum, dumped by the Mets earlier this season, did not like SNY's highly regarded Mets team calling out Frank Francisco for hitting Jayson Werth with a pitch Thursday. In a series of tweets (and with just a few typos and other gaffes), Marcum wrote:
Yes Jason werth got hit by a pitch today, and no I wasn't there to see if anything happened before... But the guys in the New York booth are beyond clueless when it comes to knowing what goes thru the heads of the guys in that dugout!!! I even heard one of the idiots talking about Hefner, after he made a great pitch and have up a hit, talking about not knowing about Alfonso soriano's bat size. Last time I checked pitchers don't go thru th opposing teams dugout checking bat sizes. #getAclue
Let's just say Marcum, who was released on July 23, collected more than $5 million from the Mets for a disgusting season … and wasn't well-liked, to boot.
If Keith Hernandez had no class, he could borrow a line once directed at him and respond: "Voice from the grave."
• Savannah won the South Atlantic League title with a 2-0 victory over Hagerstown in Game 4 of the best-of-five series. Stefan Sabol provided the offense with a two-run double. Long Island native Steven Matz tossed 5 2/3 scoreless innings. Jeurys Familia, in his fourth minor league appearance since returning from surgery to clean out his elbow, contributed a 1-2-3 eighth. Gnats pitchers did not allow a run in 27 innings at home during the postseason.
• David Wright plans to run the bases full throttle today, in advance of trying to return from a Grade 2 right hamstring strain by the middle of next week. Read more in the Post, Star-Ledger and Record.
• Justin Turner (Grade 1 right hamstring strain) is not expected to return to the lineup at least until Tuesday.
• Mike Kerwick in the Record features Juan Lagares.
• Bob Raissman in the Daily News sees a match between the Mets and ESPN New York 98.7.
• From the bloggers … Faith and Fear in Flushing has a story about why gloating is never a good idea. ... John Delcos at Mets Report did not like Terry Collins' candor after Thursday's loss.
BIRTHDAYS: Submarine-style reliever Chad Bradford turns 39. He last pitched in the majors in 2009 with the Tampa Bay Rays.
TWEET OF THE DAY:
2013 SAL CHAMPS!! pic.twitter.com/ejhA22KedE

— Brandon Nimmo (@You_Found_Nimmo) September 14, 2013
YOU'RE UP: Should Shaun Marcum just shut up and go away?