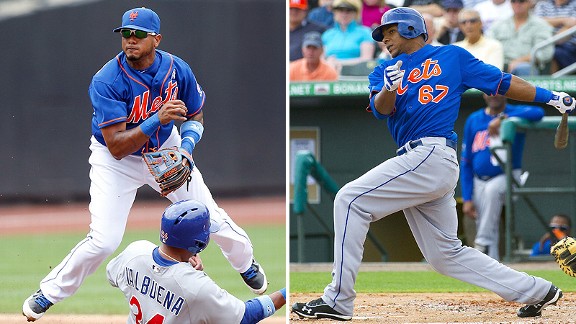 USA TODAY Sports
Jordany Valdespin and Cesar Puello's suspensions will be fully served within days.PHILADELPHIA -- Jordany Valdespin and Cesar Puello's 50-game suspensions related to the Biogenesis clinic in South Florida are nearly fully served.
Barring a rainout, Game No. 50 of Valdespin's suspension will be Monday's Mets game in Cincinnati. Puello will finish serving his suspension two days later.
Even though both players had been in the minors at the time of their suspensions, they were given credit for September major league games after rosters expanded.
The original thought had been that Valdespin would be released once his suspension was completed, but a team insider said that is now not the intention.
Valdespin and Puello do not count against the 40-man roster during their suspensions. Once their time is served, the Mets can merely shift Josh Edgin and Ruben Tejada to the 60-day DL to open spots.
That does NOT mean Valdespin will ever wear a Mets uniform again. It merely means they intend to carry him into the offseason while they have an available 40-man roster spot.