PHILADELPHIA -- Zack Wheeler experienced stiffness in his pitching shoulder during his last start, so Mets officials have decided to shut down the rookie for the season.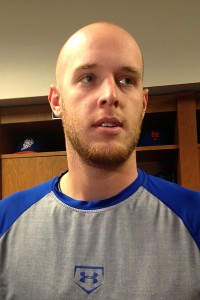 Adam Rubin
Zack Wheeler discusses being shut down for the season on Saturday afternoon in Philly.
Terry Collins said the Mets do not believe there is anything medically wrong with Wheeler. They simply believe the stiffness cropped up because he is roughly 20 innings over his 2012 total.
Rather than let Wheeler proceed with one to two more starts, the Mets decided to end Wheeler's season. Wheeler wanted to proceed with a bullpen session in Philadelphia on Saturday in preparation for his originally scheduled start Monday in Cincinnati, but GM Sandy Alderson and Collins did not grant permission, according to the manager.
"With what's happen with Matt [Harvey], it's not the time to take chances right now," Collins said. "So one more start is not going to mean that much."
Said Wheeler: "It was a group decision. I'm 20 innings over what I had last year. It's a little stiff, so we're just being cautious."
Wheeler said he is not scheduled for any MRIs or exams with doctors. He will just get regular treatment from team trainers.
Wheeler finished his rookie season 7-5 with a 3.42 ERA in 17 major league starts. He allowed 90 hits and walked 46 while striking out 84 in 100 innings.
"I made big jumps in my game," Wheeler said.
Wheeler said his biggest improvement came in attacking hitters.
Read the full news story here.