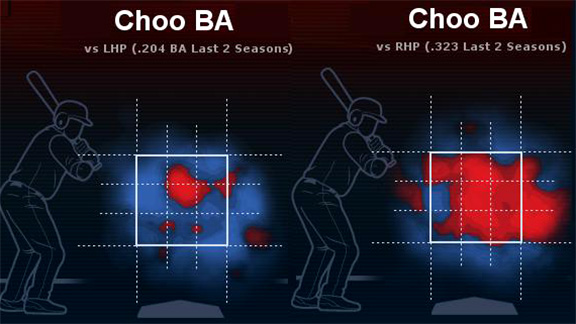 Shin-Soo Choo can hit right-handers with anyone in the game, but doesn't hit lefties as well.
There's every reason to discuss Reds outfielder Shin-Soo Choo today and not just because he had the walk-off hit that beat the Mets last night.
The 31-year-old Choo will be a free agent this offseason and media reports are that he rates at the top of their list of players to pursue, given their available money to spend and their current outfield situation.
He fits every need
#17 CF
Cincinnati Reds
2013 STATS
GM

149

HR21

RBI54

R105

OBP.423

AVG

.285
There is a lot to like about Choo, who ranks second in the NL in on-base percentage.
If you average out his numbers over the last five seasons, you get a .287/.391/.459 slashline, 17 home runs, 19 steals and 138 games played (with only one season of less than 144 games).
Choo is a well above-average offensive player who has averaged 4.1 Wins Above Replacement in that span, with highs of 6.0 in 2010 and 5.5 in 2009 when he was probably at his peak.
If you didn't see the logo on his jersey, you'd figure Choo would be a Met, based on his swing rate. He swung at just under 40 percent of pitches thrown to him this season, a rate comparable to Josh Satin and Lucas Duda.
Choo does not go out of his way to swing at bad pitches. His "chase rate" is under 20 percent, which puts him among the 10 least-likely hitters to swing at a pitch out of the strike zone in the game.
He's not perfect
Choo does have a couple of weaknesses:
His defense detracts from his value The Reds tried to make him a centerfielder this season and the decision has cost them. Choo ranks last in Defensive Runs Saved this season among the 35 centerfielders with the most innings.
From a Mets perspective, Choo's numbers in right field are more pertinent. As recently as 2010, Choo had an arm that served as a deterrent, but the value of that declined in 2011 and 2012. In Choo's last season in right field, he ranked 32nd among 35 outfielders with -12 Defensive Runs Saved, struggling to convert balls hit to the deepest part of the ballpark into outs.
Shin-Soo Choo in 2013
Choo's value is based largely what he does against right-handed pitching. Though you wouldn't know it from Monday when he had hits against Tim Byrdak and Sean Henn, his numbers against lefties aren't good.
Over the last two seasons, he's hitting .204 with two homers and 104 strikeouts in 382 at-bats against lefties. The heat map atop this article shows his success against righties and his struggles against lefties.
The other thing to keep in mind is that Choo's numbers may be inflated from playing in Great American Ball Park, which is much more hitter-friendly than Citi Field. But Choo has been more than respectable on the road this season, as noted in the chart on the right.
The injury factor
Choo has been vulnerable to being hit by pitches this season -- he leads the majors with 25.
Choo's injury history includes left-elbow surgery in 2007 (he throws left-handed), injuries to both thumbs, which sidelined him for three weeks in 2010 and six weeks in 2011, and a pair of oblique strains in 2011.
He may cost more than money
Choo will be a free agent, but the Reds are still able to make him what is known as a qualifying offer, what amounts to a one-year deal whose value is determined by averaging the top 125 salaries from the previous year (further explanation here).
If Choo turns down the qualifying offer, the team he signs with loses their first-round draft pick, unless that pick is in the Top 10 in the draft (in which case they lose their second-round pick for their first signing).
The Mets are currently in a logjam in the standings with the Brewers, Rockies, Blue Jays, Phillies, Giants and Padres for what amount to the seventh through 13th-worst records in baseball. How they finish in the final week will determine where they pick and whether that is a protected pick.
Choo may be the kind of player the Mets are comfortable giving up their first-round pick for. We'll find out this offseason.
Mets fans: Is Shin-Soo Choo your top free-agent priority? Share your thoughts in the comments section.