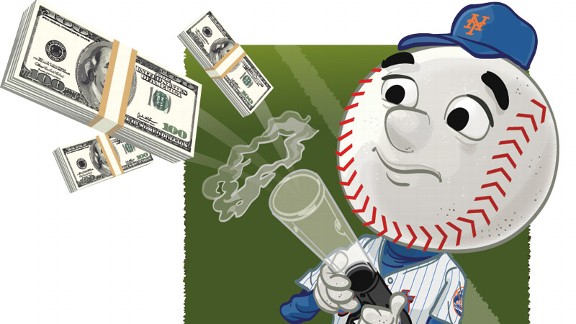 Illustration by Remie Geoffroi
Even with the Mets expected to spend this offseason, the payroll figures to go down because so much is coming off the books.NEW YORK -- GM Sandy Alderson has no shortage of work to do this offseason to reconfigure the New York Mets' roster.
Here are five questions that must be resolved:
1. Who gets dealt?
Something figures to give at first base between Ike Davis and Lucas Duda, but that is not the most intriguing trade chip the Mets possess. Team insiders say the Mets also will listen on Daniel Murphy.
Thearon W. Henderson/Getty Images
The Mets are expected to listen on offers for Daniel Murphy this offseason.That does not mean the Mets expect to trade Murphy. It means if they get a quality offer that would address, say, a shortstop or outfield hole, they would strongly weigh making such a move.
How would the Mets adjust to trading Murphy? Fans may clamor for Wilmer Flores to take over at second base, but the early insider speculation is that Eric Young Jr. most likely would handle the position.
While not labeling it a mistake to let Jose Reyes walk given the contract he received from the Miami Marlins, Mets execs recognize they have lacked a speed element since his departure. At least, they lacked a speed element until Young arrived in a June 18 trade with the Colorado Rockies for Collin McHugh.
So absent another leadoff hitter and deficient in speed throughout the lineup, Young likely is a starter somewhere on the Mets next season -- even though he may be best-suited on a top team as a fourth or fifth outfielder.
As for Duda or Davis, there are strong internal preferences about which first baseman to retain. An ESPNNewYork.com survey found seven of nine scouts preferred Duda.
But the Mets' approach is expected to be to solicit offers on Davis and Duda and see which commands the more generous offer relative to his internal value.
While it seems likely one departs, Duda does have a minor league option remaining. So there is a scenario in which both return and Duda opens the season at Las Vegas while the Mets see whether Davis again starts the season slowly.
Regardless, there seems to be no consideration to nontendering Davis in December, despite his $3.125 million salary in 2013.
2. What's the 2014 payroll?
Money always seems to be the question with the Mets.
And brace yourself: The payroll likely will go down from its 2013 level of roughly $95 million.
Dale Zanine/USA TODAY Sports
Johan Santana's $31 million for this season, including a 2014 buyout, comes off the books.Wait, wait, wait ... before you have a coronary:
Mets insiders suggest they have more than adequate flexibility to be aggressive in free agency if they choose. But, they add, it would not be "sane" after getting out from under albatross contracts to reinvest all that money in one offseason and likely get saddled with a new crop of bad contracts down the road.
Coming off the books:
• Johan Santana, $31 million (including a $5.5 million buyout)
• Jason Bay, $21 million (albeit $15 million deferred as much as two years)
• Frank Francisco, $6.5 million
• John Buck, $6 million (less what the Pittsburgh Pirates picked up for September)
• Shaun Marcum, $5 million-plus (including incentives)
That's roughly $70 million right there.
David Wright's contract calls for a $9 million raise, and Jonathon Niese gets a $2 million raise. A handful of other players eligible for arbitration will have salary increases too.
But there is little chance those raises, plus external additions, match the amount coming off the books.
So figure the Mets' payroll to go modestly down in 2014, even with several external additions.
3. Will the Mets sign a top-tier free agent?
As it turns out, the Mets will have a top-10 draft pick -- meaning they will not need to forfeit their first-round selection if they sign a premium free agent such as Shin-Soo Choo.
Harry How/Getty Images
Bidding for Shin-Soo Choo figures to exceed the Mets' appetite.Still, a team insider said, with the exception of Choo, the Mets do not intend to pursue those types of free agents anyway (think outfielders Jacoby Ellsbury and Curtis Granderson). So the protected/unprotected issue was wasted energy to debate.
The Mets, according to an insider, also do not intend to offer more than a Michael Bourn-type contract for Choo, which means four guaranteed years. Their reasoning: Choo is not an exceptional fielder. And his power potential is not equivalent to outfielders who have received megadeals, such as Jayson Werth (seven years, $126 million in December 2010).
So if Scott Boras can do better -- and the bet is he can, especially with Hunter Pence getting five years and $90 million to stay with the San Francisco Giants -- Choo likely is headed elsewhere.
Look for the Mets to adopt the Boston Red Sox's model from last offseason, which means spending money on five or six middle-tier free agents.
Last offseason, Boston signed:
• Shane Victorino, three years, $39 million
• Ryan Dempster, two years, $26.5 million
• Jonny Gomes, two years, $10 million
• Stephen Drew, one year, $9.5 million
• David Ross, two years, $6.2 million
• Mike Napoli, one year, $5 million
• Koji Uehara, one year, $4.25 million.
They also acquired Joel Hanrahan in a trade.
4. Will Harvey need surgery?
The Mets and Matt Harvey clearly are on different pages about the need for Tommy John surgery.
The Mets' press release at the time of Harvey's announcement that he would attempt rehab and a throwing program for six to eight weeks clearly implied Harvey needed to disprove the need for surgery with that two-month program.
Steve Mitchell/USA TODAY Sports
Matt Harvey is not out of the woods yet as far as Tommy John surgery.Alderson said Friday he can really count only on Niese, Zack Wheeler and Dillon Gee in 2014.
So the Mets likely need to obtain one veteran starting pitcher as a hedge against Harvey missing next season. If Harvey ends up OK, that starter could compete with youngsters such as Rafael Montero, Jacob deGrom and Noah Syndergaard.
The question becomes: Will the acquisition be at the Bronson Arroyo-type price? Or at the Daisuke Matsuzaka/Aaron Harang level?
(If Harvey commits to surgery within a couple of months, the Mets likely would need to be more aggressive.)
One reunion ESPNNewYork.com hears is unlikely to occur: the Mets and Scott Kazmir.
Right-hander Cory Mazzoni -- a Double-A starter this season -- could compete for a bullpen spot out of spring training but is not in the rotation consideration right now. Double-A closer Jeff Walters may be a relief factor too.
Down the road, watch for right-hander Gabriel Ynoa -- a 17-game winner at low-Class A Savannah this season -- to rise quickly through the system and threaten to crack the big league rotation.
5. Who mans shortstop?
It might be easier to answer the question: Who doesn't man shortstop?
It remains unclear whether the Mets will go outside the organization, although that would seem the better course.
Team insiders believe that if the Mets can get above-average production from the corner outfielders they add this winter, then maybe they can go with a defensive-oriented shortstop.
The organization consensus is Omar Quintanilla cannot hit enough to be an every-day guy. And team brass believes Wilfredo Tovar needs more time in the minors for seasoning, despite the positive start to his major league career.
Terry Collins recently described the shortstop job as Ruben Tejada's to lose among internal candidates. But that was the manager going rogue and not the organizational view.
So Tejada's days with the Mets, at least in the majors, may be numbered.
The Mets do not view Tejada as a backup middle-infielder candidate. That is Justin Turner's job in all likelihood in 2014.
So it likely is starter or bust for Tejada. And he is going to have to bust it to get into shape after his fractured leg heals to prove he merits the job.