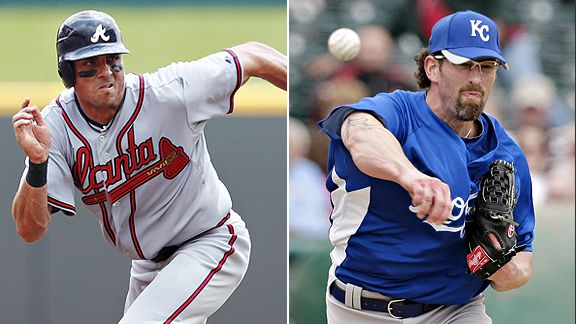 Getty Images, AP Photo
While the Mets stood pat, the Braves added outfielder Rick Ankiel (left) and reliever Kyle Farnsworth from the Kansas City Royals at Saturday's non-waiver trade deadline.
METS (53-52, third place/NL East) at ATLANTA BRAVES (59-45, first place/NL East)
Monday: LHP Johan Santana (8-5, 3.11) vs. RHP Tim Hudson (11-5, 2.40), 7:10 p.m. ET
Tuesday: RHP R.A. Dickey (7-4, 2.32) vs. RHP Derek Lowe (10-9, 4.58), 7:10 p.m. ET
Wednesday: RHP Mike Pelfrey (10-5, 4.10) vs. RHP Kris Medlen (6-2, 3.66), 7:10 p.m. ET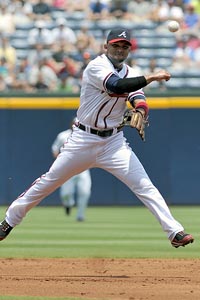 AP Photo/Gregory Smith
The Braves swapped shortstops with the Toronto Blue Jays on July 14, acquiring Alex Gonzalez.
Braves short hops
The Braves were active at the trading deadline, acquiring outfielder Rick Ankiel and right-handed reliever Kyle Farnsworth from the Kansas City Royals for outfielder Gregor Blanco, reliever Jesse Chavez and left-handed minor leaguer Tim Collins. The Braves also acquired minor league outfielder Wilkin Ramirez from the Detroit Tigers for a player to be named and assigned Ramirez to Triple-A Gwinnett. Ankiel, 31, started in center field and batted seventh Sunday at Cincinnati. He went 0-for-3 with a walk in his debut. Ankiel fills the role intended for ex-Pirate Nate McLouth, who was demoted to Gwinnett last Tuesday with a .168 average in 185 at-bats. McLouth had only one hit in 15 at-bats -- a broken-bat single -- after returning from a concussion suffered in a June 9 collision with right fielder Jason Heyward. Ankiel hit .261 with four homers and 15 RBIs with Kansas City. He missed 68 games with the Royals because of a right hamstring strain. He has a $6 million mutual option for 2011. Farnsworth, 34, also pitched for the Braves at the end of the 2005 season, after being acquired from the Tigers on the trading-deadline day. He is making $4.5 million this season, and has $5.25 million team option for next season. … Atlanta swapped shortstops with the Toronto Blue Jays in a five-player deal on July 14. The Braves acquired Alex Gonzalez for Yunel Escobar, who was often in retiring manager Bobby Cox's doghouse. Jo-Jo Reyes also went to Toronto in the deal. Gonzalez landed in the hospital in Cincinnati on Friday with gastritis, which caused a burning sensation in his stomach. He ultimately entered that night's game in the 10th inning and returned to the starting lineup Saturday. Gonzalez, who had 17 homers with the Blue Jays this season, produced his first homer since the trade Sunday, when he went deep off Edinson Volquez. The longball snapped an 0-for-18 drought. … All-Star second baseman Martin Prado will miss the Mets series and may be placed on the disabled list on Monday with a broken right pinkie. Prado suffered the injury on a headfirst slide at home plate on Friday at Cincinnati, when the finger got caught in a hole. All-Star utility player Omar Infante, who went 9-for-14 with a homer in the three-game series against the Mets to close the first half, will see the bulk of the duty at the position in Prado's absence. … First baseman Troy Glaus is homerless in his past 32 games. He's also hitting .089 (20-for-225) in his past 37 games. Eric Hinske started at first base Sunday, although Glaus replaced him defensively in a 2-1 rubber-game loss to the Reds after Chipper Jones, who was resting, pinch hit in the seventh inning. Glaus has been nursing a sore knee. … Heyward, who was voted as a National League All-Star starter but had to withdraw because of a bruised left thumb, returned to the lineup after the break. The rookie outfielder's thumb should be at least a modest issue the remainder of the season. He nonetheless swiped home on a double-steal on Wednesday at Washington. He became the first Brave to do so since Rafael Furcal in 2000. After going 1-for-4 with a walk Sunday, Heyward -- the National League's Rookie of the Month in April and May -- has reached base in 23 of his last 43 plate appearances. He's hitting .349 (22-for-63) since returning from the disabled list. … Tim Hudson has a 2.24 ERA in his past 15 starts. … Rookie reliever Jonny Venters' four-game suspension was overturned Friday by John McHale Jr., MLB's executive VP of administration. The left-handed sinkerballer had hit Milwaukee Brewer Prince Fielder with a pitch in the back on July 17. Had Venters not received the reprieve, the Braves could have been short in the bullpen from the left side. Eric O'Flaherty (viral infection) is on the disabled list. Venters has been dominant this season. He has a 1.21 ERA and .174 opponent batting average after striking out Joey Votto and retiring Scott Rolen on a groundout Sunday. Venters did suffer his third blown save Friday, when he surrendered his first career homer, to Votto. … The Braves have lost three straight series. Entering that stretch, they had lost only one of 21 series. Atlanta nonetheless is 34-13 this season at Turner Field. … Catcher David Ross signed a two-year, $3.25 million extension to back up Brian McCann through 2012, GM Frank Wren announced last Tuesday. … Right-hander Kris Medlen left his last start Friday in the top of the sixth inning after being hit on the right forearm with a pitch from Cincinnati's Johnny Cueto. Medlen was diagnosed with a bruise. … Closer Billy Wagner needs 13 strikeouts to match Jesse Orosco for the most ever by a left-handed reliever. Wagner has 1,156 career strikeouts. Orosco actually has 1,179 Ks, but 10 came as a starting pitcher. Wagner, who intends to retire at season's end, blew consecutive saves on July 21 and 23 after converting 22 of his first 25 opportunities this season. He got back on track with successful saves last week, at Washington and Cincinnati. … Rookie Brooks Conrad had his second pinch-hit grand slam of the season on July 24. According to the Elias Sports Bureau, only four other players in major league history -- two with Mets ties -- have had a pair of slams off the bench in the same season: ex-Met manager Davey Johnson (in 1978, with the Phillies) Darryl Strawberry (in 1998, with the Yankees), Mike Ivie (1978) and Ben Broussard (2004). … Set-up man Takashi Saito complained of shoulder discomfort after facing the Mets on July 11. The 40-year-old right-hander did not return to game action for another 10 days, but has regularly pitched since reappearing. … Jones' next base on balls will tie him with Jeff Bagwell for 26th on the all-time walks list with 1,401. Jones is one homer shy of tying Juan Gonzalez for 37th on the all-time homer list with 434. … The Braves have a major league-best 17 wins in their last at-bat this season. … Peter Moylan's 56 relief appearances rank second in the majors, trailing only Pedro Feliciano's 59 with the Mets. Moylan in his career against the Mets has a 0.69 ERA in 27 innings.
Matchups
Santana vs. Braves (career: 2-5, 2.01 ERA)
Matt Diaz .538, 1 HR, 3 RBIs, 26 AB
Alex Gonzalez .333, 6 AB
Jason Heyward .333, 3 AB
Troy Glaus .310, 2 HRs, 6 RBIs, 29 AB
Brent Clevlen .300, 10 AB
Chipper Jones .261, 1 RBI, 23 AB
Brian McCann .259, 2 HR, 2 RBIs, 27 AB
Melky Cabrera .200, 5 AB
Martin Prado .167, 18 AB
Omar Infante .156, 3 RBIs, 32 AB
Nate McLouth .133, 1 HR, 2 RBIs, 15 AB
Eric Hinske .000, 5 AB
David Ross .000, 3 AB
Dickey vs. Braves (career: 0-1, 7.45)
Omar Infante .714,1 HR, 2 RBIs, 7 AB
Melky Cabrera .250, 1 HR, 1 RBI, 8 AB
Eric Hinske .154, 13 AB
Troy Glaus .100, 1 RBI, 10 AB
Martin Prado .000, 4 AB
Gregor Blanco .000, 3 AB
Brian McCann .000, 3 AB
Alex Gonzalez .000, 2 AB
Brooks Conrad .000, 1 AB
Pelfrey vs. Braves (career: 4-6, 5.43 ERA)
Eric Hinske .667, 1 HR, 1 RBI, 6 AB
Omar Infante .444, 2 RBIs, 9 AB
Brian McCann .441, 1 HR, 7 RBIs, 34 AB
Martin Prado .438, 1 HR, 1 RBI, 16 AB
Gregor Blanco .364, 1 RBI, 11 AB
Chipper Jones .333, 2 HR, 4 RBIs, 24 AB
Matt Diaz .333, 6 AB
Nate McLouth .286, 1 RBI, 14 AB
Melky Cabrera .250, 12 AB
Troy Glaus .231, 2 RBI, 13 AB
Jason Heyward .000, 5 AB
Alex Gonzalez .000, 1 AB
David Ross .000, 1 AB
Hudson vs. Mets (career: 11-5, 3.54 ERA)
Angel Pagan .556, 2 RBIs, 9 AB
Carlos Beltran .371, 4 HR, 14 RBIs, 62 AB
Jose Reyes .259, 1 HR, 3 RBIs, 54 AB
Luis Castillo .233, 3 RBIs, 30 AB
Alex Cora .231, 13 AB
David Wright .217, 1 HR, 4 RBIs, 46 AB
Jeff Francoeur .167, 6 AB
Henry Blanco .000, 5 AB
Ike Davis .000, 2 AB
Jesus Feliciano .000, 1 AB
Lowe vs. Mets (career: 3-5, 6.61 ERA)
Chris Carter .600, 1 RBI, 5 AB
Josh Thole .500, 3 RBIs, 4 AB
David Wright .364, 3 RBIs, 22 AB
Ike Davis .333, 1 HR, 1 RBI, 3 AB
Luis Castillo .333, 4 RBIs, 24 AB
Henry Blanco .333, 1 RBI, 6 AB
Jose Reyes .286, 1 RBI, 7 AB
Angel Pagan .250, 2 RBIs, 12 AB
Jeff Francoeur .231, 1 HR, 4 RBIs, 26 AB
Alex Cora .200, 1 RBI, 10 AB
Carlos Beltran .172, 2 RBIs, 29 AB
Jason Bay .000, 15 AB
Medlen vs. Mets (career: 0-0, 1.32 ERA)
Jason Bay 1.000, 1 AB
Ike Davis .667, 1 HR, 1 RBI, 3 AB
Jeff Francoeur .600, 1 HR, 1 RBI, 5 AB
Angel Pagan .200, 5 AB
Luis Castillo .167, 6 AB
David Wright .000, 5 AB
Jose Reyes .000, 4 AB
Chris Carter .000, 3 AB
Carlos Beltran .000, 1 AB
Henry Blanco .000, 1 AB
Alex Cora .000, 1 AB
Josh Thole .000, 1 AB
Last series results:
Braves won 2-1 at Citi Field, July 9-11 (AP game recaps)
Braves 4, Mets 2: Melky Cabrera and Omar Infante hit back-to-back homers with two outs in the seventh inning off knuckleballer R.A. Dickey, and the NL East-leading Atlanta Braves beat the New York Mets. Infante wasn't fooled by Dickey's fluttering pitch. The All-Star utility player had four hits and scored twice to help the Braves open a four-game lead over New York, their biggest margin of the season. Billy Wagner made his first appearance at Citi Field against his former team and received mostly boos when he was announced. He pitched a perfect ninth for his 20th save in 23 opportunities. Troy Glaus had a two-out RBI single and Cabrera scored on shortstop Jose Reyes' two-out error in the first as Atlanta improved to 21-25 on the road. The Braves took two of three from the Phillies before coming to New York, where they were swept in a three-game set April 23-25. Dickey (6-2) had two hits and scored twice for the Mets, who have lost consecutive games at home for the first time since May 9-10. They had dropped two of three to the NL Central-leading Reds before an off day and then the Braves series. Playing without Chipper Jones, who was a late scratch because of back spasms, the Braves put runners on base in every inning except the sixth against Dickey but couldn't provide Tommy Hanson with much run support. Hanson mixed a low-90s mph fastball with a sharp curve and slider to strike out six in his second straight solid start. He was lifted with runners on second and third and two outs in the sixth. Eric O'Flaherty (3-1) got pinch hitter Jesus Feliciano to ground out, ending the threat. Dickey got the first two outs of the seventh before Cabrera hit the first pitch he saw off the second deck in right for a 3-2 lead. Infante made it a two-run cushion with a drive to left. Dickey gave up nine hits and four runs (three earned) in 6 2/3 innings and has lost his last two decisions. The Braves scored in the first when Reyes, limited to batting right-handed because of a sore right side, couldn't handle Glaus' two-out grounder behind second base. Glaus gave the Braves a 2-1 lead in the fifth with an RBI single. Dickey scored the Mets' first run on David Wright's sacrifice fly in the third. He scored again in the fifth to make it 2-all on Reyes' double that froze left fielder Eric Hinske. The Mets optioned right-hander Ryota Igarashi to Class A St. Lucie to work on his consistency and developing his secondary pitches. He was 1-1 with a 7.91 ERA in 22 games for New York. The Mets also recalled Nick Evans from Double-A Binghamton to provide a right-handed bat off the bench. He struck out in the seventh.
Braves 4, Mets 0: Tim Hudson allowed four hits over seven innings before turning it over to one of the toughest bullpens in baseball, and the Braves beat New York to move five games ahead of their NL East rival with one game left before the All-Star break. Omar Infante, the Braves' jack-of-all trades All-Star, had three hits and drove in a run after getting four hits in the series opener, while Hudson (9-4) helped himself with a pair of hits that included an RBI double during a four-run fifth inning. It all added up to Atlanta's fourth straight win. The Mets have lost back-to-back series at home for the first time since their first two of the season, against Florida and Washington. As if losing ground in the division wasn't bad enough, the Mets also lost Jose Reyes after he made a difficult fielding play in the seventh inning. The All-Star shortstop hurt himself ranging to his right to grab a grounder by Troy Glaus and making a long throw to first base. Reyes has been hampered by a sore right side that has prevented the switch-hitter from batting left-handed the last few games. The Braves got all their offense against Mike Pelfrey (10-4) in the fifth, chasing him with five straight singles to open the inning. Hudson's two-out RBI double off Elmer Dessens made it 4-0, dooming the Mets to their third straight home loss for the first time this season. Pelfrey had been dominant through his first 15 starts, enough so that many thought he deserved to be included on the NL All-Star roster. But the right-hander has been abysmal since, giving up 15 runs over 13 1/3 innings and twice allowing a career-high 12 hits. All 12 of Atlanta's hits off Pelfrey in this one were singles. He allowed 15 of his 25 batters to reach base and hasn't lasted more than six innings since June 19. The damage could have been even worse against the Braves, who loaded the bases in the second and fourth against Pelfrey but had nothing to show for it. Atlanta left 13 on base. Angel Pagan had three of the Mets' four hits, and is creating a nice problem for manager Jerry Manuel. He's been swinging one of the team's best bats, but will lose his everyday spot in center field when Carlos Beltran comes off the disabled list after the All-Star break. Pagan was just about all the offense New York could muster against Hudson, though. The 34-year-old right-hander has recovered from Tommy John surgery two years ago to re-establish himself as one of the best pitchers in baseball. He's lasted at least seven innings in each of his last seven starts, one of the main reasons he was picked to his first All-Star team since 2004.
Mets 3, Braves 0: A gem by Johan Santana and the mere sight of Carlos Beltran gave the New York Mets two reasons to get excited about the second half. Santana saved the Mets from a sweep with another spotless outing and rookie Ike Davis hit his latest titanic home run in New York's victory. The Mets head into the All-Star break four games behind first-place Atlanta in the NL East, with their star center fielder set to come off the disabled list and make his season debut in San Francisco. Alex Cora and pinch hitter Josh Thole delivered two-out RBI singles, and Angel Pagan had three of New York's 13 hits. The Mets also got flawless relief work from Bobby Parnell and Francisco Rodriguez in their major league-best 13th shutout. Fantastic at Citi Field for most of the first half, New York averted a three-game sweep but finished 2-4 on a disappointing homestand against a pair of division leaders. The Braves, who had won four straight, still own the league's best record at 52-36. After scoring six runs in the previous four games, New York didn't manage much on offense this time, either. Playing without ailing shortstop Jose Reyes and slumping slugger Jason Bay, the Mets stranded 11 runners and grounded into two double plays. Still, Santana (7-5) and the bullpen made a few clutch hits stand up. Coming off a three-hit shutout of Cincinnati, when he hit his first major league home run, Santana was brilliant again. He allowed five hits and three walks in seven comfortable innings, striking out five. Following a two-start skid, the two-time Cy Young Award winner has yielded one run and 14 hits in his past three outings, covering 23 innings. Rookie shortstop Ruben Tejada, subbing for Reyes, made a diving play to end the seventh with a runner on. Parnell came on to face the middle of Atlanta's lineup in the eighth and set down Chipper Jones, Troy Glaus and All-Star Brian McCann in order. Rodriguez pitched a perfect ninth for his 21st save in 25 tries. Pagan tripled to right-center with two outs in the third and scored on Cora's single off Derek Lowe (9-8). Davis drove a 2-0 pitch to center field leading off the sixth and it soared about 430 feet to the back of the black batter's eye behind the home run apple. It was Davis' 11th home run, several of which have carried to rarely reached spots in cavernous Citi Field. Lowe was lifted after 5 1/3 innings. He gave up two runs and eight hits, losing his third straight start. Jesus Feliciano singled off Takashi Saito to start the eighth and scored on a single by Thole, who is 9-for-17 (.529) since getting called up from the minors, including 4-for-5 with three RBIs as a pinch hitter. Bay is 0-for-15 against Lowe and was rested on his bobblehead day. Manager Jerry Manuel said he thought the slugger has been tired for a while and he wanted him to "exhale" and "start fresh" on the West Coast after the break. Chris Carter started in left field and went 2-for-3 before getting pulled for a pinch runner. After the game, Feliciano was optioned to Buffalo to make roster room for Beltran. Matt Diaz had two hits and is 14-for-25 (.560) against Santana.