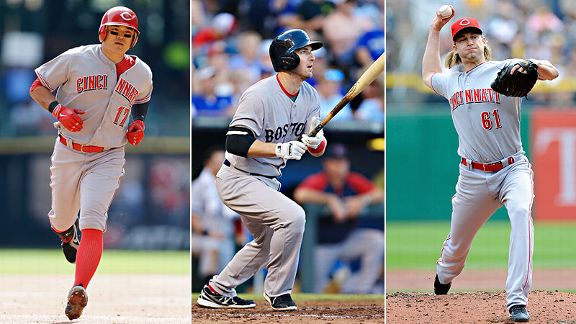 Getty Images
Players who could be of value to the Mets: Shin-Soo Choo, Stephen Drew, Bronson Arroyo.When putting together a list of the priorities for the Mets in this offseason's free-agent market, you must be realistic.
To think that the team is going to land anyone with a nine-figure salary is a longshot (no matter what Sandy Alderson says), so cross Robinson Cano and Jacoby Ellsbury off any wish-lists.
Logic would also dictate that pitchers for whom the market might provide a four-year commitment comparable to the one Edwin Jackson got last winter (four years, $52 million) are not what this front office is looking for, so scratch off Matt Garza and Ricky Nolasco (and probably Ubaldo Jimenez, Tim Lincecum and Ervin Santana). We also left out a few pitchers with strong preferences for specific teams or markets-- A.J. Burnett (Pirates), Dan Haren (West Coast), Tim Hudson (Braves) and Hiroki Kuroda (Yankees/Japan).
But there are players who would be good fits for this team, which most likely will be shopping for multiple outfielders, a shortstop, both starting pitchers and relievers, and maybe a backup catcher.
What is below is a list arranged alphabetically, rather than by rank, of 20 targets that we deemed realistic based on educated guesses and available information. When the World Series concludes, these players will be on the market for the Mets to pursue.
Feel free to share your thoughts on priorities and targets in the comments.
Jose Abreu, 1B: The first name on our list is a wild card, a Cuban defector who hit .360 in six games in the World Baseball Classic. The comparables are to the good version of Ryan Howard, which would be a great fit for the Mets. But the team already has a first-base glut and the cost for an unknown might be too high.
Bronson Arroyo, SP: This will probably be a name you'll hear a lot, partly because Arroyo was so willing to acknowledge interest in the Mets when approached by the media a few weeks ago.
#61 SP
Cincinnati Reds
2013 STATS
GM

32

W14

L12

BB34

K124

ERA

3.79
Arroyo has made at least 30 starts in each of the last nine seasons, and his WAR has been over 2 in five of the last seven seasons (3.6 and 2.9 the last two) pitching in ballparks that are hitter-friendly.
It would be interesting to see what he could do in 16 to 17 starts in Citi Field.
Carlos Beltran, OF: We feel obligated to list him (we'll get plenty of questions if we don't). Beltran would be an ideal Shane Victorino-like signing if the Mets tried to mimic what the Red Sox did last season, as he's shown he has something left (.282 batting average, and an average of 28 homers and 3-WAR per season in two years with the Cardinals). But if we ranked everyone we wrote about, we'd rate him last among realistic chances of signing with the Mets.
Marlon Byrd, OF: Byrd liked being a Met, the Mets liked having him, and he fits a team need, so a second tour doesn't seem out of the question.
Top Free Agent OF
If Money Was No Object
But a caution for anyone thinking Byrd will replicate his .291 batting average -- his ground-ball batting average in 2013 was .321, nearly 100 points higher than he hit on grounders from 2009 to 2012.
So start any projections for Byrd in 2014 with the idea he's probably going to peak in the .270s.
John Buck, C: While we're talking second tours, Buck could be the veteran backup the Mets are looking for. The expectations and need would ideally not be high so long as Travis d'Arnaud stays healthy. If not Buck, the Mets targets could include Tigers backup Brayan Pena (.297 BA, 713 OPS in 229 at-bats) and Rangers backup Geovany Soto (.245 batting average, nine homers in 163 at-bats), or defensive specialist Jose Molina of the Rays.
Chris Capuano, SP: There are six lefties of a very similar ilk that are free agents -- Capuano, Bruce Chen Joe Saunders, Paul Maholm, Jason Vargas and Barry Zito. Each is well-experienced and has been above-average at some point in their career. In each case, their best days are probably behind them, but they've still got something left. If the Mets decide they want a veteran lefty starter as their innings eater, they could go for any one of these six, with little difference between them.
Joba Chamberlain, Yankees, RP: Chamberlain averaged nearly 95 mph on his fastball this season but will be a low-end purchase because his slider has not been close to what it once was for the last two seasons. His awful September (he allowed runs in four of six appearances in one stretch) won't help his value either. But the Mets could provide him a chance at a fresh start.
Shin-Soo Choo, OF: The Mets have already been linked to Choo, and it's no secret they covet his high on-base percentage and modest power (though his poor history against lefties makes it hard to think of him as a franchise-savior).
If the price is comparable to Hunter Pence's five-year, $90 million, he'll be elsewhere in 2014.
For an in-depth evaluation on Choo, click here.
Nelson Cruz, OF: Since the Mets had no problem taking on a PED-suspended player in Byrd, they'd probably be willing to go after Cruz, who has averaged 27 homers, 12 steals and 125 games the last five seasons.
The downside is the homer-deflation factor given the move from Rangers Ballpark to Citi Field and that Cruz is a below-average defender.
Stephen Drew, SS: It's our educated guess that Drew tops the Mets' list among available shortstops in free agency.
#7 SS
Boston Red Sox
2013 STATS
GM

124

HR13

RBI67

R57

OBP.333

AVG

.253
He's above-average offensively (.777 OPS with the Red Sox) whose 10 percent walk rate over the last three seasons will suit the Mets and is an average (maybe a hair below average) defender and baserunner.
What will make him affordable and also a bit risky is his injury history (he missed about half the season in 2011 and 2012).
Yunel Escobar, SS: Escobar's best seasons at shortstop rate slightly better than Drew's -- primarily because of his defense. The question marks with him are in issues regarding his lack of hustle and his wearing eye black with text that included a homophobic slur. Escobar has an option for $5 million in each of the next two years, so the Rays may not let him reach the free-agent market.
Jason Frasor, RP: Frasor is a veteran righty who has ties to Mets special assistant to the GM J.P. Ricciardi as someone who pitched for the Blue Jays from 2004 to 2011. His appeal is reliability in that he's never rated below replacement level and averaged 58 games per season the last 10 years in a middle-relief/setup role. He also has shown the ability to (usually) get out both righties and lefties at a high rate.
Curtis Granderson, OF:If Choo turns out to be too expensive, Granderson represents the next-best reasonable option.
He would bring power and speed, having averaged 36 homers and 16 steals with the Yankees from 2009 to 2011, though how much of the former would translate to Citi Field makes for a good debate.
One thing working against the Mets would be if Granderson felt the pull to return home to Chicago, particularly if Joe Girardi becomes the Cubs manager.
LaTroy Hawkins, RP: Bringing Hawkins back would make a lot of sense. He's cost-effective, he's reliable, and he has experience as a closer if the need arose. If he chose to retire or sign elsewhere, another free-agent of similar status who would be cost-comparable would be someone like a Kyle Farnsworth.
J.P Howell, RP: Probably will be the costliest of the lefty relievers, because his history includes four good years in that role, and he's good enough against right-handed hitters that he's not strictly a one-batter reliever like a Scott Rice, Tim Byrdak, or Pedro Feliciano. Howell closed the regular season very well for the Dodgers, allowing three runs (and one of 14 inherited runners to score) in his last 20 innings.
Josh Johnson, SP: Johnson ended the season with a forearm strain, and the scare in signing him would be that at some point he'd suffer another injury in line with those that have plagued his career.
Top Free Agent SP
If Money Was No Object
But the upside is a pitcher who can put up Matt Harvey-like numbers when healthy (6.6 WAR in 2009, 7.2 WAR in 2010).
If the Mets are going to pursue creative solutions over spending large sums, Johnson is the kind of pitcher who will be on their list.
Boone Logan, Yankees RP: Logan is more of a one-batter left-handed option than Howell, as he allowed four homers to the 74 right-handed hitters he faced in 2013. His history against lefties is pretty good (an above-average rate of misses on 35 percent of swings against him over the last three seasons), though not untouchable (10 homers, .404 slugging percentage allowed in that span).
Nate McLouth, OF: McLouth was a 1.7 WAR outfielder with 12 homers and 30 steals in 146 games for the Orioles (his most games played in a season since 2008). He's an average defender in left field whose upside is in his hustle and high energy (a la Eric Young with more power). He would be an interesting option if the Mets traded Daniel Murphy and moved Young to second base.
David Murphy, OF: Murphy is an under-the-radar buy-low option who averaged a .346 on-base percentage, 14 homers and 2-WAR in 128 games from 2008 to 2012 before a major performance decline in 2013.
One of Murphy's issues was the opposite of Byrd's -- a decline of nearly 100 points from 2011/2012 to this season on his success hitting ground balls, which trimmed about 20 points from his batting average. The team that goes after him will be one thinking those numbers can get back to what they were, which would make him a reasonable investment.
Jhonny Peralta, SS: Peralta may come discounted because of his recent 50-game PED suspension.
#27 SS
Detroit Tigers
2013 STATS
GM

107

HR11

RBI55

R50

OBP.358

AVG

.303
He has the best offensive numbers of anyone available at shortstop: his average season from 2005 to 2013 is a .332 on-base percentage with 17 home runs.
The knock on his game is his defense, but his numbers are better than you think. He's rated almost exactly average on defense there over the last three seasons.
Others to keep in mind: Starting pitchers Jason Hammel (dealt with injuries in 2013, but effective when pitching for Orioles) and Phil Hughes (who should be better just for no longer pitching in Yankee Stadium), righty relievers Tim Stauffer and Jamey Wright (alternatives in the Jason Frasor mold), lefty specialists Scott Downs of the Braves and Javier Lopez of the Giants, outfielder Mike Morse (a defensive liability who has averaged 19 homers a season since the start of 2010), and infielder Nick Punto (2.1 WAR in 2013, could share shortstop with Ruben Tejada).