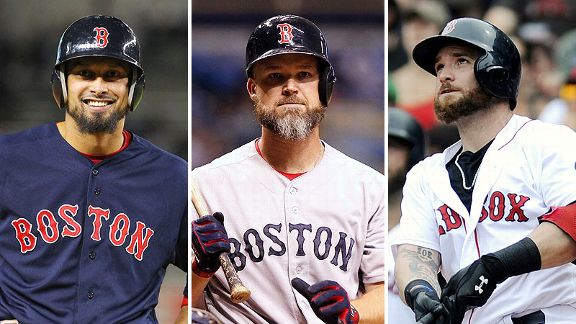 USA Today Sports
Shane Victorino, David Ross and Jonny Gomes (l to r) were among the Red Sox's additions last offseason.NEW YORK -- A Mets insider suggested team officials intend to follow the Boston Red Sox's template from last offseason.
What does that mean?
Bringing in several players on one- to three-year deals for non-exorbitant sums rather than wading in the deep end for the free agents commanding six years or more.
After its mega-deal with the Los Angeles Dodgers freed up $262 million in payroll, the Red Sox had a 2012-13 offseason that included signing:
Shane Victorino, three years, $39 million
Ryan Dempster, two years, $26.5 million
Jonny Gomes, two years, $10 million
Stephen Drew, one year, $9.5 million
David Ross, two years, $6.2 million
Mike Napoli, one year, $5 million
Koji Uehara, one year, $4.25 million
Boston went 97-65, after going 69-93 in 2012.
ESPNNewYork.com spoke with ESPNBoston.com's Gordon Edes about how the Red Sox went about their business last winter.
Was it a conscious strategy last offseason to spread their money over several players as opposed to focusing on one high-ticket guy?
Edes: "Absolutely. The one thing you have to recognize is they didn't necessarily go a cheap route. I mean, they overpaid for some of the guys that they signed. A lot of people mocked the three years, $39 million they gave to Victorino, for example. And they were going to give the same thing to Napoli until the hip condition surfaced. The biggest change was trying to avoid longer contracts in terms of years -- the [Carl] Crawford seven-year commitment, [Adrian] Gonzalez seven-year commitment. Both blew up on them so badly. That was a big part of their strategy. They were willing to pay a few more bucks if that meant they could go shorter term."
Were their offseason moves unpopular in Boston entering this season? Or people thought the Red Sox would be good because of the moves?
"Just look at all the ESPN experts in March. All 43 of them -- not a single one of them -- picked the Red Sox to win [the AL East]. I think even in Boston there was a fair amount of skepticism. People in the media and all were questioning why the Red Sox didn't go after a Josh Hamilton, for example, and thought that they overpaid for guys that were coming off of off seasons. I mean, Victorino didn't have a good year [in 2012]. Napoli didn't have a good year. Dempster didn't have a good year. And yet those are the kind of guys the Red Sox reached out for. And even Gomes -- nobody expected a part-timer like Gomes to get a two-year, $10 million deal. So I think there was a tremendous amount of skepticism, that this was going to be a mediocre team."
So was it good scouting? Or luck?
"I think it was very good scouting. I think they placed a huge emphasis on not so much character guys, per se, but guys who really wanted to play in Boston. I mean, Carl Crawford obviously didn't want to play here. He was miserable here. So getting guys who, rather than were affronted by the environment here, embraced it. That was a huge thing, too. A lot of it is attributed to the scouting, and a lot of it is just serendipity. Who gets to hit the reset button like that? If it hadn't been for that trade and taking $262 million off the books, who gets to do that?"
The Mets are in a similar positions in terms of payroll flexibility -- not because of a trade, but because they did not sign any big-ticket items for three straight offseasons and have watched their contracts expire.
I suppose the last question is: Given how successful the Red Sox were this season, and given how long-term deals look bad for, say, Josh Hamilton and Albert Pujols, would you expect teams to pattern their upcoming winter after what Boston did last winter?
"Not when the first meaningful signing this fall has been the huge contract to Hunter Pence (five years, $90 million). I don't think people are all of a sudden going to fall all over themselves and say, 'Yeah, the Red Sox figured it out.' There will still be some huge, long-term contracts. You know, the Red Sox are going to be faced with an interesting one, too. They do make exceptions. They did give Dustin Pedroia an eight-year extension. It remains to be seen what they're going to do with Jacoby Ellsbury, although I think that is going to be the classic case of deciding to stick to their philosophy rather than giving him the years that Scott [Boras] is going to want for him."