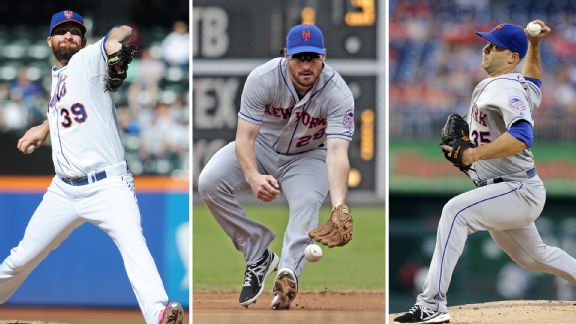 Associated Press
Arbitration-eligible Bobby Parnell, Daniel Murphy and Dillon Gee are all expected to get one-year contracts this offseason.The Mets signed Jonathon Niese to a five-year, $25.5 million deal that also included a pair of team options on the eve of the 2012 season, while the southpaw still was under the team's control for four more seasons.
Do not expect any comparable multi-year deals this offseason for players under the Mets' control, a source told ESPNNewYork.com.
The Mets' best candidates for such a deal would be the arbitration-eligible Daniel Murphy, Dillon Gee and Bobby Parnell.
Murphy and Parnell are under the team's control through the 2015 season, while Gee is under control through the 2016 season.
But the Mets apparently don't feel compelled in any of those cases to get cost certainty now, or to lock up those players for any of their free-agent years at this point.
In Murphy's case, while it would appear more likely he returns to the team next season, the Mets do plan to listen to any trade offers, according to a team insider.
In Parnell's case, despite converting 22 of 26 save chances, he did not pitch after July 30 this past season. He will attempt to return in spring training from a herniated disk in his neck that required surgery to address.
Gee is eligible for arbitration for the first time this offseason, so his salary should be reasonable despite posting a solid 12-11 record and 3.62 ERA.
Even before Matt Harvey's injury, agent Scott Boras had told ESPNNewYork.com that a deal this far out from free agency generally is not prudent for a player. Harvey is under the Mets' control through the 2018 season and is not yet even eligible for arbitration.