While trying to shake off the aftereffects of Monday's loss (imagine hearing "Chipper, Chipper, Chipper" to the Brady Bunch-style tune of "Marcia, Marcia, Marcia"), a couple of thoughts popped into my head.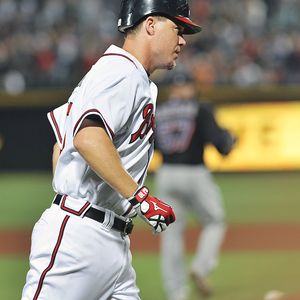 Gregory Smith/AP
No Braves hitter has tortured the Mets more than Chipper Jones, who homered against Johan Santana Monday.
Are there any other Braves hitters who have tormented Mets fans besides the third baseman, Larry-Something?
And are there any Mets who have tormented Braves fans to mimick what Larry-Something has done to Mets fans?
Turns out, with a little research, that there are. Let's start with the Braves half of the list, since a few names popped out that are familiar to us in other ways. We'll rank them from 2-10 (Larry being No. 1, of course).
We can continue the discussion within our live-blogging of tonight's game (I'll be handling, a little before 7 ET), and on Twitter (@msimonespn)
1a- Hank Aaron -- With all due respect, he has to go at the top of the list. Aaron still reigns as the Braves all-time home run king against the Mets with 45, though not for long -- Chipper Jones is just two behind.
Jones has never hit a home run quite like Aaron did against the Mets on June 18, 1962 -- a 470 foot shot to center field, purported to be the longest hit at the Mets first-ever home, the Polo Grounds.
Hank Aaron vs Chipper Jones
Career vs Mets
If the Braves pitching had shut the Mets bats down in 1969, Aaron would have been known as the hitting star of the postseason. In a losing effort against the Mets in the NLCS, he homered three times and drove in seven runs in three games.
3- Rico Carty -- This may not be a familiar name young'uns in the audience, but let me assure you that he was a pretty good player, one who went 11-for-19 in one stretch against future Hall of Famer Tom Seaver.
The Chipper of the 60s
Rico Carty vs Mets: 1964-1966
Carty hit a whopping .380 against the Mets over 89 games spanning 1964 to 1972, 81 points better than his career batting average. The Mets had one regular season in which they shut Carty down, and it figures that year was 1969, the year they won the World Series. Of course, he went 3-for-10 against him in the NLCS, and was back to hitting .400+ against them the next two years.
4- Joe Torre-- Torre makes the list for a couple of different reasons. For one: From 1962 to 1968, he joined Carty in the bash-the-Mets parade, hitting .324 with 21 home runs. He also gets bonus points for managing the Braves to the NL West title in 1982, a year after being fired as Mets manager (we won't count that which he did in the Bronx for these purposes).
Torre's most notable hit against the Mets -- on May 17, 1967 he handed a Mets rookie named Tom Seaver his second career defeat with a walk-off home run leading off the bottom of the ninth inning.
5- Terry Pendleton -- Another name that makes Mets fans groan, largely due to the pivotal home run he hit for the Cardinals late in the race for the 1987 NL East title.
Pendleton was instrumental in the Braves success in the early part of this current dynastic run. In 1991, he hit .308 with three home runs and nine RBI in 10 games against the Mets en route to NL MVP honors. He followed that up with five more home runs and a .317 batting average over the next two seasons.
And of course, Pendleton gets Torre-style bonus points for his efforts as Braves hitting coach, teaching others to torment the Mets, since 2002.
The rest of the top 10 ...
6- Eddie Perez -- .253 career hitter, but hit .307 against the Mets, and won NLCS MVP honors when the Braves knocked the Mets out in 1999.
7- Dale Murphy -- Murphy once homered off Dwight Gooden as a pinch-hitter, a day after breaking his hand. It was one of 29 home runs against the Mets as a Brave, most by any Brave not named Hank or Chipper.
8- Claudell Washington-- Met for a moment in 1980 (long enough to have had a three-homer game), he hit .330 with 12 home runs against the Mets from 1981 to 1986.
9- Brian Jordan -- Inflicted major damage against the Mets late in the 2001 season, with a pair of game-winning late-inning home runs to squash the Mets hopes of defending their NL title. He only hit .270 as a Brave against the Mets, but his hits were big, and his arm in right field served as a major deterrent.
10- Mack Jones -- We could have ranked him higher, but we wanted our list to start and end with a Jones. This Jones was an early incarnation of Chipper. He hit .332 with 11 home runs against the Mets from 1962 to 1967.
Honorable Mentions: Mark DeRosa, Terry Harper, Ryan Klesko, Javy Lopez, Andruw Jones, and Eddie Mathews.
Wednesday, we'll touch on the Mets hitters who dominated the Braves.
Mark Simon is a researcher for Baseball Tonight. Follow him on Twitter at @msimonespn