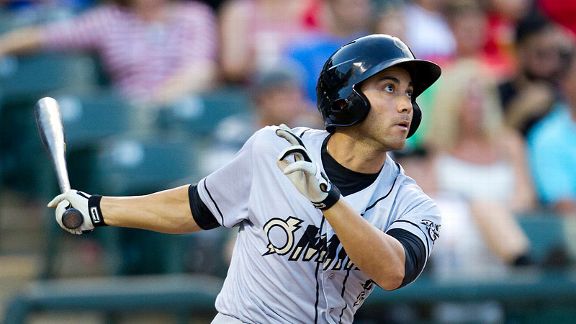 Andrew Woolley/Four Seam Images/AP Images
Anthony Seratelli has joined the Mets on a minor league deal.The Mets have signed utility player Anthony Seratelli to a minor league deal with a spring-training invite, a source told ESPNNewYork.com.
Seratelli, 30, is a product of Old Bridge High School in Matawan, N.J., as well as Seton Hall. He spent the past two seasons with Triple-A Omaha in the Royals organization.
The switch-hitting Seratelli should have a shot to make the Mets' bench in 2014.
In two seasons in Triple-A, he has produced a .286 average, .385 on-base percentage, 28 homers and 107 RBIs in 784 at-bats. He also stole 39 bases in 44 attempts during that two-season span.
Seratelli went undrafted out of Seton Hall and originally played professionally in the independent Frontier League. He then signed with the Royals for the 2007 season and spent seven seasons with that organization before defecting as a minor league free agent to the Mets. He was one of the more heavily pursued minor league free agents in baseball, with at least 10 teams expressing serious interest.
In his minor league career, Seratelli has appeared in 244 games at first base, 157 at shortstop, 120 at second base, 118 in right field, 98 at third base and 60 in left field.
He hit .247 against left-handed pitching and .282 against right-handed pitching in 2013 with Omaha, which won the Triple-A title.
UPDATE:
Thanks so much to the @Royals and their fans for the support over the years, but it's time to move on...

— Anthony Seratelli (@ars1productions) November 8, 2013
I'm extremely excited to join the @Mets organization! I hope to make a strong impact & play near my hometown! Thanks for everyone's support!

— Anthony Seratelli (@ars1productions) November 8, 2013