ORLANDO, Fla. -- Sandy Alderson began his first media session of the GM Meetings on Monday night with a quip. Asked what he had accomplished in his first brief period at the site of the meetings, the GM said: "I was upstairs stacking our money. Don't get excited -- they were all fives."
How high was the pile?
"Not as high as some people expect," the GM added.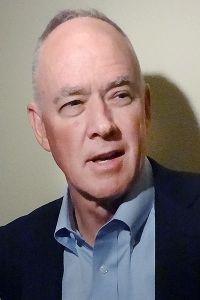 Adam Rubin
Sandy Alderson speaks with media upon arriving at the GM Meetings on Monday.
More seriously, Alderson essentially said the Mets would be out of any free agent whose bidding reached $100 million. The GM said it is simply not practical for a team to have two players with $100 million-plus contracts, although that assertion is debatable given the Mets do play in New York. Regardless, Alderson said, the Mets' big-ticket contract is David Wright (eight years, $138 million). And that's it.
"We've been in that stratosphere once recently with David Wright," Alderson said. "Those were special circumstances. I think it would be difficult to duplicate that again -- not from a financial standpoint, just in terms of team-building. I think it's difficult to concentrate those kinds of resources into very few players. It's not really the way you build a quality, sustainable, winning team, I don't think."
The bottom line on adding another $100 million player?
"I think that's a probably not," the GM said.
Still, Alderson insisted the financial restrictions are largely lifted with so much money having come off the payroll, including Johan Santana ($31 million, including buyout), Jason Bay ($21 million, albeit with $15 million having been deferred) and Frank Francisco ($6.5 million).
"I think it's materially different in the sense we have more options available to us," Alderson said. "We talk about the money we have to spend, but I think in terms of all of our resources, we're in a better position free-agent-wise. We're in a better position trade-wise. Our system is better. We have some accomplished players at the major league level. And we have a little cash. I think in those terms we're better armed this year than we have been to do some things. Whether those eventuate, we'll have to wait and see. But we certainly have greater capacity this year than we've had in the past."
Alderson noted all 13 players who received qualifying offers of $14.1 million declined, suggesting their agents believe more money and years are available as free agents. That, coupled with the gaudy early free-agent contracts handed out by the San Francisco Giants to re-sign Tim Lincecum and Hunter Pence, suggest being conservative in bidding for free agents will mean getting left empty-handed.
So will Alderson go beyond his comfort zone in spending?
"You have to deal with reality," Alderson said. "I'm not sure tonight, at this moment, we know exactly what the reality is. But I think we've always understood there's a time for patience, there's a time to be more aggressive. I would expect we will try to demonstrate both qualities. We'll try to be aggressive where we think it's important or necessary, and at the same time try to be patient. It's a fine balance. But we understand you can't be patient forever. At some point you've got to pull the trigger. Who knows? Maybe we'll see the whites of their eyes."
On other topics:
• On deciding between Ike Davis and Lucas Duda at first base, Alderson said: "We've got two guys who have demonstrated flashes of their potential. At some point, as they get more experience, you've got to make a choice. So we're in the process of doing that. To some extent that will be an internal decision. To some extent that may be a function of the marketplace. We'll just have to wait and see. It's early in the process."
• The Mets want to add a starting shortstop from outside the organization, if feasible. "Well, we'd like to upgrade at shortstop," Alderson said. "No question about that. The opportunities for that are few. So that's certainly something we have in mind and would like to do. We'll see."
• The Mets likely will need two starting pitchers with the loss of Matt Harvey due to Tommy John surgery. "As the result of Matt's loss for '14, we may be looking for some additional pitching, either in the free-agent market or via trade," Alderson said. "So I think it does affect us somewhat."
Alderson added about the young pitchers (presumably such as Noah Syndergaard and Rafael Montero) in light of Harvey's unavailability: "It makes them more valuable to us."
Could Daisuke Matsuzaka return as the fifth starter? "He did a nice job for us at the end of last season, so I would expect we'll talk to him at some point," Alderson said.
• Asked how the Biogenesis suspensions for Jhonny Peralta and Nelson Cruz would affect the Mets' pursuit, Alderson said: "Does it factor in? Yes, it factors in. How does it factor in? I think on the one hand you have to be circumspect about performance and what impact that might have had. And then on the other hand, you have to look at the fact that they violated the rules. But, at the same time, they paid a price. We've had our own players who have been in that situation. So is it a factor? Yes. Is it a scarlet letter? No, not necessarily. It certainly hasn't been in the past."
Of course, the suspensions could depress the bidding and put the Mets in play.
• Alderson insisted the Mets having a protected first-round pick would allow them to be more active in pursuing free agents who received qualifying offers. Still, team insiders do not portray it as likely the Mets will land such a player. Assistant GM John Ricco did say the Mets had reached out to Curtis Granderson. The Mets would forfeit their second-round pick if they sign one of those premium free agents such as Shin-Soo Choo or Granderson.
"Whether we sign a qualified free agent or not, the fact that we don't have to give up a No. 1 draft pick, I think is a significant change -- and maybe a significant advantage from our standpoint," Alderson said. "The fact that others may have to give up a [first-round] draft pick may cause them to think twice. A second-round pick is still valuable. Many quality major league players come out of that round. So I'm not discounting that at all. But in terms of where we are and balancing the continued growth of our player-development system with the desire to win at the major league level, right now we have the ability to balance those things."
• On what the Mets are looking to add this offseason, Alderson said: "The emphasis is on scoring more runs. You do that in a variety of ways. Certainly power is a big factor. So is on-base percentage. So we'll have to see what opportunities we have via trade or free agency."