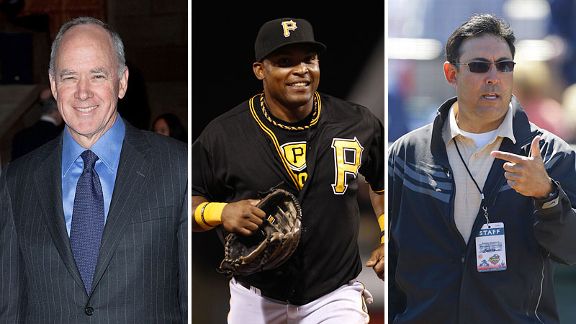 Getty Images
Sandy Alderson reacted Tuesday afternoon to Marlon Byrd getting a two-year, $16 million deal from Phillies GM Ruben Amaro.ORLANDO, Fla. -- Sandy Alderson expressed no shock with the $16 million the Philadelphia Phillies plan to commit to Marlon Byrd over two years -- not after the other early offseason signings, which include fellow outfielder Hunter Pence receiving $90 million over five years to remain with the San Francisco Giants.
"Given what we've seen so far, I wasn't surprised," Alderson said Tuesday afternoon, on Day 2 of the GM Meetings at the JW Marriott Grande Lakes. "Had you asked me the question three or four months ago, I might have been surprised. But not in light of what's happened since the end of the season. There haven't been that many signings, but this one is consistent with the others."
Alderson said the Mets had not had serious dialogue about bringing Byrd back to Queens, despite the Mets' need to add two corner outfielders and Byrd's positive performance before being traded to the Pittsburgh Pirates.
"We didn't have extensive discussions with Marlon," Alderson said. "It wasn't a place where we were prepared to be aggressive. And if it turned out that the market was as it turned out to be, then I'm happy for him."
Alderson suggested getting two starting outfielders this winter might be an uphill battle because of all the teams searching for those types of bats.
"We might bring in more than two starting outfielders. Who knows how things are going to break?" Alderson said. "I'd be surprised if that happens only because there's so much interest in corner outfielders among many clubs."
Asked to clarify whether he meant he would be surprised if the Mets brought in two or three starting outfielders, Alderson added: "I'd be surprised if we were that successful because of the demand for that position among other teams."
Alderson said he does expect to meet with Scott Boras this week before departing the GM Meetings on Thursday morning. Boras represents Shin-Soo Choo among many other clients. The Mets have acknowledged interest in Curtis Granderson, but Alderson said Granderson's agent is not in Orlando this week.
"We're looking for outfielders," Alderson said.
Ideally power guys?
"Yeah," he said.
Alderson was asked how he might judge a power hitter coming from a homer-friendly ballpark to Citi Field. His response was not specifically about Granderson, who benefited from the short right-field porch at Yankee Stadium, nor about Shin-Soo Choo, who played at long-ball-friendly Great American Ball Park. But Alderson noted Citi Field, after the alterations three years ago, is not that difficult a ballpark for homers.
"Our ballpark is not sufficiently unique that the composition of our team should be radically different than it is for most clubs," Alderson said.
If Alderson fails to land two corner outfielders, Eric Young Jr. likely would have a prominent outfield role. Of course, if the Mets end up trading Daniel Murphy, Young also could end up at second base. Juan Lagares should handle center field, unless something dramatic happens this offseason.
"I think Eric is going to be a part of our team," Alderson said. "And what his exact role might be, I think, will depend on our final roster. There's no question about that. It also might depend on how things go in spring training. But I expect he'll be a valuable part of the team."
On whether free agency or trades end up being the route the Mets go to fill their outfield needs, Alderson said: "I think it's very early to tell. As I said, I think there's a lot of demand for corner outfielders."
The trade market might develop later, the GM added. That's because teams become more receptive to trades once free agents come off the board or the price of free agents becomes too high for some teams' appetites.
"Sometimes the trade market is a derivative of the free-agent market, and so it takes a while to develop, because everything is a function of what has transpired in the free-agent market," Alderson said. "Until some guys come off the board, the trades don't develop as fully as they can."
Of course, Alderson could not resist one quip.
Asked if there were many agents at the GM Meetings, the GM said: "There are some. There are some nearby. They're in Tomorrowland right now."
On other topics:
• Alderson downplayed bringing in a veteran catcher to pair with Travis d'Arnaud as a priority. The GM indicated he would be prepared to pair Anthony Recker with d'Arnaud if that's how things work out.
"First of all, we like Anthony Recker as a backup," Alderson said. "So if we were to get a more veteran guy, it would be in part out of concern that somebody is going to have to play every day if d'Arnaud gets hurt. Part of it might be a desire to have a little bit of mentorship for both d'Arnaud and Recker. The nice thing is we have a guy like [coach] Bob Geren on our staff, who had been very good at that himself. So the backup veteran backup catcher is not really a high priority for us. I mean, it's nice to have. We've got some other need-to-have holes to fill."
You might infer then that a reunion with John Buck would not seem overly likely.
"Ultimately if we have to go with Recker and d'Arnaud, we're happy with that," Alderson said. "It would be nice to have somebody else available to us. [Rookie Juan] Centeno is the only other guy that we have under contract at the Triple-A level, so we'd like to have somebody else. But it's not a high priority."
• Alderson said finding an external shortstop is "important."