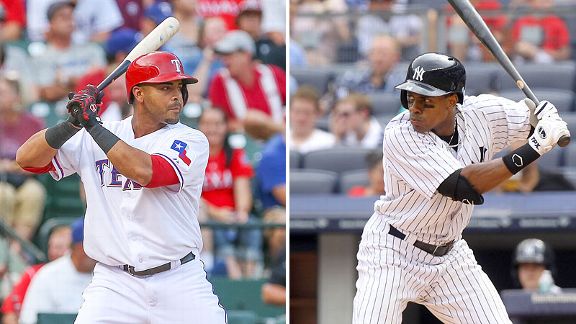 USA TODAY Sports
A team insider severely downplayed the likelihood the Mets land Nelson Cruz or Curtis Granderson.ORLANDO, Fla. -- Despite the Mets publicly acknowledging interest in Curtis Granderson and various reports linking them to free-agent outfielder Nelson Cruz, a team insider severely downplayed to ESPNNewYork.com the likelihood of signing either.
A Mets source said early in the offseason that the team was unlikely to sign any of the players who received $14.1 million qualifying offers with the exception of Shin-Soo Choo. And in Choo's case, the Mets were unlikely to go beyond the guarantee Michael Bourn received with the Cleveland Indians last offseason (four years), which likely will prevent a Choo signing, too.
Granderson and Cruz both received and declined qualifying offers.
The others in that category: Carlos Beltran, Robinson Cano, Choo, Stephen Drew, Jacoby Ellsbury, Ubaldo Jimenez, Hiroki Kuroda, Brian McCann, Kendrys Morales, Mike Napoli and Ervin Santana.
Asked about the Mets enthusiastically being linked to Granderson and Cruz, a team insider bluntly said: "I would not believe everything you read."