ORLANDO, Fla. -- Scott Boras' annual zinger directed at the Mets' un-New York-like spending this time had an aerospace theme.
"The Mets are like NASA," Boras said Wednesday afternoon at the GM Meetings. "They have big rockets, a lot of platforms and very few astronauts. Astronauts are hard to find. They've got one guy with the 'Wright' stuff. That's for sure. And they've got a lot of 'Arm'-strongs, too. But they're certainly a club that I'm sure is in a pursuit of a higher level of talent."
Will the Mets actually spend money this offseason?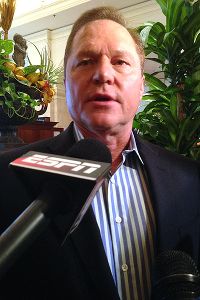 Adam Rubin
Scott Boras speaks Wednesday at the GM Meetings.
"Well, I think the ability to spend and actually spending are two different things," said Boras, who represents free agents including Jacoby Ellsbury, Shin-Soo Choo and Stephen Drew. "And that's only for the Mets to diagnose. Certainly their franchise value has gone through the roof -- they're in the well over $2 billion. They're a very successfully run business operation. The Mets have the ability to pretty much do what they want to do. But it's hard to find astronauts."
Responded Sandy Alderson: "I don't think his intergalactic metaphor is exactly right. I'm not sure, because I've got to first understand it."
Boras said he did not intend to meet with the Mets during the GM Meetings, although he has spoken with Alderson by phone.
Reacting to Alderson's comment that the Mets were not in the market to have a second $100 million player alongside David Wright, Boras said: "The hardest thing about limits is that it doesn't limit others. It limits you."
Asked if it were odd for a New York team to be making such a proclamation, Boras said: "I can't address that. I can only tell you it's a process where in this paradigm, I don't think anyone will want to hear that revenues are limited. I don't think anyone will want to hear that the next television contract [is limited] or maybe that I'm going to limit the price of tickets. But limits are normally in a process where you have many, many variables. It's hard to unilaterally apply a limit."
Boras underscored the importance of paying for players in the NL East.
"The NL East is going to be a lot more difficult than it was a year ago," he said. "I think there's a couple of teams that could be very, very different and a lot more competitive. And even the teams that are not considered to compete are going to be a lot better. So it's going to be a lot harder to get wins in the National League East."