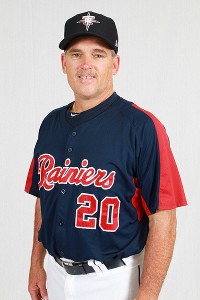 Courtesy of Tacoma Rainiers
Howard Johnson served as Seattle's Triple-A hitting coach last season. Now he gets a shot with the major league club.
The staff of new Seattle Mariners manager Lloyd McClendon has a definite Mets feel.
Howard Johnson returns to the big leagues as hitting coach for the first time since serving in that capacity with the Mets. Ex-Mets John Stearns (third base) and Chris Woodward (infield) also are coaches. And Rick Waits, who recently served as Mets minor league pitching coordinator, is the new pitching coach for the Mariners.
Meanwhile, ex-Mets catcher Jason Phillips remains the bullpen catcher in Seattle.
HoJo was promoted from Seattle's Triple-A Tacoma affiliate, where he also served as hitting coach.