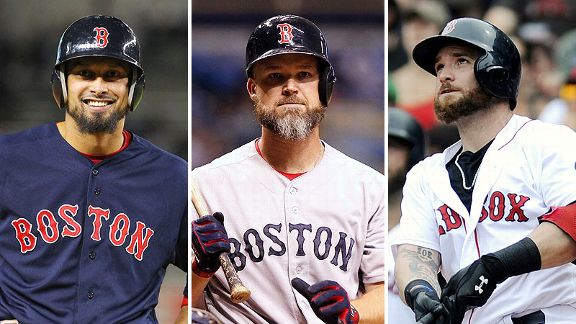 USA Today Sports
Shane Victorino, David Ross and Jonny Gomes (l to r) were among the Red Sox's additions last offseason.Earlier this fall, there was a lot of talk about how the Mets ought to try to follow the "Red Sox model" in the offseason.
For those unfamiliar, it looked something like this: Sign a few mid-level free agents without draft picks attached to them + All-Star core + Intriguing young players = WORLD SERIES!
Problem is that the Mets don't currently have a core of position players nearly as good as the trio of Dustin Pedroia, David Ortiz and Jacoby Ellsbury that the Boston Red Sox had a year ago, which is where the comparison begins to fall apart. Throw in the fact that the Red Sox still had a $150 million payroll in 2013, a figure the Mets are clearly not going to match, and this comparison is useless.
If Mets fans really want some sliver of hope for 2014 (and beyond), they should look to two other 2013 playoff clubs for inspiration: the Cleveland Indians and Pittsburgh Pirates.
In 2012, the Indians won 68 games, but over the winter they signed two prominent free agents -- Nick Swisher and Michael Bourn -- who had draft-pick compensation attached to them. As a result, their price dropped, and because the Indians had a protected first-round pick, as the Mets do this year, they were able to sign them each to relatively reasonable four-year deals while giving up their second- and third-round picks instead.
While Swisher and Bourn helped, the the Indians also got breakout seasons from the likes of Jason Kipnis and Yan Gomes, and surprising excellence from Ubaldo Jimenez and Scott Kazmir, and rode those performances to a 94-win season with a payroll of roughly $75 million.
If I had to guess, the Mets do plan on signing at least one "big-name" free agent to a multi-year deal, but it's likely it be this year's version of Bourn: A player whose value is crushed by that draft-pick compensation, such as Stephen Drew, Curtis Granderson or Nelson Cruz.
Even without Matt Harvey, the Mets do have a number of pitchers with significant upside -- Zack Wheeler, Jon Niese, Jenrry Mejia and Noah Syndergaard -- as well as some position players, such as Travis d'Arnaud, Juan Lagares and Chris Young, who are capable of giving them a lot more production than they got from those positions a year ago.
Now, I'm not saying it's likely that the Mets will win 90 games next year. However, if there is a "model" of success that the Mets are most likely to mimic in 2014, it's the Indians', not the Red Sox's.
In reality, the team whose path the Mets are following more closely is the Pirates. Like New York, Pittsburgh got virtually nothing out of the draft for a decade, and was regularly signing mediocre yet recognizable free agents to satisfy its fan base.
It was not until Neal Huntington took over as GM in 2007 that the club began to take a methodical approach to rebuilding, eschewing free agents in favor of a focus on the draft and player development. And it wasn't until Huntington's sixth season that this strategy finally paid off, advancing to the 2013 NLDS with a payroll right around $80 million and plenty of long-term financial flexibility.
Sandy Alderson is operating in a similar manner. The Mets have refused to sacrifice draft picks by signing free agents since he took over, and the club hasn't been tempted to take "quick fix" college players in the first round, instead focusing on prep talent that will take longer to develop and that may have a higher upside.
When Alderson was hired following the 2010 season the Mets were in a similar position to the 2007 Pirates, with a mediocre big league roster, very few high-end prospects and a glaring lack of farm system depth. Whether you agree with Alderson's tactics or not, there is no question the organization's talent base has improved significantly since he took over.
Now, you could argue about whether or not a New York team should have to follow the model of teams in markets the size Pittsburgh and Cleveland, but that's a separate issue. It's clear the Wilpons' Madoff debt is still affecting the team's ability to spend, but as I have written before, that is not the biggest reason the club is in its current condition. In fact, spending recklessly on free agents -- something fans seem to be begging for this winter -- at the expense of developing players is the main reason they are in this mess in the first place.
Instead of pining for the days when they Mets could throw money at the likes of Moises Alou and Jason Bay, fans should accept the reality of the current club and focus on its realistic path to success, one that, for better or worse, seems modeled more closely on the Indians and Pirates than the Red Sox.