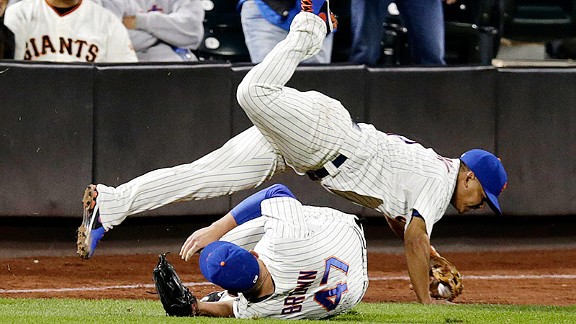 Kathy Willens/Associated Press
Ruben Tejada, whose Sept. 18 tumble resulted in a fractured fibula, could wind up the Opening Day shortstop after all.Ruben Tejada sounds more and more like he might survive the winter as the Mets' No. 1 shortstop.
With Jhonny Peralta having signed with the St. Louis Cardinals on a four-year, $52 million deal that Sandy Alderson labeled surprising, the GM acknowledged the Mets do not have much in the way of attractive free-agent options (Rafael Furcal?). A trade is always a possibility, Alderson added.
#11 SS
New York Mets
2013 STATS
GM

57

HR0

RBI10

R20

OBP.259

AVG

.202
But the GM concluded that the goal is to improve the team as a whole.
So the Mets' resources may be best served getting invested in other positions, with the club hoping Tejada is adequate as the shortstop in 2014.
Tejada hit .202 in 208 at-bats and had a prolonged minor-league stint last season before suffering a season-ending fractured right fibula Sept. 18.
"You're right to point out that the free-agent market is thin," Alderson said. "It was thin with Peralta. It is thinner without Peralta. There really aren't a lot of options in the free-agent market at this point. There are some trade possibilities. We've reached out to some clubs about shortstops.
"But I think what I've said before is that this is a process of improving the team. It's not about improving a position. And I know that the team is the sum of the parts, but that's not to say we will be able to, or we will be best served, by addressing every single position.
"So is it conceivable that Ruben Tejada or someone within in the organization is playing shortstop for us on Opening Day? I think the short answer is yes.
"But, again, what we're trying to do is improve the team as a whole. And so while shortstop is an obvious place for improvement, it's not the only one. And if we're successful elsewhere, as many clubs do, they get by on their strengths and hope to be as adequate as possible in those areas where they're weaker."
Tejada just completed a four-week fitness and nutrition program outside of Ann Arbor, Mich., and intends to return in January. He currently is back in his native Panama, having just been cleared for full activity.
"He made a lot of progress during that program, although he was somewhat limited as to what he could do weight-bearing on the leg," Alderson said. "But he could certainly do upper body and bicycle and things of that sort."
As for the price tags for free agents, Alderson said he could not generalize beyond them being lucrative for the players involved. Brian McCann's five-year, $85 million deal with the New York Yankees proved no surprise. Peralta's deal proved another story.
"I think in some instances the contract amounts have gone way beyond what most would have predicted," Alderson said. "In other cases, they may be generally in line. For example, I don't know that anybody is terribly surprised about the McCann contract. I think people have been surprised about the Peralta contract. So I think it's a little too early to make any real generalizations. But the data we have right now suggest that at least some of the contracts have gone beyond expectation."