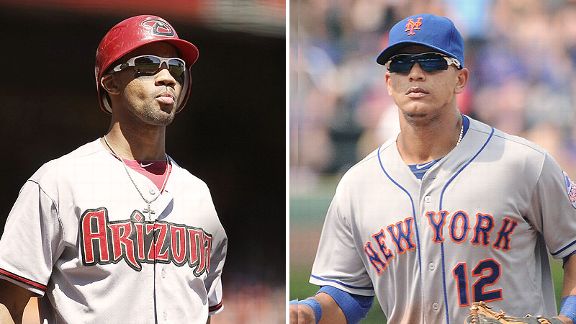 USA TODAY/Associated Press
Chris Young and Juan Lagares officially are competing for the center-field job, but Lagares has the inside track.Sandy Alderson officially labeled it a competition for center field between Juan Lagares and Chris Young.
But on the day the Mets officially announced Young's one-year, $7.25 million deal, the GM left the strong impression center field is Lagares' job to lose. Young would only claim center field if Lagares offers an indication in spring training that he just is not competitive against major league pitching.
#25 CF
Oakland Athletics
2013 STATS
GM

107

HR12

RBI40

R46

OBP.280

AVG

.200
"This is an issue that came up with Chris, and I actually think there were other clubs that offered to play him in center field without condition," Alderson said Tuesday afternoon. "In our case we talked about Juan, talked about his defensive ability, his need to be more productive offensively. We didn't rule out Chris playing center field by any means. But I told him, and I think Terry [Collins] told him as well, that the best player defensively -- assuming that there's productivity offensively -- will play center field.
"So I think Chris is in a competition for center field. … I think, realistically, we'll see what Juan does offensively in spring training and go from there. I won't be surprised to see Juan Lagares in center for the first exhibition game and Chris in right or left."
Alderson said he sees Young, 30, batting somewhere between fifth and seventh in the lineup, depending on the other offseason maneuvering. The Mets are still looking for outfield help, the GM acknowledged.
Young said the Chicago Cubs, San Francisco Giants, Kansas City Royals and Boston Red Sox also expressed interest, but the Mets were willing to commit to a contract now and offer regular playing time.
Young suggested his production slipped in 2012 after a shoulder injury crashing into an outfield wall as well as in 2013 with the Oakland Athletics because he became a part-time player.
"I've been the type of player in my history to where I have streaked at times," Young said. "But when I get in those hot streaks, I'm able to really help the team do some things. In Oakland I wasn't able to fall into that streak or fall into that comfortable phase of my game. So going to New York and getting the opportunity to do that again (play regularly) was the biggest thing that intrigued me and what I'm most excited for."
Said Alderson: "We think with regular playing time he will be able to return to his All-Star-caliber performance from his days in Arizona."
Alderson has only met face-to-face with two free agents this offseason, he said -- Young and a player at the winter meetings, which was now-St. Louis Cardinals shortstop Jhonny Peralta.
David Wright and Young had "multiple" conversations the past two to three weeks, since the Mets' recruiting became serious. Young said he also quizzed LaTroy Hawkins and Eric Young Jr. about their experiences in Queens.
The ex-Diamondback said Alderson sold him on the team's nucleus of promising young pitching, even minus Matt Harvey for 2014. Young asked the players about topics including the stadium, city, fan base and clubhouse atmosphere.
Alderson described Young as attractive because of his power, high walk rate, speed on the bases and fielding, albeit with a low batting average and high strikeout totals.
As for playing a corner outfield spot versus center field, Young said: "I talked to the Mets about the possibility of playing some center and playing some right field. Playing center field has always been my natural position. That's where I've always excelled, and I feel like I've been able to do a great job in center field throughout my career.
"Last year with the A's I did play some left and some right as well. But there was a learning curve and I did struggle at times with it early on. But as the season went on I was able to get more comfortable with it."